For the average college student, nothing is as exciting as a party. Whether for a sporting event, birthday, or the end of finals, many relish the opportunity to take to the streets and have fun.
However, with the costs of drinking on the rise, and the threat of sexual assault ever present, students have adapted to overcome the challenges of university life with an unlikely invention: the Borg.
Out of This Borg
You aren't alone if you heard "Borg" and immediately thought of the gray-skinned aliens from Star Trek. The invention caused a spike in hashtags referencing the tv show and even a revival of memes set in the Star Trek universe. Luckily for students, though, William Shatner isn't necessary for crafting the latest social media trend.
A Borg is a plastic gallon jug filled with water, liquor, and electrolyte powders. The name is short for "Blackout Rage Gallon," and the formula varies depending on the mixologist. However, the process involves multiple constants that have lent the trend its validity since they allow the concoction to be replicated easily.
Bella Alonzo, a University of Texas at Austin student, has been credited with popularizing the trend, which originated in January. In her video, titled "Elite Borg Tutorial," she appears wearing a Busch Lite cowboy hat and dons a peppy smile, declaring that since it's a snow day, she will explain how to make a Borg that tastes pleasant.
She begins by pouring half of a gallon water jug into her sink. From there, she cracks open a fifth of Tito's vodka (hers is wearing a cute sweater, but that isn't strictly necessary) and adds half of the bottle to the remaining water. Her final three ingredients are Mio, a wild-berry Celsius, and Liquid IV.
"It's so we don't get hungover by midnight." She declares at the end of the video, happily shaking the jug. 
She takes a sip and proudly states that it tastes incredible. From there, Alonzo and other college students move on to the last step and arguably the most crucial aspect of a Borg: its name.
Borg to Be Wild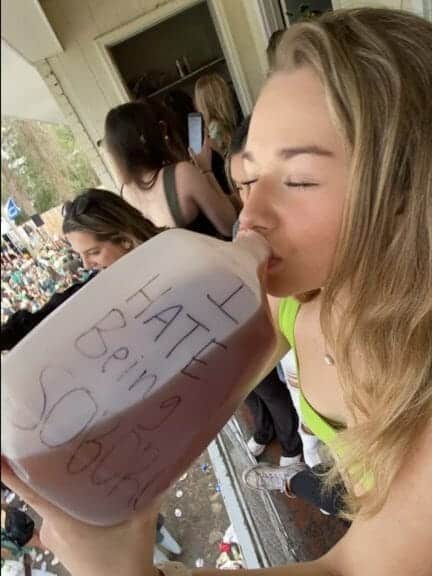 Each Borg is unique in its flavor, color, and specific vodka amount. Yet, nothing distinguishes one Borg from another quite like its title. Students have come up with dozens of creative labels for their concoctions, which some value almost as much as the electrolytes. Benjamin Giller, a San Diego State University student, even posted a video with a list of Borg names that have been viewed on Tik Tok nearly a million times. Websites such as The Daily Orange and Her Campus have even dedicated a ranking list to the most famous names, revealing just how important this aspect of the Borg is to college students.
From "LeBorg James" to "Save a Horse Ride a CowBorg," Borg puns have popped up across many social media posts, each more creative than the last. These firstly allowed students to take pride in their expression, but as the trend has become popular, it has revealed other benefits.
Our Borg and Savior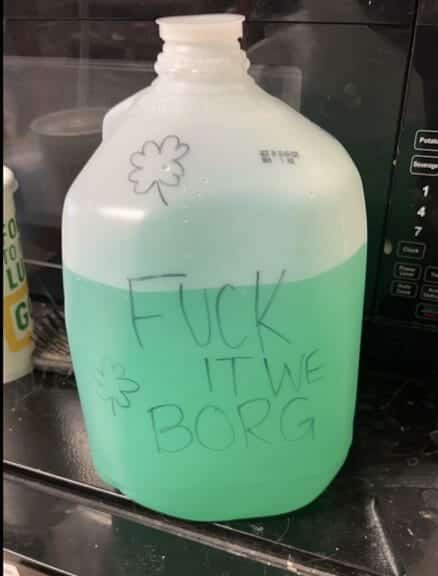 Borgs effectively combat two things when going out: rising costs and safety concerns.
Gallon jugs are enormous. It takes a dedicated person to drink one over an entire day. Because of this, Borgs are a cost-effective method for having a good time while maintaining a budget. The quantity of alcohol present in a single Borg prevents students from needing individual drinks. Since the ingredients of Borgs are relatively cheap, students can easily mass-produce them during party season. This cuts back on extra expenses associated with college and opens a door for students to have fun.
Cate Keane, a student at Marist College in Poughkeepsie, New York, posted a video on Tik Tok of her friends showing off their Borgs at a party. Each displayed a unique pun on the side of her jug, complete with laughs and all-around fun. Even though the clip focused on the unusual names, it rapidly became clear that none of the students were losing track of their Borgs. Also, each of their Borgs also had grooves for a cap.
This detail brings up the second benefit of Borgs. They are much safer than communal drinks.
Every Borg is individual. Students can control precisely how much alcohol is inside and limit their exposure to outside contagions. Beyond this, whereas a student with an open drink might lose sight of it, a Borg is large enough to always be in hand. Since it is hard to lose track of, it is also hard to tamper with. Furthermore, the alcohol within a Borg is isolated behind a cap, dramatically decreasing the likelihood that a date-rape drug will be slipped in. As such, not only are Borgs fashionable with their witty puns, they are functional.
Borg Meets World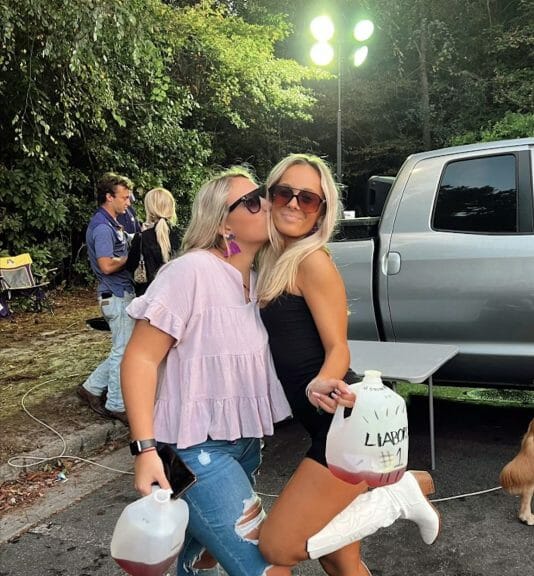 Even so, students must remember to be safe with alcohol. Brooke Alonzo's tutorial called for half a fifth of vodka, but many others urge students to include the entire handle.
An article released by the National Capital Poison Center highlights that an average Borg can include up to 17 shots of vodka, which is enough to be dangerous, even when consumed across a couple of hours. Ingredients such as Mio and other sweeteners can also contain over 1000 milligrams of caffeine, equivalent to about 10 cups of coffee. Despite this, the benefits of Borgs as opposed to communal drinks are very real. The University of North Carolina at Wilmington offers helpful tips to ensure students take full advantage of Borgs without pushing their limits too far.
While the trend of making Borgs has taken college campuses by storm, the concept is not new. The comment section of almost every tutorial video is filled with users stating that they made a similar drink years ago, just with a different name. By combining old techniques with new social media trends, college students have united communities through witty puns and ingenious drinking methods.
Despite the risk of consuming too much in one sitting, Borgs have allowed students to express themselves while still maintaining a budget and safe environment, which is what learning to party in college is all about.