Is this really a sensible breakfast?
Before we get too far into this, a slice of pizza isn't going to be better for you than a bowl of low-sugar muesli or something like that.
However, if your go-to breakfast consists of Lucky Charms, Frosties, Cocoa Krispies, etc, then it might be worth considering whether you'd like a slice of Margherita instead. Chelsey Amer, who is a New York City nutritionist, confirmed that pizza could be a suitable alternative to sugary cereals. She claims that pizza is more of a balanced breakfast option.
Lookin' like a whole meal tyvm. pic.twitter.com/QGz6axU9DO

— Domino's Pizza (@dominos) July 25, 2021
A slice of plain cheese pizza contains a balance of carbs, protein, and fat. A bowl of sugary cereal with low-fat milk is largely sugar and extremely carb-heavy.
I'm sure most of us would agree that pizza would be nice for breakfast. We've all experienced having leftovers from the night before, and now they can have a purpose… A lovely breakfast.
Should we really promote pizza for breakfast?
Chelsey Amer is trying to tell us that when it comes to choosing breakfast, it's not that eating pizza in the morning is the most beneficial option in terms of nutrition. Instead, she's trying to inform us that most cereals that are available today are not particularly healthy for us. Sugary cereals have poor nutritional value and should be eaten in moderation.
She isn't promoting pizza as an everyday breakfast choice. However, she is recommending that people focus on having a balanced breakfast. One that contains high fibre carbs, lean protein and healthy fats. This is important because this balance will help you to stay full throughout the day.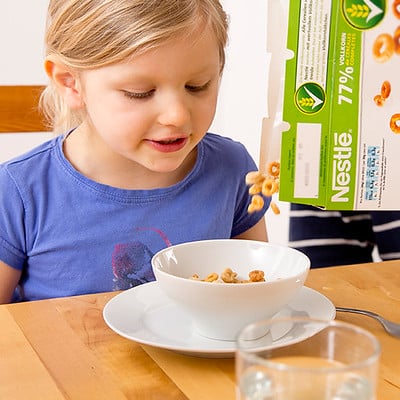 What should we do now?
The main message that you should focus on is that we all need to be more mindful of what's in our food. We need to take care of what we are putting into our bodies.
There are some great breakfast cereals on the market, for example, ones that are whole grain and less than 5g of sugar per serving. These are ideal options when considering what could be a healthier breakfast. Next time you go to the supermarket, have a little browse and see what you can find!