According to the U.S. Department of Housing and Urban Planning, unsheltered homelessness has increased by 3.4% since 2020. The pandemic, poor social infrastructure, and economic instability have inflamed the issue, with more homeless people living on the streets than post-COVID.
The modern world is openly hostile toward unhoused people. Disdainful locals and police violence are pertinent obstacles for homeless people, with raids and checks on encampments that leave them vulnerable to violence and excessive force. Hostile architecture contributes to this further by limiting the number of safe spaces to stay without offering any other options. Companies producing tiny housing units as a temporary solution for this problem could therefore be an option. However, these do not come without their own problems.
What are these units and who makes them?
The aforementioned easily mass-produced, small housing units are around 64 square feet and include a bed, desk, and lockable doors. This provides temporary shelter and dignity for unhoused people, as opposed to freezing on the streets during winter. The comfort of an actual bed in a safer environment is a marked improvement for many unhoused people.
Several of these villages exist in the United States, with some local governments funding them as a temporary solution to homelessness. However, many of these companies are for-profit and therefore controversial. Ending homelessness and counteracting substance use disorders is not in the best interest of for-profit organizations. This is also an approach that only tackles the symptoms, not the root cause, and therefore means that the cycle remains unbroken and prevails.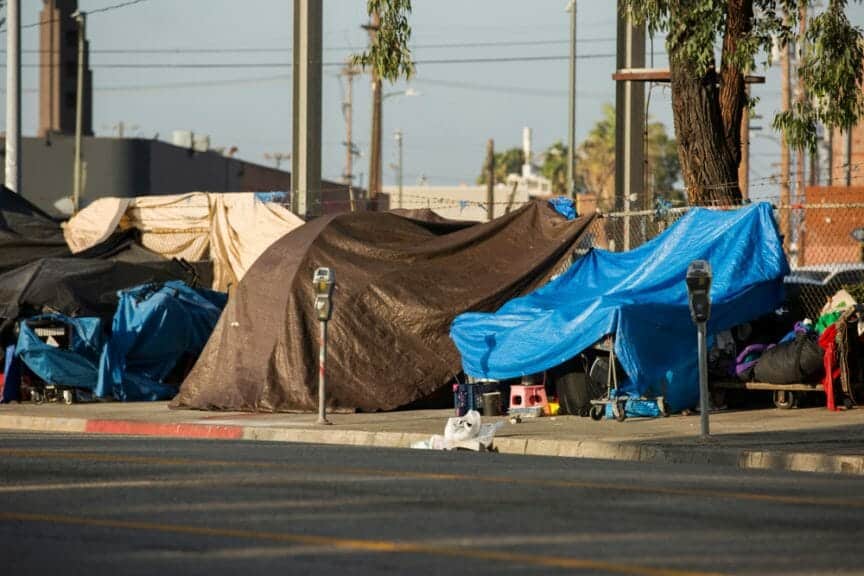 Pallet Shelter and how they're different
Pallet is a corporation that manufactures housing units, but they are notably different from its competition. They operate on a Public Benefit Corporation model, meaning they invest back into the local community. Over half of their employees have experienced being unhoused, allowing a more accurate and sensitive perspective that most privileged businessmen simply lack.
When asked for comment, a representative said:
Any profits made at Pallet are put back into our business to support our secondary mission "Shelter for the People, By the People." Pallet hires and invests in people actively engaged in recovery. More than half of our team has experienced homelessness, substance use disorder, or the criminal justice system, and has found stability through meaningful employment. Employment at Pallet includes job training, support services, and a long list of other benefits. The more profit we make, the more people we can hire and support with a better future.

Pallet Shelter
The company also has a commitment to language and sensitivity, hoping to shift the lens through which society views homelessness. The long-term influence means that people may have more welcoming attitudes, lessening the stigma of homelessness. On the importance of language, Pallet believes:
We should not say or write "the homeless/"the unhoused." Take another minority group and put "the" in front of it, and it very quickly becomes clear this is discriminatory language, so using homeless person, an unhoused person, or a person experiencing homelessness is best.

Pallet Shelter
Person-centered language thus humanizes homeless people, combatting subconscious biases and discriminatory attitudes.
Long-Term Strategies to Combat Homelessness
These micro-shelters seem to work well short term, but longer-term efforts are essential in combatting homelessness. The community-conscious business model that Pallet operates on helps combat the roots of homelessness, but more companies and the government need to follow if there is to be any change. Greater investment in aid and programs to help homeless people, along with better social safety nets, can aid in preventing and treating existing homelessness.
Micro-shelters cannot be considered homes, a fact that Pallet is aware of, hence their reluctance to accept the 'tiny home' label. They are too small to be actual homes and are constructed as a short-term sites of residence. Branding micro-shelters as the only solution is reductionist and ignorant of the causes of homelessness. As functional as they are on a temporary basis, combatting the root causes is more effective long-term, and therefore something to work towards.