In the previous episode of Yellowjackets, we got to see Shauna's birth, an upcoming reunion, and an interrogation of adult Shauna as well as her daughter, Callie. The only stomach-churning moment of Yellowjackets, Episode six, was Shauna realizing her baby didn't make it. The words, "It's you and me, kid," brutally turned into, "Why can't you hear him cry?"
With the opening scene of Yellowjackets, Season 2, Episode 7, murmuring the melody of Something In The Way by Nirvana, we can already tell how little vibrancy this episode will capture. With two people down since the snowstorm, the Yellowjackets have much more on their plate than ever. The snow may have stopped, but the storm is still to come.
It's The Yellowjackets Against The Wilderness
Once Lottie realizes the storm has stopped, the group pushes open the snow-shut door of their old cabin. Many collect or dig snow, but Shauna buries her baby boy. "It's you and me against the whole world," she says to the makeshift grave full of rocks. On the other hand, other people, like Taissa, are grieving the loss of Shauna's baby as well. We see Taissa and Van have a heart-to-heart talk about how they need each other and explaining they are still here for a reason.
Meanwhile, Ben, or Coach Scott, is hanging on by a thread. Ben has been seeing his ex-lover, Paul, lurking in his daydreams (or hallucinations) for awhile now. Unfortunately, the hallucinated Paul has finally left for good. Since Paul has been Ben's "hiding space" for awhile now, Ben is left with no distractions, only his own inner thoughts. This leads Ben to a cliff, with no intention of coming back.
Of course, Misty is there to save the day and Ben's life (again). Before finding Ben, Misty treads away from the pack, which is looking for Crystal, to find her dead body before the hungry individuals do. Surprisingly, Crystal is not there anymore. When Misty found Ben, let's just say it wasn't her best nursing moment. Misty saved Ben by using threats of telling the world he was the one to impregnate Shauna, tried to impregnate the rest of the girls, and, obviously, that he is gay.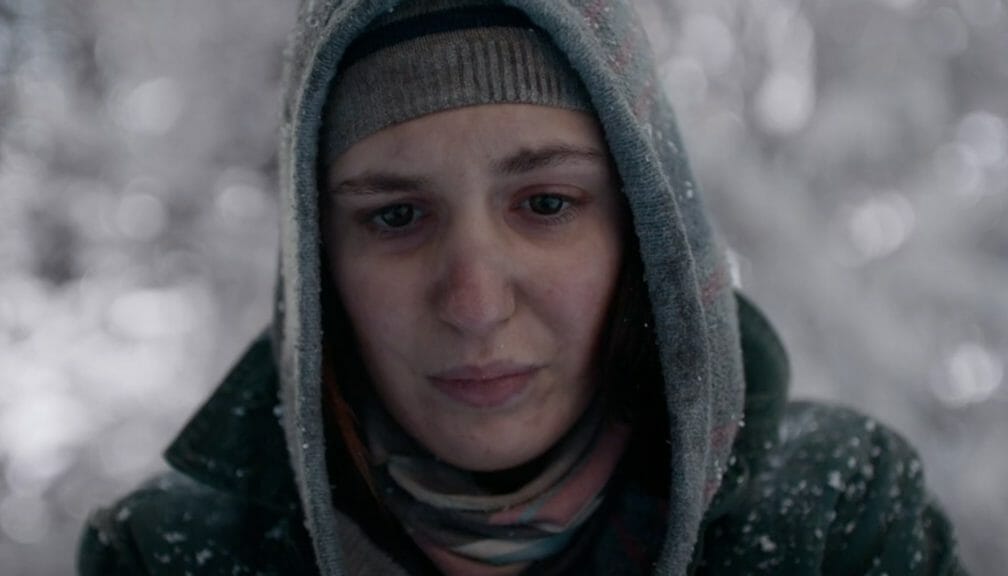 Shauna and Her Goat
Equally important, the adult Yellowjackets in 2021 start off the episode by choosing a treatment provided by Lottie's retreat they are staying at. Shauna chooses self-care, Taissa picks renewal, Van reluctantly takes forage, and Misty is stuck with guidance. Each of these treatments takes the girls on a spiritual and emotional journey within themselves.
To start us off, Shauna gets to take care of a goat. Through trauma, Shauna automatically assumes they will make her kill the goat after creating an emotional bond with it. Shauna goes on a journey with this goat: losing it, loving it, and hating it. Eventually, she realizes her connection with the goat is tied to her connection to her daughter, Callie. She is too afraid of letting Callie go, and she is even more afraid of losing her to death.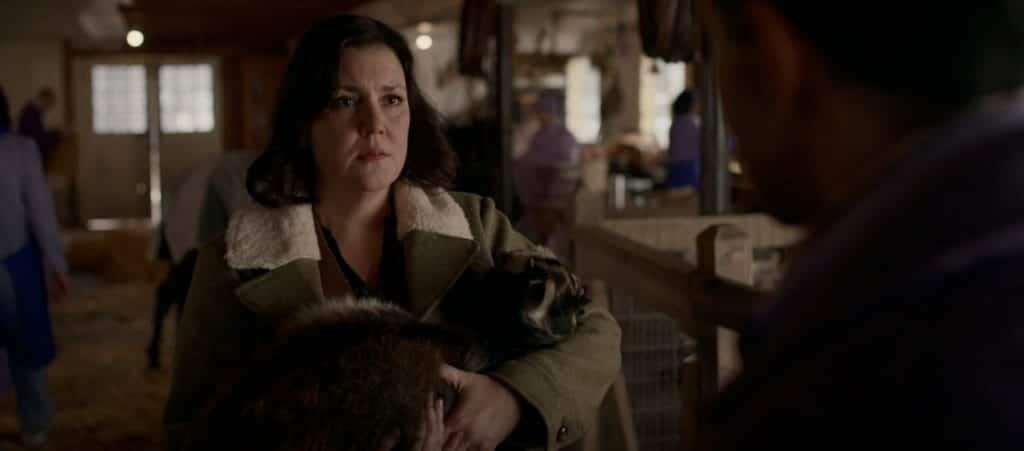 The Confession
Similarly, Misty automatically shuts down the idea of getting her guidance through a dark, cold tank of water. Once she finally allows herself to submerge, she has this—weird dream? Her vision consists of her partner in crime, Walter, and her pet bird, Caligula, in a musical. This makes Misty realize how far away and quickly she pushed Walter and overall, how much she really enjoys his company.
In her time of renewal, Taissa gets to paint. Instead, she ends up speaking with Van, who also pushed her treatment to the side. In this scene, we finally get to see why Van is acting the way she has. After a heated and unfaithful make-out, Van confesses that she has cancer to Taissa, and it's not "the best kind of cancer to have."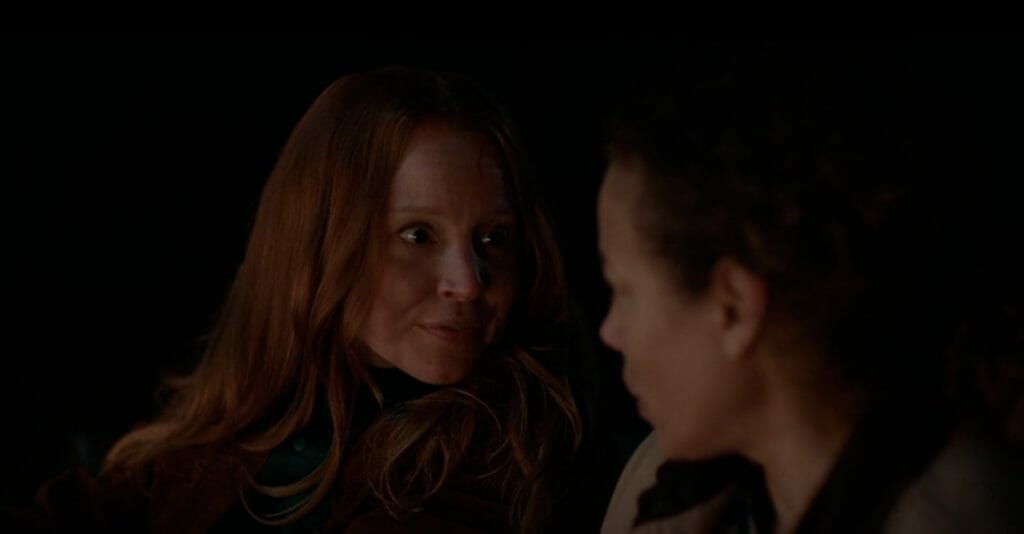 The Brutal Beating of Lottie
The 2021 group starts having a drunken chat about their memories of the wilderness and the bittersweet feeling of not having much of them. Questionably, Lottie joins the group and finally lets herself relax after experiencing hallucinations and having visions for the past few days. The group eventually dances around in the snow while the show starts to pan back and forth to them in the wild.
In the cabin, young Shauna hears Misty singing the song she sang to her baby in a past hallucination. Shauna almost immediately releases her fist into Misty's jaw, saying, "You all ate my f****** baby!" This causes Lottie to step in. Lottie, being the peacemaker she is, says, "I know there's a lot of pain right now, but let it out." After a brief blink of an eye, Shauna takes up her haunting offer. Punch after punch, after punch. The moment of Shauna's anger and resentment taking over her is much more horrific than any gory scene in the series.
Through her bloody eyes and puffed up face, on the brink of death, Lottie saves the day again. This time, by using her body as a punching bag. With no mercy, maybe this brawl will bring Shauna back to the reality that is the wilderness. To end off this episode, in 2021, Jeff pays his wife Shauna a loving phone call, telling her that the cops have found the remains of Adam.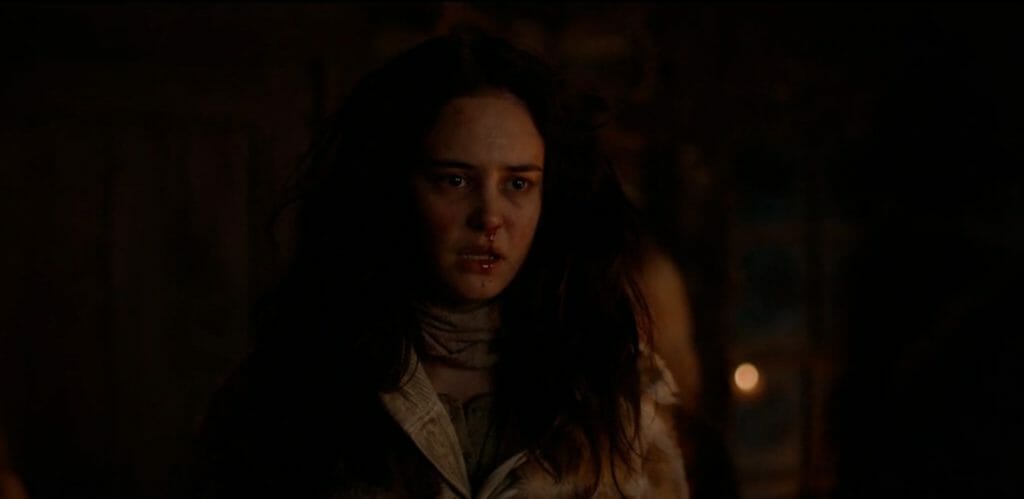 Pit Girl, Please!
Through the teaser of Season two, Episode 8, we can see that the madness of Yellowjackets is finally going to unfold (hopefully). Season two has been making fans itch, leaving so many theories and questions to our own devices. Firstly, we can see that Shauna finally tells the rest of the Yellowjackets about her misunderstanding (or, murder) with Adam. Lottie is barely making it, through twitches and jerks.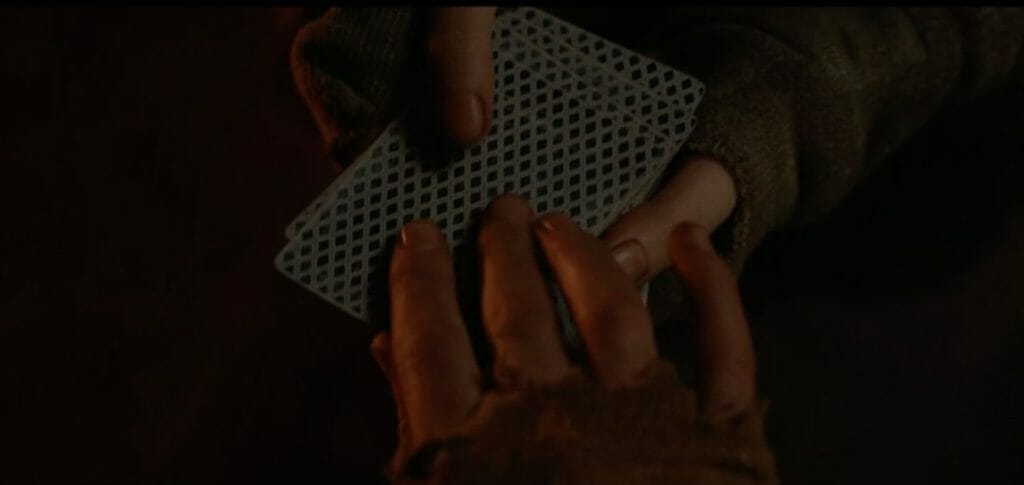 There is blood splattered on a family picture of Shauna, Jeff, and Callie. Most importantly, we see the playing cards coming back into business. Many fans have theorized that this is how they choose who gets sacrificed (eaten) first. Mari's face tells us she may be the first to go. As always, we can only wait to find out!