As season 2 of Yellowjackets is slowly approaching an end, viewers get to watch the secrets, lies, and twists of the stranded teenage soccer team unfold on a weekly basis. Paramount Plus will be releasing the seventh Showtime episode on May 12th—let's get up to speed with what the group will be dealing with next in 'Burial.'
The Canadian wilderness, teenagers, shrooms, and the paranormal—what could happen? The answer is clearly a lot, in the Yellowjackets world. This group has been through hell in their past and present lives. Yellowjackets will make your jaw drop and your stomach turn, and that is what makes the show so enticing. Just when you think it couldn't get worse, it sure does. Before we unpack the most recent episode, 'Qui,' we should take a look at what the Yellowjackets have been through in previous episodes.
Wait, Where Do We Even Start?
Yellowjackets is known for its mysterious messaging and plot, which leaves a lot of questions up in the air. For starters, the whole premise of the show follows one group of soccer players. This group is followed in their past (when they are stranded) and their present (when they are all adults). The past is set in 1996, and the present is set 25 years later, in 2021.
The past involves the whole team (at first) as teenagers, which includes the main characters: Shauna (Sophie Nèlisse), Lottie (Courtney Eaton), Misty (Samantha Hanratty), Taissa (Jasmin Savoy Brown), Natalie (Sophie Thatcher), Mari (Alexa Barajas), Ben (Steven Krueger), Vanessa (Liv Hewson), Travis (Kevin Alves), and Jackie (Ella Purnell). The present involves some of the main characters that survived the wilderness, including: Misty (Christina Ricci), Taissa (Tawny Cypress), Vanessa (Lauren Ambrose), Shauna (Melanie Lynskey), Lottie (Simone Kessell), and Natalie (Juliette Lewis).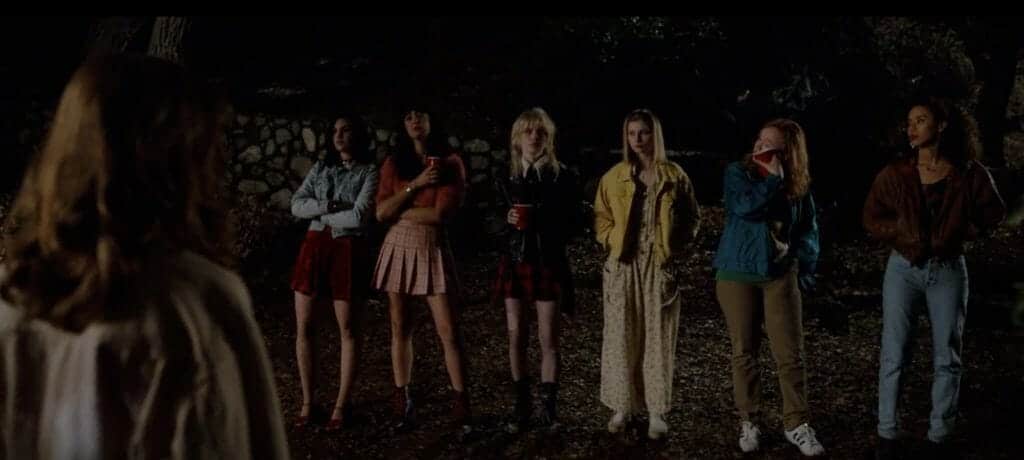 Season 1: The Start of Survival
In season 1, we get to know the characters and their lives before the unthinkable happens. We get to see the Yellowjackets playing soccer and winning the game that gets them to nationals. It's the usual—sex, partying, friendships, and school. That is, until they get on the plane to actually go to nationals. When the plane crashes, we get to see the real personalities of all the characters.
The outcast, "Misty F****** Quigley," goes into nurse mode, saves a couple people, and makes "Coach" lose a leg. However, this claim to fame gets in her head as she finds the plane's emergency locator translator, breaking it into little pieces. Van almost dies, getting ignored by Jackie in order to save her best friend, Shauna. Travis and Javi's (Luciano Leroux) father is found dead in a tree, eventually plummeting to the ground (so casual, right?). Then, the Yellowjackets find shelter in a nearby cabin after the group comes to a consensus vote on Taissa's idea to relocate (claiming her leadership role).
During this time, relationships form. The first one we see is (somewhat) a relationship between Misty and Coach Ben. Misty has been reclaimed to help Ben since she saved his life, or she is just creepily obsessed with him. Coach Ben has to fake it and act like he is in love with her in order to… not get poisoned again. Then, we see Travis and Natalie go from enemies to lovers. We also see Van and Taissa forming a secret relationship.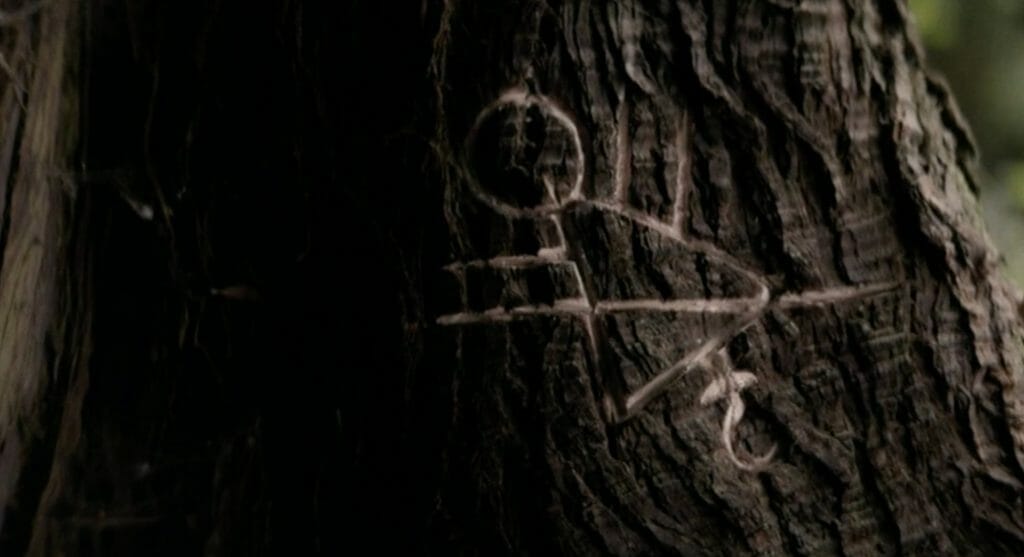 Season 1: Where Things Get Weird
Days go on, and the Yellowjackets realize that it could be around homecoming time, so why not celebrate? Well, the wilderness survival way of experiencing homecoming is apparently taking shrooms. This is when things start to go south (or north, for that matter!). While the group is on shrooms, they have some sort of clairvoyant awakening. The group finds Jackie and Travis, locks Jackie in a closet, and starts attacking Travis. In this mix of things, Javi gets lost, and Coach Ben comes out to Natalie. Just as the knife is against Travis' throat, Natalie comes out to help her former lover and saves him.
Well, after that chaos, everybody is concerned or confused about what happened. The Yellowjackets soon start to form alliances and turn on each other. When the group is at their last straw and starving, a bear appears out of nowhere. Lottie bends down in front of it, like she knows the bear. This makes the team start thanking the wilderness and whatever mythical power 'gave them food.' Also during this time, we see Shauna's secret begin to spill—she is pregnant with her best friend's boyfriend's baby.
Shauna and Jackie get into a fight, resulting in Jackie getting kicked out and sleeping outside. Jackie tries to start a fire, but of course, it starts snowing in the middle of the night. Unfortunately, Jackie is frozen solid when Shauna goes outside to get her in the morning.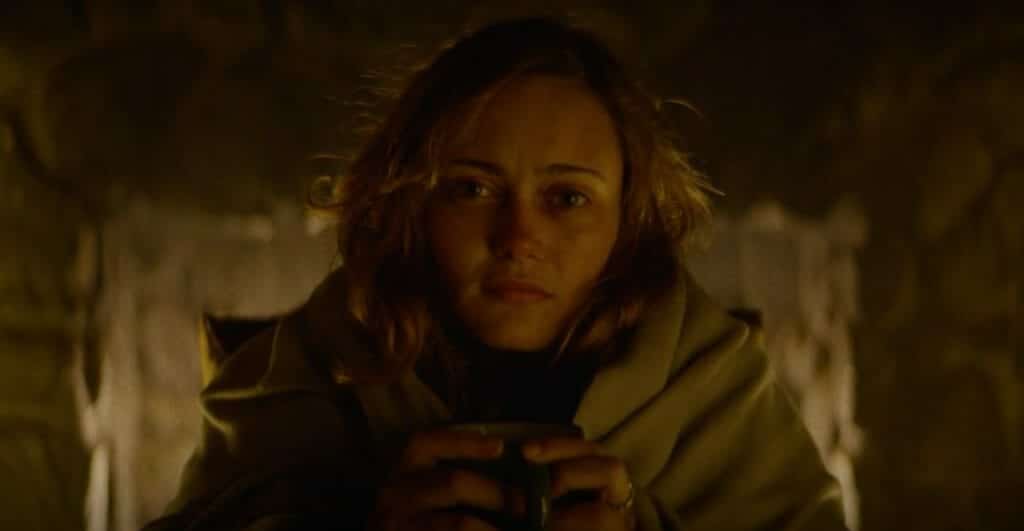 Season 2, Episodes 1-5: The Feast
Now that we are going into winter, the Yellowjackets are scavenging for food since the last of their bear meat is almost gone. Shauna is showing, Javi is missing, and a cult is being formed. During this time, Lottie starts to gather up the few teammates who believe there is something else in those woods. Little do they know, Lottie could just be hallucinating since she is off her schizophrenia medication.
On the other hand, Shauna is now talking to Jackie's dead corpse, which is being kept frozen in a shed. Shauna starts to hallucinate Jackie talking to her and ends up doing her hair and makeup. If that isn't creepy enough for you, Shauna accidentally lets Jackie fall over, which results in Jackie losing an ear. Shauna keeps this ear in her pocket and … eats it.
Lottie supposedly manifests dead birds to eat and sacrifices a bear's heart to the woods. Since she is intuitive with the wilderness, she knows that they "won't have to worry about food anymore." Taissa then finds Jackie's dolled-up body in the shed and forces everybody to finally get rid of it. Snow, leaves, and branches fall onto Jackie's burning body, which cooked her instead of burning her. This leads to, well, cannibalism (yes, I had to look away from the screen).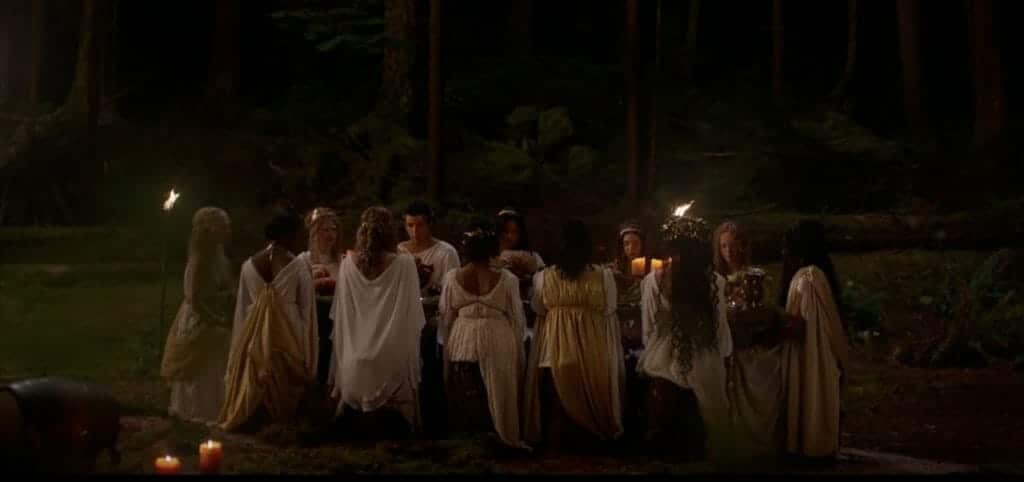 The Present Is Not Any Better
As we watch the group navigate through survival and sanity, we also get to see the Yellowjackets in 2021. Shauna, Taissa, Van, Lottie, and Natalie are full of trauma, and it shows. The girls are shown separately, and it is emphasized early on in show that they keep minimal contact with each other in order to keep the truth from coming out. That is, until they start getting blackmailed.
Shauna ends up marrying Jeff (Warren Kole) and starts having an affair with a guy she got into a fender bender with, also known as, Adam (Peter Gadiot). Shauna and Jeff have a daughter, Callie, who is not the wilderness baby we see in her flashbacks. Taissa is running for state senator and is married to Simone (Rukiya Bernard), and they have a child named Sammy. Sammy is being haunted by the 'lady in the tree,' but it turns out that lady in the tree is sleepwalking Taissa. Sleepwalking Taissa has been a problem before and is currently a problem since she killed their dog and chopped its head off.
Misty is now a stubborn, manipulative nurse who steals medication and has pet birds. Natalie is a recovering drug addict and, of course, still a badass. Throughout this time, all of the girls except Shauna get a postcard with the eerie symbol that they keep seeing in the woods. Shauna immediately thinks it is Adam and ends up killing him; the gag is that it was her husband Jeff and his friend Randy the whole time.
Now That We Are Caught Up…
To say that we hit every mark is an understatement, but now all that is left is the most recent episode, 'Qui'. In this episode, Shauna keeps messing up with the cops, so Jeff sends her off to Lottie's retreat (or cult). This retreat is where Van, Natalie, and Misty are as well. Now, the girls are back together to figure out why their confusing and cannibalistic history is coming full circle. In the past, we get to see what happens to Shauna and her baby.
To find out more, check out the second article on Yellowjackets, focusing on episode six as a whole!