Fashion week is finally here, and it is buzzing with a month of shows and lookbooks from all around the world. New looks from some of the top designers with shows set in New York, London, Milan, and Paris are taking over September.
New York held their shows from September 7th to the 13th. Some of the most prominent designers, including Brandon Maxwell, Michael Kors, and Tory Burch, will showcase their 2024 spring/summer designs. This year, Ralph Lauren will be returning to New York and making a comeback after a four-year hiatus.
Coach Spring 2024
On September 7, Coach held their Spring 2024 collection at the New York Public Library. This year marks Stuart Vever's 10th anniversary at Coach. Vever is a British designer who has previously worked for Marc Jacobs, Bottega Venetta, Givenchy, and Louis Vuitton.
Through this collection, Vever explores his ten years in New York. Adding a personal touch, Vever captures the essence of New York fashion through his imagination. Straying away from their usual design style, Coach turns to the character of a metropolitan.
Coach's New York Fashion Week Spring 2024 collection draws inspiration from the wardrobes of the city's bustling dwellers. This new collection challenges their antiquated history with contemporary styles.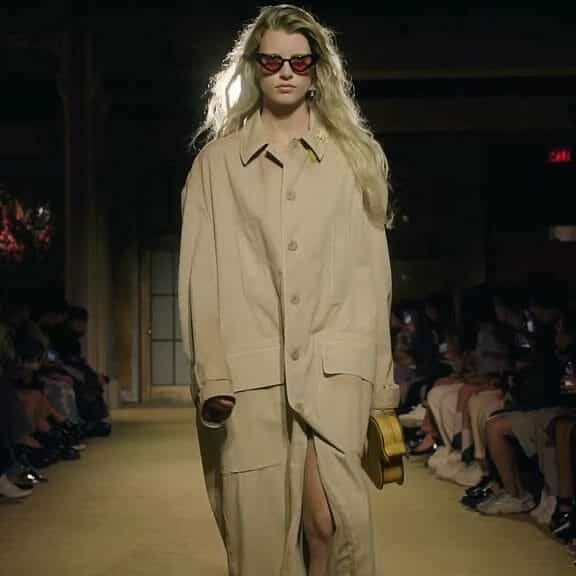 From slip dresses to blazers, a simple vibe encapsulates the individuality of New York fashion. Handbags, flats, and moto boots accompany the designs, completing the look of a lively New Yorker. In line with the fashion of modernity, the designs stand on the more simplistic side. Denim jackets, distressed knitwear, and sweatpants detail the casual fashion that run the streets of New York.
Coach's infamous history with leather has made another headline at this year's show as protestors storm the runway. Two PETA protestors interrupt the show with the intent to condemn the brand for its cruelty to cows and environmentally unfriendly leather products. One protester was covered in body paint of the human muscular system and the words 'Coach Leather Kills' across her chest. Meanwhile the other walks behind the first with the same words written on a sign.
While this collection may be inspired by millennial fashion, it was heavily criticized for its lack of creativity and originality. The pieces in this collection resemble clothing that can be found in department stores while also being environmentally unfriendly.
Michael Kors Spring/Summer 2024 – New York Fashion Week
On September 11th, Michael Kors studded the runway on a waterfront promenade lined with pink flowers at Domino Park in Williamsburg, Brooklyn. Kors' show pays tribute to his mother, whom he lost just a month ago, and their travels. A sentimental ambiance fills the venue as the designs make their way down the boardwalk.
Michael Kors finds inspiration in the optimism and positivity of fashion and brings that into his designs. In this collection, Kors conveys how traveling can transport you and create everlasting memories that stay with you forever. An exhilarating and relaxing runway with a personal touch incorporated pulls the audience into Kors' inspirations.
Kors' mood for this runway is barefoot glamour, which is all about having fun with fashion. A vacation is the perfect time to let loose and relax with a casual, laid-back attitude. This ties in fittingly with the collection's leisurely mood and the atmosphere of Domino Park and the nearby East River.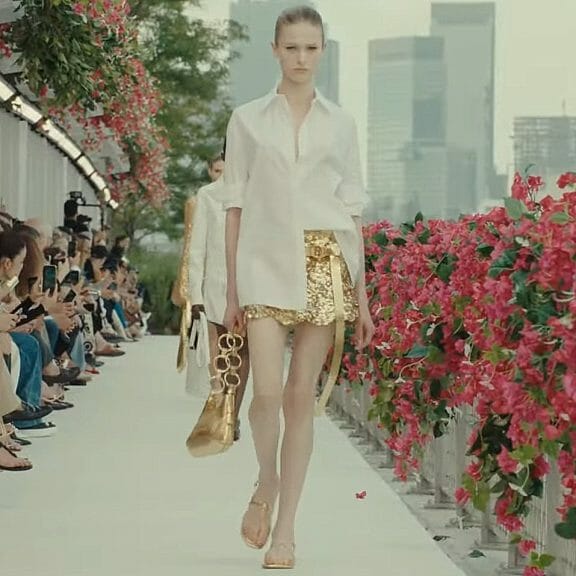 The collection is heavily influenced by what Kors's mother may have worn in the 70s or 80s. Kors also draws inspiration from many 60s and 70s fashion icons. Kors' white lace pieces throughout the collection reflect Jane Birkin's 1974 lace mini dress with a plunging neckline. Kor's inspiration board also includes 60s icons Jackie Kennedy and Sharron Tate.
Sheer kaftans, mini dresses, swimsuits, and head-to-toe monochromatic designs make up Kors's collection. These designs stick to a central color palette of white, black, and nudes. In addition, mesh and knit designs contribute to the suggested covered-up nude concept.
Despite the mix of patterns and textures, the simplicity of the designs stays intact. Kors pairs these designs with simple gold jewellery for extra details and flare. Completing the laid-back vacation look, Kors includes untucked shirts, bathing suits, and cock-tail hour-ready looks.
Ralph Lauren Spring/Summer 2024
Ralph Lauren is back after four years with a collection that screams New York. As a boy raised in the Bronx, Lauren's unwavering influence and connection to the city shapes New York fashion. With a grounded background in New York, Lauren takes his influence on the city to a new level with this collection.
Reflecting the rustic luxury and eclectic theme of the collection, Ralph Lauren's show took place in a Brooklyn warehouse. Wood and draped canvas decorate the venue along with glimmering chandeliers and gold accent pieces. Similarly, Lauren's venue reflects the stylistic characteristics of the collection.
On the runway, Lauren showcases true American fashion with a mix of styles. Ultimately, the collection comes together as a testimony of self-expression through fashion. Lauren fills the collection with styles that any woman can wear no matter the age, time, or place. Through this, he creates an empowering and liberating form of expression.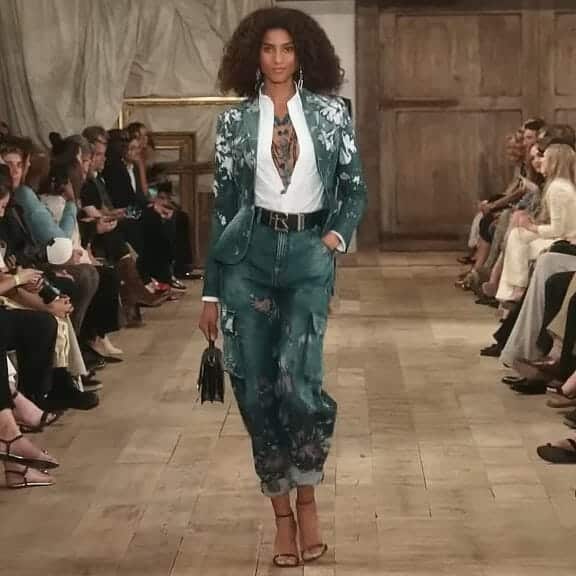 This collection can be split into distinct styles that all flow together. Lauren creates a casual luxury collection through a wide variety of unique designs. Accordingly, Lauren pairs denim, free-flowing designs, and floral details with simple handbags. A perfect combination of breezing confidence and nonchalant manners of rich decadents.
Bold statement gold adds an eye-catching and affluent touch as the pieces make their way down the catwalk. A mix of dazzling gold and simple black blend together, reimagining classic elegance. The gold moves down the catwalk, captivating on-lookers while black mixes to create a perception of mysterious luxury.
From there, the collection moves on to a bold fusion of colors that create an essence of spring. A vibrant ensemble of hues and gold accent pieces make up the house's latest designs, creating an effervescent mood.
Christian Siriano Spring 2024 – New York Fashion Week
On September 8, Christian Siriano celebrates 15 years of business at New York Fashion Week. Located in the Upper East Side, the show takes place at Pierre Hotel in Manhattan. Meanwhile, near the catwalk, Sia, dressed in a billowing pink tulle dress, performs "Chandelier" and "Diamonds".
Siriano celebrates this accomplishment with a corseted ballet-themed collection. Siriano draws inspiration from his roots from when he and his sister were ballerinas. This collection looks back on Siriano's childhood and where he first fell in love with clothes and fashion.
Siriano pulls the audience into a ballet fantasy with a romantic and ethereal collection of fabrics. From tulle tutus and body con designs to corsets and shimmering gowns, a somewhat unconventional collection steals the spotlight. Moreover, Siriano reinvents fantasy fashion in a modern light, telling a story of his own.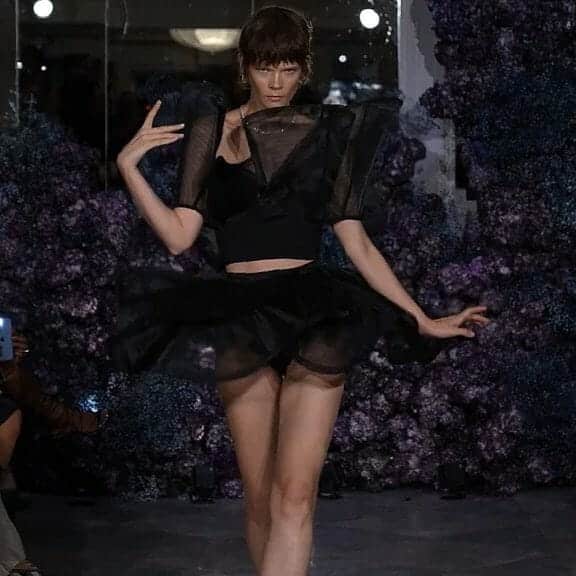 Each design in this collection is unique in its own way, but they all tie together under the ballerina theme. The collection's color palette mainly consists of black, white, pink, nude, and gold. These colors play into the daring but also calm nature of each design.
The collection starts with black silhouettes which resemble that of a black swan. Delicate fabrics mix with sharp and daring shapes to resemble the elegance and dramatics of ballet. Following the silhouettes, gold, pink, nude, and white subtly emerge with a bold and eye-catching personality.
Long-time muse of Siriano and supermodel Coco Rocha closes the show while performing a delicate and animated dance on the catwalk. Bringing to life the soul behind the piece, under the tulle and iridescent ribbons, Rocha illustrates the spirit of a ballerina.
Designer Spotlight
Fashion Institute of Technology
The Fashion Institute of Technology put on a diverse collection of ingenuity. Each student explores themes related to their background. An impressive display of geometry, math, and technology comes together under the theme of 'universal'. Through this, students represent their personalities and identity while challenging their abilities.
SIXDO
Vietnamese designer Do Manh Cuong presents a minimalist luxury collection of femineity. The collection follows a simple color palette of black, white, and pink, while the designs themselves are a daring exhibit of patterns and elements. Through this show, Cuong depicts the image of Vietnam through each design.
Tadashi Shoji
American-based Japanese designer puts on a show of oceanic glamour for his S/S 2024 collection. Shoji revealed his collection through a digital-only presentation. This collection is an escape to windswept beauty and breezing shores. Pearl embellishments, shell-like layers, and delicate embroidery combine to reveal a simple oceanic design.
Carolina Herrera
Wes Gordon, creative director for Carolina Herrera, puts on a muted collection filled with predominantly white designs along with pale yellow, lilac, and pink. Gordon takes a collection of clean silhouettes and lines and combines it with the fabulousness of the brand Carolina Herrera.
This year's designers did not fall short when designing their S/S 2024 collections. To discover more designers at this year's New York Fashion Week, click here. To learn more about some controversy behind this year's NYFW, click here.