Milan is one of the biggest fashion capitals in the world, and it is the next destination for Fashion Week. Italy's influence on the fashion industry is unmatched as its rich history fills the city. This year, designers hitting the runway include Bottega Veneta, Gucci, Prada, Versace, and Fendi.
The first day will open with a charity event called "Breast Cancer Fashion Show". This will feature a collection with the participation of 20 women with breast cancer and those who have taken preventative measures.
Prada SS24 Womenswear – Milan Fashion Week
Prada's creative directors Miuccia Prada and Raf Simons created a free-flowing collection titled "Fluid Forms. Prada held their show this year at the Fondazione Prada's Deposito in Milan. Prada's popular slime-lined catwalk made another appearance this year as it dripped down from the ceiling.
This collection proposes absolute freedom of the body through the free-flowing fabrics and designs. Accordingly, the collections include breezy fabrics and outfits as the models wear loose dress shirts, jackets, and belted shorts.
This year, Prada's sole attention is on the clothes themselves and not on a story. Most designers focus on the story behind their collections, but Prada is changing it up this year. The clothes aren't about the environment, politics, feminism, or even the designer. The clothes are about the craftsmanship and the complexities behind each detail of each look.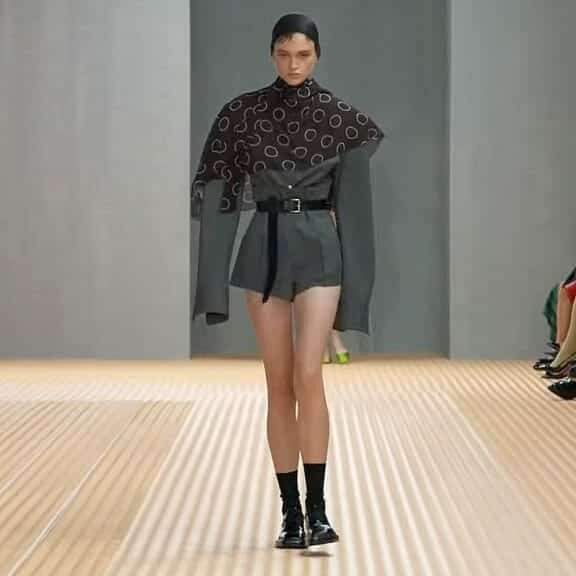 Prada takes a light and fluid approach with this collection, which is apparent through the translucent and lightweight fabrics. The models were draped in chiffon and organza as they gracefully made their way on the runway. The color palette for this collection remains light and works in pastels while also including dark shades of grey and black.
In addition, Prada incorporates fringe throughout the collection in the form of skirts, which elevates the fluidity of the collection. The collection also includes skirts and dresses with sequin embellishing and glamorous flowing organza cocktail dresses. Other designs include wool suits and oversized jackets tucked into high-waisted belted trousers.
This year, Miuccia Prada honors her grandfather, Mario Prada, by reproducing and reinterpreting a handbag originally designed by him. The original bag consists of silk moiré, but this year, the design consists of Nappa leather and re-nylon. The bag features a hand-carved fastening of mythological creatures.
Moschino SS24 – Milan Fashion Week
This year, Moschino put on a show for Milan Fashion Week without a creative director. The previous creative director, Jeremy Scott, left in March of this year, leaving the creative director chair empty during this year's Milan Fashion Week show. Although this year, the fashion house celebrates 40 years of business as they bring together four international stylists. Carlyne Cerf de Dudzeele, Katie Grand, Gabriella Karefa-Johnson, and Lucia Liu, each of whom creates ten looks.
Each stylist creates a collection inspired by Franco Moschino's iconic designs from 1983 to 1993 that come together as one collection. Each stylist's designs walk the runway separately as the curtain opens and closes before and after each.
For Act I, Carlyne Cerf De Dudzeele elevated one of Moschino's most iconic silhouettes with her little twist. De Dudzeele's collection is sophisticated glamour that comes from her own personal taste, as well as Franco's historic taste. The designs consist of pared-black suits and tops with bold jewelry. Simple sweaters and hoodies with blazers and designs paired with heart-shaped bags take on a business casual look. This collection challenges the question of what defines luxury these days.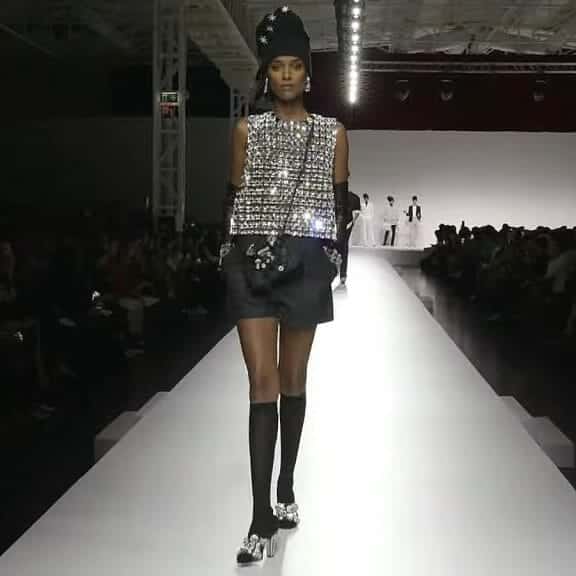 For Act II, Gabriella Karefa-Johnson recreated and changed styles from the early 90s show as she updated silhouettes and fabrications while still maintaining that energy. The iconic Moschino cowboy and biker looks from the 90s Moschino fashions can be seen throughout the collection. The collection, which she describes as "NOWstalgia" incorporates Franco's trademark cowboy hat, crochet designs, and oversize earrings while adding her own spin to it.
Act III by Lucia Liu brings out the romance and underlying femineity of Franco's designs that most do not notice. In the collection, Liu incorporates Franco's "Protect Me From The Fashion Industry" shirt. Liu showcases rushed silhouettes with dainty details and flowing fabrics which create an ethereal atmosphere. Therefore, heart shapes, gold details, and floral embroidery elevate the romance and femineity of the collection.
Act IIII takes on the essence of Franco Moschino's works which brought Grand to the idea of "LOUD LUXURY". Throughout the collection, those words along with question marks and exclamation points emphasize Grand's idea. Enhancing the boldness of the collection, the designs are modeled by dancers performing a frenetic and animated dance.
As the show came to an end, violinist Laura Marzadori played Gloria Gaynor's "I Am What I Am' while wearing a black gown with a peace sign bodice. Finally, closing the show, 40 models strolled down the runway wearing T-shirts to raise funds for the Elton John AIDS Foundation.
Gucci Ancora 2024
Sabato De Sarno, Gucci's newest creative director as of January this year, made his debut at this year's Milan Fashion Week. De Sarno previously worked for Prada, Dolce and Gabbana, and Valentino within the last 20 years. For De Sarno, his first collection is about his designs, his sensibilities, and his passions. Minimalist reins throughout De Sarno's collection as he reinvents Gucci's image.
This collection reads as a story of the joys of life, passion, humanity, people, real life, irrelevant glamour, provocation, and essentially everything that joy expresses. A story and designs that people will fall in love with. When it comes to the fashion house, De Sarno wants people to fall in love with Gucci again.
The title De Sarno created for this collection, "Gucci Ancora" describes the collection and his ambitions for it. The word "Ancora", which means "again" in English, describes the feeling when your desire is not over. Whether that be the desire for love, a simple embrace, or kiss; you own it but still want more.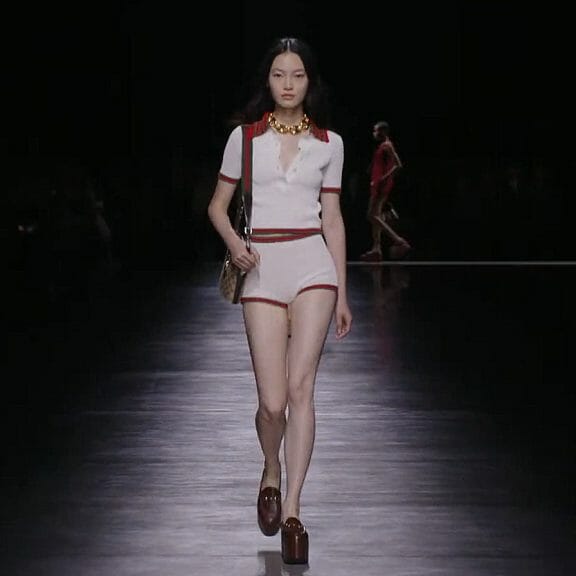 The collection ranges from designs of everyday essentials with an added touch of flair. De Santo's collection mainly consists of shorts, jackets, blazers, unbuttoned oversized tailored vests, and shift dresses. While the designs stayed on the simpler side, De Santo captivates the audience as dazzling crystal bras, chunky gold jewelry, and bejeweled fabrics shine throughout the collection.
Throughout the collection, De Santo pairs his designs with Jackie handbags and chunky platform loafers. The occasional sneaker and flat loafer compliment the plain black mini dresses and more business outfit designs. This year's Milan Fashion Week collection is heavy on coats as tailored overcoats with Gucci's signature grosgrain lining the back made its way into the collection. In addition, cropped pea coats, thin-skimming leather jackets, and the occasional suit coat grazed this year's runway.
This year, De Santo introduced a new house color he calls "Rosso Ancora". A deep maroon painted the collection as red shorts, skirts, jackets, bags, and dresses hypnotize the audience. The new color is also making appearances covering newsstands, trams, and billboards. The brand will also soon be switching over to a glossy maroon shopping bag as a signal for the new Gucci.
Versace Spring – Summer 2024 – Milan Fashion Week
Vintage Versace is making a modern comeback throughout this year's Spring-Summer 2024 collection. Youth, personal confidence, and the energy of the city became the starting points of inspiration for Versace's collection. Donatella Versace looks back at her brother, Gianni's 1995 fall collection as inspiration for this season. The brand ditches its iconic sexy and body-con aesthetic for a whimsical delicate style.
Versace designs a collection that ranges from wardrobe essentials to sensual and fierce eveningwear. According to Donatella Versace, this collection is joyful and sharp as the Versace woman is free and vibrant. Correspondingly, Versace creates a balance of sharpness, strength, and femineity with colorful silhouettes and youthful designs.
This year, a checkerboard motif reigns Versace's collection, which serves as a nod to Versace's past collections. Accordingly, throughout the collection, the designs range from subtle and faint checkerboard patterns to eye-catching chromatic patterns.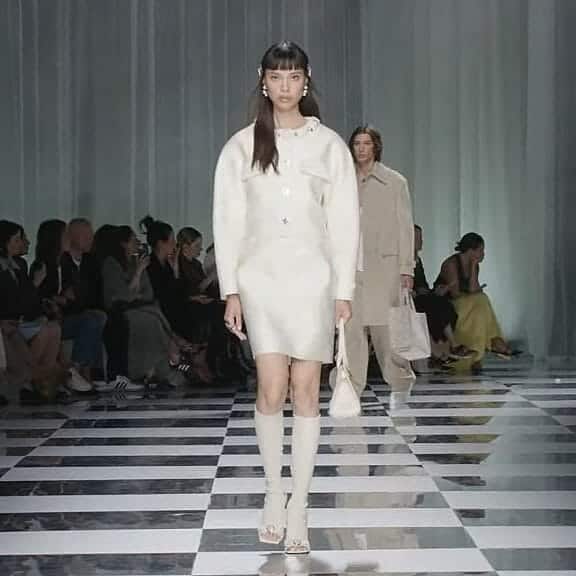 The show opens with Kendall Jenner in a pristine white mini dress with a white mini handbag and a pair of Gianna ribbon ballerina flats. This year marks the first time Versace opens a show with simple flat shoes rather than their usual heels. Simplicity reigns in this collection as a range of head-to-toe white and beige with silver accents strut the runway.
The collection radiates a light spring season as pastels of baby pink, mint green, buttercup yellow, and pale blue color the designs. In doing so, the spirit of a light-hearted and exuberant woman and vibrant and bold man shines through the vintage designs. Walking down the catwalk, three-dimensional necklines, seamlines, and bustier resemble sharp architecture. In addition, leather accessories with Versace's signature Barocco, Medusa, and Greca add an expressive detail to the collection.
Closing the show, Donatella brought back iconic 90s model, Claudia Schiffer, who also walked the 1995 fall show. Claudia brought back her iconic runway strut wearing a floor-length green and silver checkerboard dress. Versace's show brings a sense of nostalgia as it takes us back to the days of vintage fashion.
To discover more collections from this year's Milan Fashion Week, click here. To check out the S/S designs from last week's London shows, click here.