This year, London Fashion Week will take place from September 15th to the 19th, following New York Fashion Week. The latest spring/summer designs will be strutting the catwalk all around the city. Major designers, including Burberry, will unveil their latest spring designs as well as Erdem, a favorite by UK royals.
Coinciding with LFW, the Design Museum exhibit, Rebel: 30 Years of London Fashion opens and will celebrate the three-decade-long history of the British Fashion Council's NEWGEN program.
Vogue World – London Fashion Week 2023
Anna Wintour and Stephen Daldry kick off London Fashion Week with Vogue World at Royal Theatre Drury Lane. As Big Ben struck 8 p.m., guests sat and chatted in anticipation. Nothing is truer to fashion than being fashionably late, as the show began promptly 12 minutes from 8.
Celebrating iconic British creatives, the night opens with Kate Moss and includes performances from Stormzy, James McAvoy, Damian Lewis, and more! While celebrating London's heritage, the event is also raising money for UK's performance arts organizations.
Opening the show, Kate Moss hit the stage in an elegant John Galliano for Maison Margiela gown. All the while, opera singer Hongni Wu sings "When I Am Laid In Earth" as she and Moss saunter through the crowd to join each other on stage (Picture 1). Dancers from the Rambert Dance Company then flock to the stage as FKA Twigs sings "It's A Fine Day" in Mugler.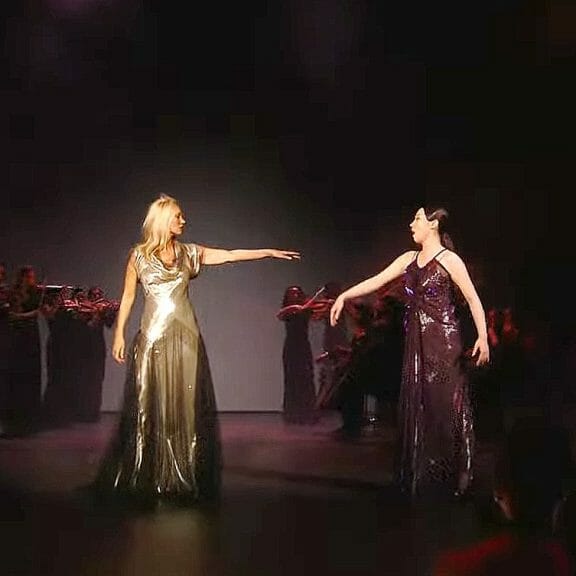 Models hit the stage and the floor dressed in punk rock outfits. Model Cara Delevingne makes her way to the stage where she and FKA Twigs share a kiss. Stormy then took the stage, performing Crown, while Sophie Okonedo (Picture 4) performs the Henry IV soliloquy in Vivian Westwood.
The atmosphere shifts as Tom Sturridge and Helena Wilson put on a modern rendition of Shakespeare's Romeo and Juliet that ended up outside a club. At the club, models, including Ashley Graham, strut on the stage before entering the club.
Annie Lenox then performs a rendition of "Sweet Dreams (Are Made of This)" as models walk the stage in stunning black and white designs. Closing the show, Naomi Cambell, Cindy Crawford, Linda Evangelista, and Christy Turlington Burns saunter through the runway hand in hand. Overall, Vogue World will donate £2 million to London-based art organizations through a new organization announced by Conde Nast.
Erdem – London Fashion Week 2023
Erdem Moralioglu looks back on British history with a sweep of romance and a picturesque experimentation with signifiers of Britian's past. Deborah Cavendish, the late dowager Duchess of Devonshire, becomes Erdem's biggest inspiration for his Spring 2024 collection. The Duchess played an influential role in refurbishing her family's crumbling house into one of the most preserved English estates.
Erdem was granted access to Deborah's archives and got to select a few fabrics from the late Duchess's antique textile collection. In this collection, Erdem upcycles Chatsworth Houses' 1940s floral curtain remnants in looks 1 and 3. Look 1 and 3 are trapeze coats with an open neckline that capture a couture-like essence. The coats consist of quilted liners made up of the chintz curtains from Chatsworth House.
Erdem also incorporates the fabric from the Duchess's collection in the form of the skirts of the evening dresses and waxed jackets that pull the pieces together. This year, Erdem collaborates with Barbour, whose traditional waxed jackets he drew inspiration from.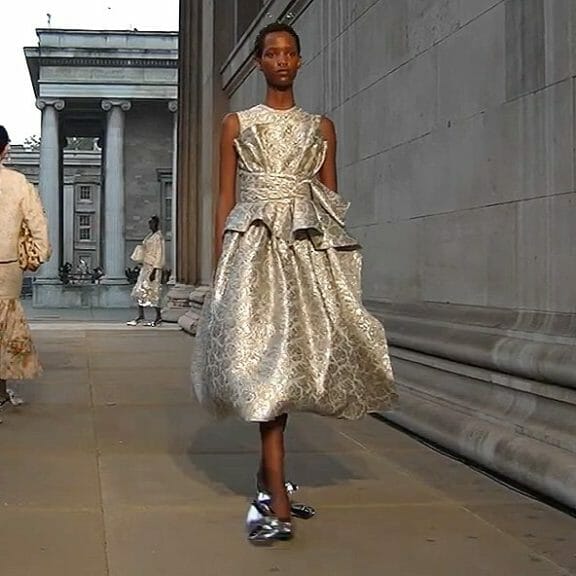 Regal fabrics, jewels, and embroidery move down the colonnade of the British Museum, captivating the onlookers. Following the floral chintz designs, a head-to-toe silver short ball gown with a defined ruffled bodice and a three-piece design consisting of a mid-length skirt, silver bustier, and jacket dazzle the corridors. Moving down the catwalk, lingerie with bejeweled details creates a simple but captivating look.
A range of floral embroidered skirts, belted dresses, and coats studded the catwalk with simple but detailed accents. Contrasting the mainly muted color palette, a bright range of hues emerges in the form of tailored suits with floor-length pleated skirts, body con dresses with a statement bow bodice, and green, yellow, and pink tinted A-line skirts and mid-length gowns.
Dragonfly brooches and heirloom jewels rest on the bodices, adding a lavish and glistening detail. As the collection nears an end, Erdem captures unraveled beauty as his designs appear incomplete. A jacket with unfinished stitching and exposed internal boning encapsulates the idea of unfinished beauty.
Burberry – Spring 2024
Burberry's chief creative officer Daniel Lee staged this season's show in a tent in North London's Highbury Fields. Lee became chief creative officer in mid-2022, following Riccardo Tisci, making this show his second runway as chief creative officer. Under a grand white tent, green benches align to create the silhouette of the catwalk.
This collection honors Burberry's fashion legacy as Lee reimagines some of Burberry's most infamous designs. Burberry's Spring 2024 collection heavily highlights the trench coat and outerwear. Lee brought back a weaving technique called changeant, which influenced the idea behind the trench coats. This technique gives an illusion that the fabric is changing colors depending on the angle one views it while giving the designs more depth.
The focus on outerwear distills the idea of Burberry as a fashion brand that is known for the outdoors. With that, the collection consists of ready-to-wear clothing and accessories. This includes trench coats, loose fabrics, jackets, sweaters, and sandals. Comfortable footwear combines with not-too-precious fabrics to create a collection that will withstand the elements of the outdoors.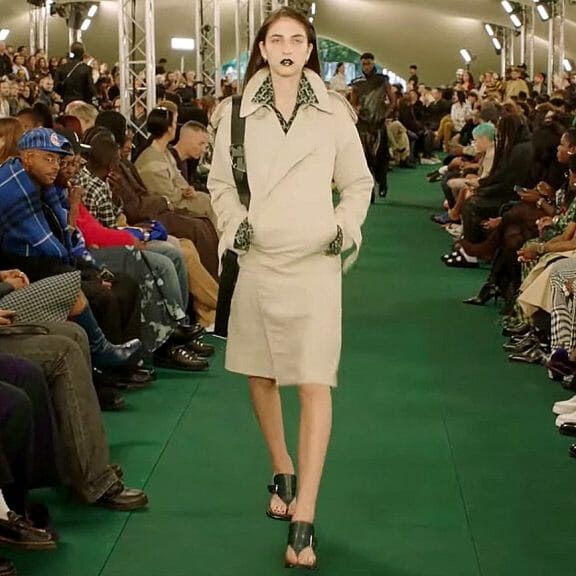 While traditional trench coats are usually tan, black, and grey hues, Lee explores a wide range of colors, patterns, and prints. Deep greens, bright reds, and Burberry's signature blue paint the collection. These captivating colors subtly blend with the black, grey, tan, and white fabrics. The various interpretations of the trench coat range from plain to chain print details.
Burberry reveals flashes of bare skin from halters, loose skirts, dresses, and open dress shirts as trench coats loosely hang from the arms of the models. Therefore, the collections expresses a subtle bare beauty that proves that loose can be sexy and not just skintight.
This collection explores lightness, beauty, sensuality, and elegance with a sense of outdoor living. While the main focus of outerwear for this collection comes from the trench coats, the apparel also plays a pivotal role. Through comfortable shoes and apparel, Burberry creates the ideal outdoor collection.
London takes a journey back in time for this year's Spring/Summer 2024 collections as they honor the history of Britain's fashion. We are now halfway through Fashion Month as London and New York have passed. We have yet to discover what awaits in Milan and Paris. To explore more about this year's designers and collections, click here. For a look into this year's New York Fashion Week, click here.