A new video has taken Twitter by storm. With over five million views and almost 200,000 likes, people are hypnotized by the sequences of events captured in it.
In the video, a road has been digitally altered to feature a massive bulge. The elevation suddenly and sharply increases, and just as suddenly, and just as sharply drops. Almost like the plunge of a roller coaster––but somehow steeper!––the video shows a series of vehicles attempting to make it across the road disturbance.
Against a lightly vegetated prairie landscape, the road bulge looms with unforgiving height. First, a semi-truck attempts to cross the road intrusion. The truck makes it up the climb but quickly topples off the peak, landing on its side in a burst of flames.
Next, a series of brightly colored sedans make their way, quickly losing their fenders on the sharp upward angle at the bottom of the bulge. The cars slingshot high above the top of the peak and crash down on the other side in heaps of metal and bouncing tires.
The first car to cross successfully is the third to attempt: an unassuming red pick-up truck towing a small rig. This car moves at a slower pace than those that came before it. The even weight distribution of the towing rig slows the truck at the peak. Lightly––albeit slightly chaotically––the truck tumbles to safety on the other side of the bulge, undamaged and ready to continue its drive.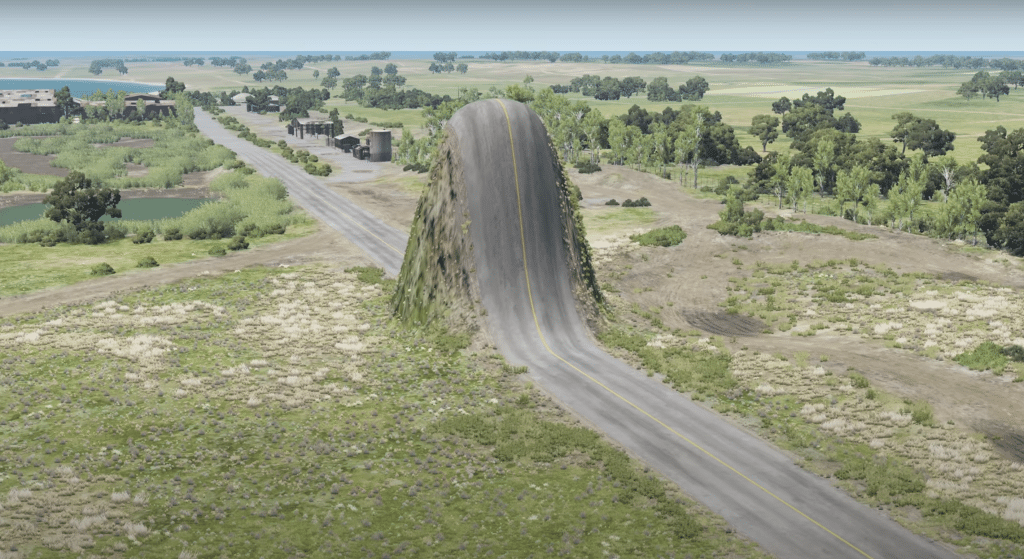 Over the two-minute and five-second video, several more cars attempt, and most are unsuccessful. A Tesla truck is one of the only other cars to make it across intact. As Ora Cohen Blank noted on Facebook, "Anyone else notices the cop is the only one who went around 🤦🏻‍♀️"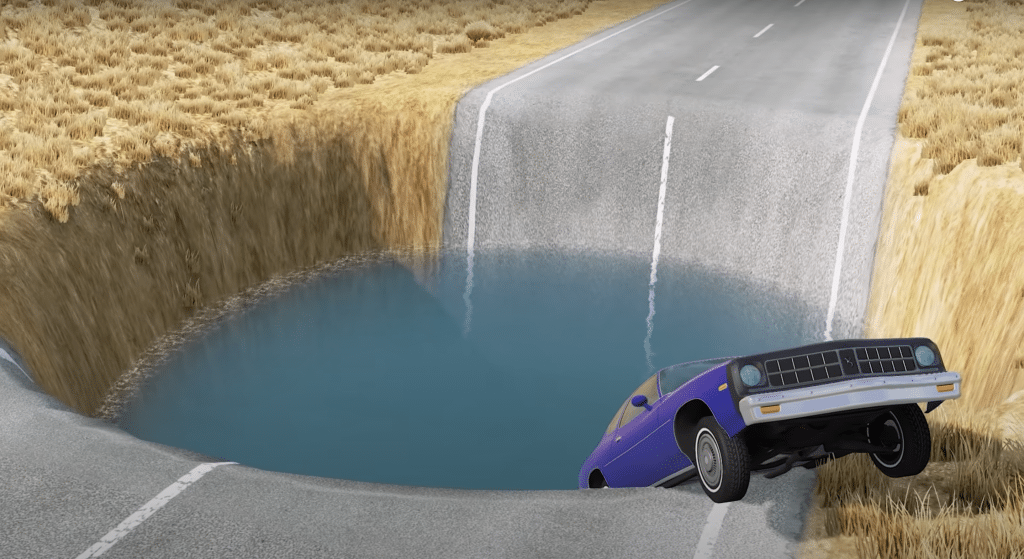 It appears these videos are created by BeamNG Nation on YouTube. BeamNG.drive is a video game where players drive the vehicles featured in these videos as they are faced with similar simulated challenges. BeamNG Nation appears to be a fan account that posts hundreds of videos and attempts to survive these obstacles. Some of their recent videos feature cars attempting to pass a broken bridge or driving straight into deep giant pits in the road. So far, there are six bulged road videos in the series.
Interested in learning more about social media trends? Click here to read more about why TikTok comments tend to be nicer than Instagram comments.