Throughout history, activists have used many different strategies to get their messages to the public. From marches to speeches, to even disturbing the peace, it has been continuously shown that change can be brought about in the most unlikely ways. For students at the University of Florida, this change was brought about through a very unusual method: bagels.
In celebration of National Bagel Day, students in the Hillel Jewish Student Center decided they would serve a bagel to any student willing to sign their pledge against spreading hate in their fight against antisemitism. The goal was to get 2,500 signatures. While UF Hillel expected to reach that goal, Chief Advancement Officer Jamie Zinn states that they never anticipated the sheer amount of local and national support for the event.
Community Rising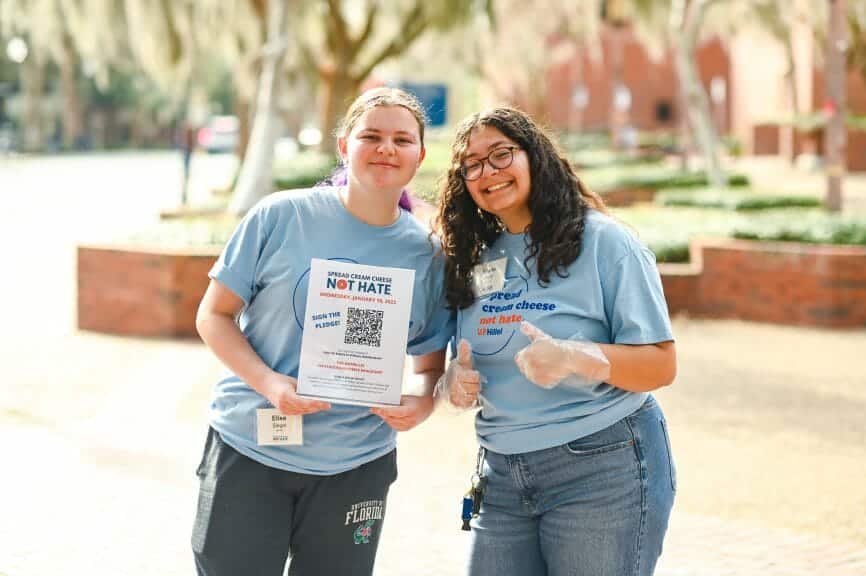 On January 18th, Hillel student volunteers took to Turlington Plaza at the University of Florida, ready to make a difference. Sporting light blue t-shirts stamped with the slogan "Spread Cream Cheese Not Hate," the students waited patiently for their curious (and maybe a little hungry) peers to show up.
Luckily, it did not take long.
Word-of-mouth communication and a handy Instagram flier ensured that news spread quickly. By lunchtime, students were flocking to the plaza from all over campus, ready to take the pledge. UF Hillel hit their goal for signatures by noon. When the event came to a close, they had collected over 4,000 signatures, easily an all-time high.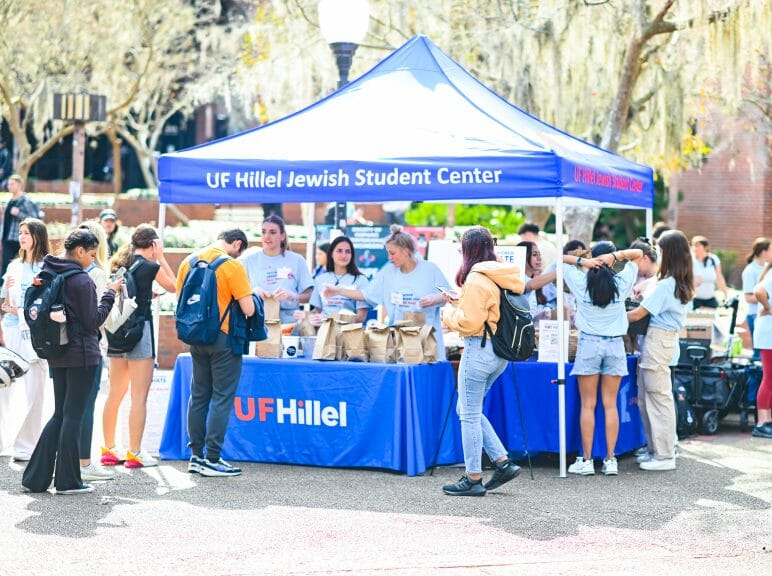 When I asked Jamie Zinn if she expected this kind of turnout, she laughed.
"No, I did not." She admitted, still smiling. "The growth was intentional but it was definitely hard to predict."
This growth continued to spread in the days that followed, with news outlets such as WCJB News and The Algemeiner picking up the story. Campus-wide support for the campaign also continued to rise. As of the evening of January 18th, the pledge had an official count of 4,263 signatures. Not only that but UF Hillel had even been contacted by other university Hillel chapters across the country.
"It's really a coalition and community-building opportunity," Zinn explained. "The bagel is just an invitation for a conversation."
In order to help students navigate these difficult topics, UF Hillel brought in volunteers from student organizations, including Progressive Black Men Incorporated, the Indian Student Association, and Students Taking Action Against Racism (STAAR). Each volunteer was trained in how to tactfully initiate difficult conversations and answer frequently asked questions about hate and antisemitism. This crafted a unique and diverse team that spread the campaign's message like never before.
Joining Together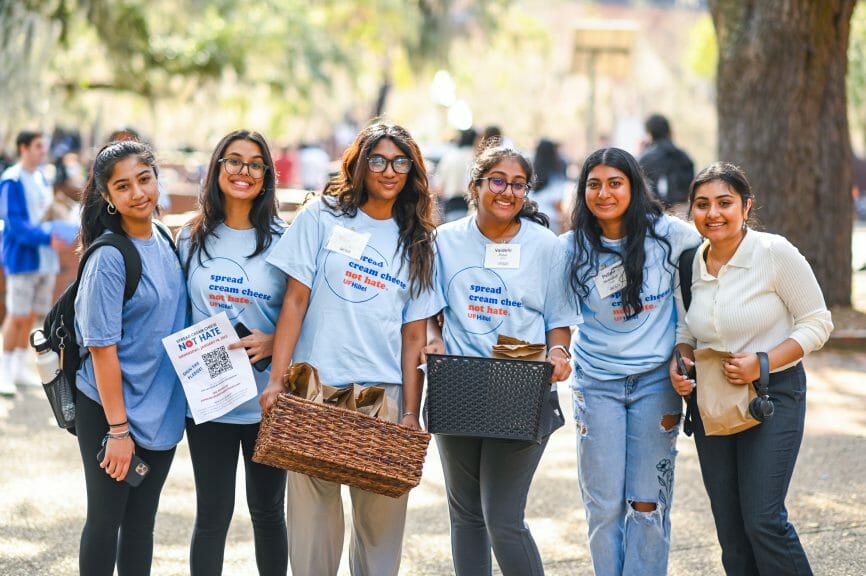 The brightly colored t-shirts were specifically chosen so that each volunteer could be easily spotted. The campaign also intentionally avoided a political message to keep from alienating any students. Conversations were not limited to antisemitism, and people were even encouraged to share their own testimonies of experiencing hate. With the wide range of student diversity present and the recent uptick in disheartening public moments of racism and antisemitism, many students were eager to speak.
"[This] is what we want. We want this to be all about communities coming together."

Jamie Zinn, Chief Advancement Officer at UF Hillel
The event fostered dialogue that both relieved the pressure of being silent for those impacted and educated those who had not on how they should take action when hate is in front of them.
"An attack on one community endangers all of us." Zinn reminded me. "That's important for everyone to remember."
She hopes that the knowledge shared through the campaign will cut down on the number of student bystanders, and create a more accepting environment for all students, no matter their ethnicity, religion, or other identification.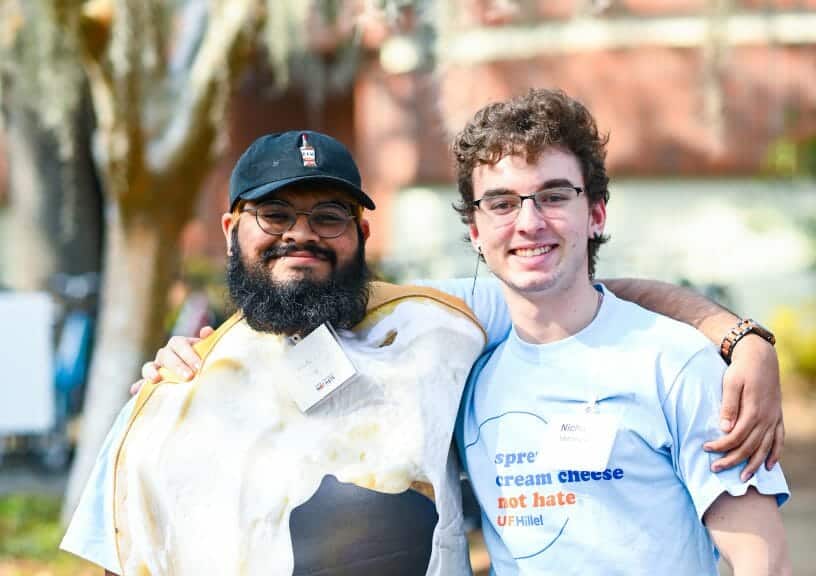 After the event, many volunteers said that they had never talked about these topics with their peers because they wouldn't usually feel comfortable. Yet, once they began speaking their truth they felt better about it. Some even stated that they had the sense they had really reached people and were eager to see where they could take their voices next.
Spreading Out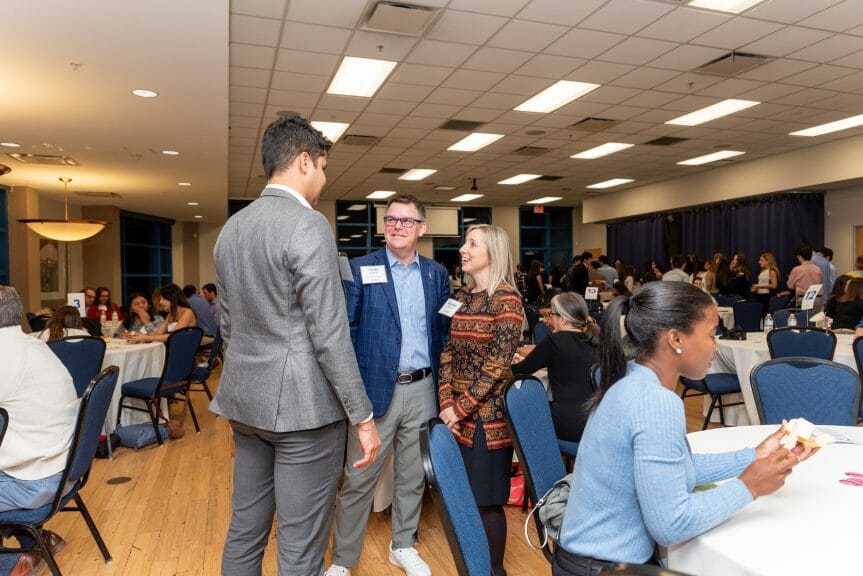 This year's event was unique for many reasons, but a major one is that before the event the volunteers gathered for the first-ever volunteer banquet. "[It was] kind of like a Bagel Day Pep Rally" Zinn informed me, "a chance for students to really come together."
While at the banquet, the campaign volunteers listened to the testimonies of five students who had experienced hate. Some spoke from the perspective of their Jewish heritage, and others from their own unique backgrounds. Following the speeches, UF Hillel presented the University of Florida President Kent Fuchs and Mrs. Linda Fuchs (who shared her own family's story) with a golden bagel trophy.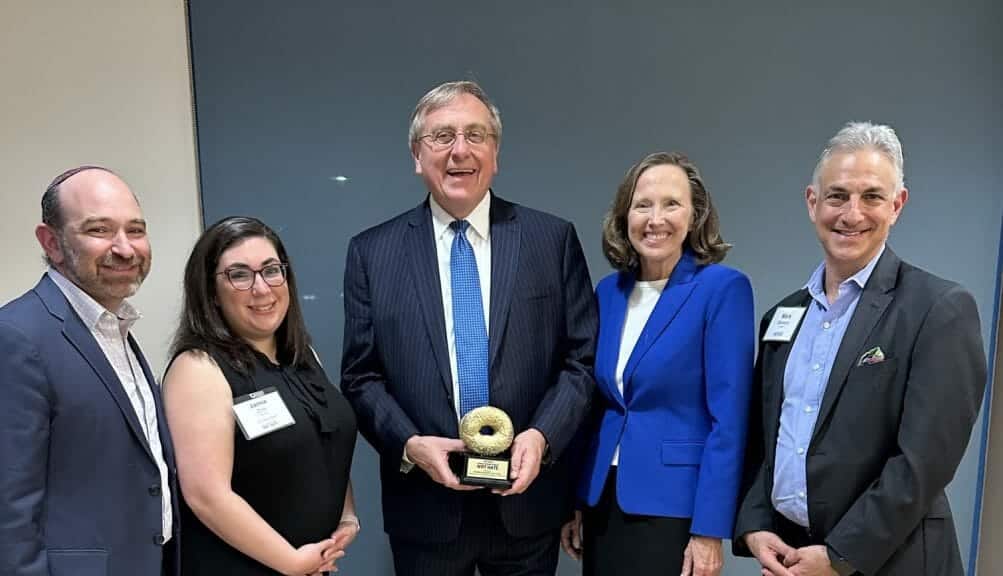 This was a nice break from the slew of golden gators they'd been gifted over the years and highlighted their commitment to supporting the Jewish community at UF.
The support didn't end there, however. After the numbers had been tallied, Hillel staff members realized that 50% of their volunteers and pledge signees identified as "Jewish Allies." This marked a big shift from previous years and hinted that the message was definitely reaching new heights.
Moving Forward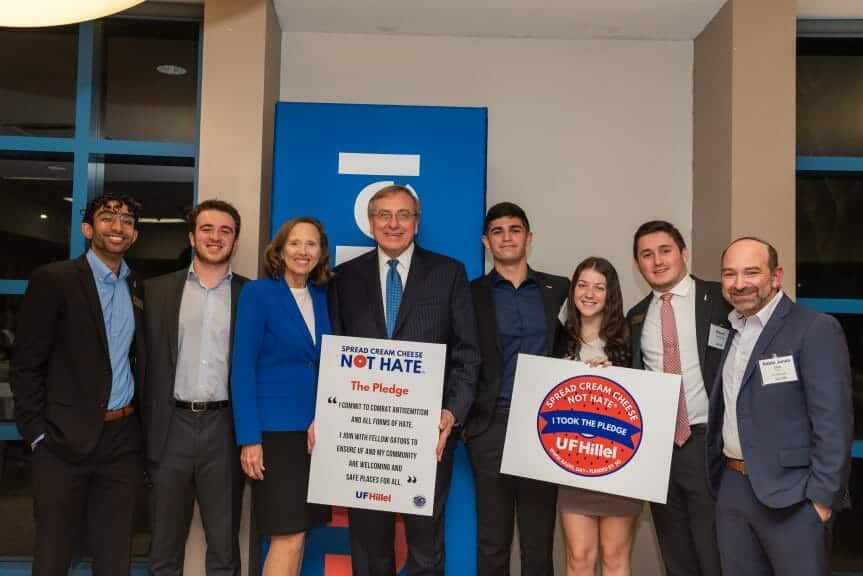 Community building is what continues to drive both UF Hillel and "Spread Cream Cheese Not Hate." According to Zinn, an upcoming goal of the campaign is to expand. This applies to both the student volunteer program and the Formal Campus Partners program. Currently, UF Hillel has 29 official organizations pledged to help their efforts, all of which have taken the oath to stop hatred and antisemitism.
Not only this, but UF Hillel hopes to create additional programs that happen year-round. These programs would likely include discussions, community events, and other creative opportunities for conversation. This is not to say that endorsing speakers and offering publicity will be off UF Hillel's agenda, or that the campaign won't shoot for 5,000 signatures next year. "Spread Cream Cheese Not Hate" will still continue to feature every January.
Yet, this is just the beginning for UF Hillel and other Hillel chapters across America. When it comes to having a vehicle for conversation, there is nothing quite as unique and tasty as a bagel.