Now that it is almost August, this marks the fifth month since we have been told by our local and state governments to stay home unless it is absolutely necessary to go out and to practice social distancing. However, as the months went by, cities and states seem to be relaxing their stay-at-home orders.
It seems a bit foolish to me when the death toll gets higher and higher in the USA each day. After all, we are not like South Korea or New Zealand who had enforced much stricter guidelines to stop the spread of the coronavirus at the beginning, and now are able to relax those laws because cases have all but disappeared in those countries.
But I get it, it's frustrating to isolate yourself for months without any real human contact outside of roommates or family. It's even more frustrating when you see people blatantly disregard human decency and go out to live life as normal (like there isn't a large global pandemic going on) just because they believe that they are invincible, and that they wont get sick. It's worse when they think it's okay even if they do get sick because they'll probably just recover.
It feels unfair that you can't see your friends or extended family due to a portion of Americans ruining it for the rest of us and engaging in behavior that leads to an increase in the number of cases. Thus, I've compiled a list of ten different ways to safely hang out with friends this summer (both remotely and in person) without increasing your chance of getting coronavirus.
A couple of things you'll want to do before embarking on any of these activities is to always wear a mask, keep your distance from your friends as much as possible, and to consistently wash your hands or use hand sanitizer that will help prevent the spread of germs as much as possible. The CDC also has a list of guidelines you can reference to help you practice safety and prevention as much as possible.
1. Create a club or group for a shared interest.
You can create a book club or a movie club for you and your friends. There are ways to share a screen online and a watch something together. You can also create a group video call where you all read the same book popcorn still. Or, if you don't think you can make that much of a time commitment with friends, you could just watch the movie or read the book by yourself and then meet up on a zoom call to discuss your thoughts.
2. Create a group for a shared hobby
Maybe you and your friends enjoy the same hobby and have not really been motivated to create anything lately. Or maybe, there's always something that you've wanted to do but have not had the opportunity to do so yet. You could create a group for knitting, or gardening, or even to share recipes. And the best part is, if you are creating something tangible, you can mail or deliver it to your friend that you have been sharing the hobby with.
3. Go somewhere together but separately
This could be something as simple as biking on a trail together, while keeping a distance from each other, or going rollerskating, etc. This could also be a car trip that ends with you all driving up to the edge of a national park or overlooking the entire city. You all can remain in your car and enjoy the view or step out of it and enjoy it together.
4. Start a podcast
This will take some effort from you and your friends but it's totally possible to do a podcast together when you guys are not at the same physical location to record. Plenty of podcasts have friends who don't live in the same city or state, others have had to start recording from their own houses since the pandemic started getting worse. You and your friends can join in on the action as well.
5. Play games online with friends
Maybe the gamers and streamers were onto something. You can create a gaming league with you and your friends (if you're not already part of one) and play multi-player games. Or maybe you fell into the Animal Crossing craze and you and your friends can go visit each other's islands as a subsitite for not being able to go to each other's places in person. There are also ways to play your favorite games from Game Nights online too. The magic of the internet am i right.
6. Go old school and do a phone call
If you have social anxiety, or just don't feel up to seeing anyone on a video call, why not just use your phone and give someone a ring. I don't know about you but the only people I ever talk on the phone are my grandparents or parents. A lot of Generation Z also just refuse to pick up the phone when someone gives them a call. But there's something nostalgic about talking to someone on the phone for hours, not being able to see their face.
7. Go camping
As long as you and your friends all have separate tents and don't mix your belongings together or share utensils, etc. it is totally possible for you and your friends to go camping and still be able to maintain social distancing and be safe. Perhaps, you guys should try one of the less popular camping spots instead of the ones that are sure to have many visitors.
8. Start exercising together while maintaining a distance
If you want to play it extremely safe, you can just set up your laptop in front of you on a video call while you and your friends go along to a work out video at the same time. If you want to actually see them in person, put your masks on and set up some yoga mats in your backyard. Or go for a long walk around the neighborhood or city.
9. Meet up at or start a protest against black racial violence
Studies have shown that the BLM protests of late have not contributed to the increase of coronavirus cases and that protestors have been vigilantly practicing prevention methods. Why not get a group of your friends together to help fight for the cause? Remember to stay safe though and leave when you think your life might be at risk, the police have been showing a total disregard for human life recently.
10. Help your community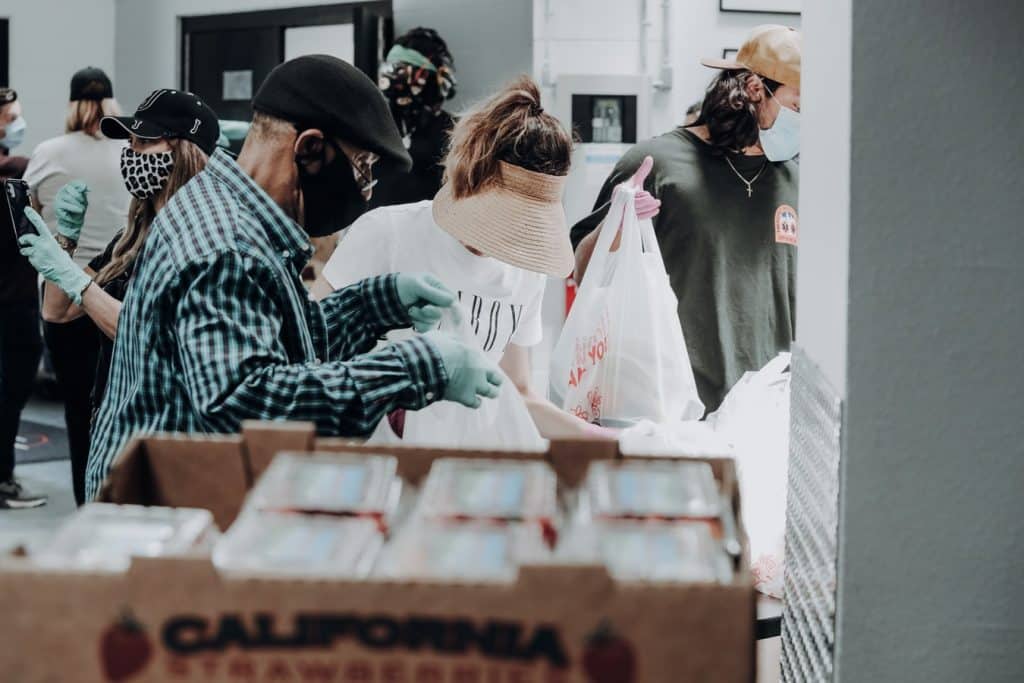 There have been an increase in need as people have become unhoused due to the pandemic. There are also elderly people and those who are immuno-compromised who can not go out to get necessities for themselves. There are protestors who need food and water too as they go on protesting for days on end. Consider creating a tag-team group who can arrange a supply run for those in the community who desperately need the help.
Featured imaged courtesy of Unsplash