A trend has emerged in which artists on Spotify release sped-up versions of their old songs. This phenomenon, which TikTok popularised, amongst other audio trends, could be foreshadowing the beginning of a newer, faster era of music consumption.
TikTok has become a hugely influential platform in the world of music. In fact, a huge portion of the app's content is centered around it, with every video having a 'sound' attached. And while around 165 million people have a Spotify account, there are an estimated 1 billion total TikTok users. Assuming this data is correct, it suggests that more people are listening to and discovering music on Tiktok than on even the most popular music streaming platform out there.
But should this be a cause for concern? Well, some seem to think so, claiming that TikTok's algorithm is specifically designed to reduce its user's attention spans. For instance, compare the average length of a TikTok video to the length of a conventional song: the app's videos are typically between 21 and 34 seconds long, whereas the average song runs for over 3 minutes. That's quite a difference!
Also, because TikTok videos are so short, creators tend to select the parts of songs that are the most familiar, exciting, or lyrically effective. The video above, for example, uses just the bridge section of Lana Del Rey's 'Summertime Sadness.' But there's something different about it – it's been sped up.
The 'Sped-Up' Version
The overwhelming popularity of sped-up songs on TikTok seems to have overlapped into the music streaming world. And on Spotify, artists are beginning to catch on to the trend. For instance, as of September 26th, there is now a Lana Del Rey-approved sped-up version of 'Summertime Sadness.' Other artists such as Ellie Goulding, Sam Smith, and Paloma Faith are also jumping on the bandwagon: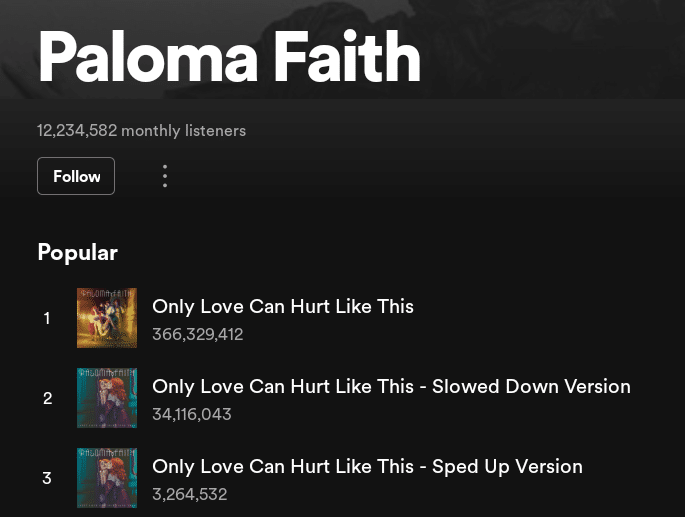 Ever since Kate Bush's 'Running Up That Hill' rose to prominence earlier this year, it's become clear that even 'old' songs aren't immune to these online fads. For example, Tears for Fears' classic 80s hit 'Everybody Wants To Rule the World' has become the sped-up soundtrack to Stranger Things TikTok – leading the band to also release an official remix.
Intriguingly, many of these sped-up Spotify re-releases are partially credited to an artist named 'Speed Radio.' They are also the culprits responsible for making Nelly Furtado's 'Say It Right – Sped Up Remix' currently more popular on Spotify than her single 'I'm Like A Bird.' And, they have nearly 7 million monthly listeners.
Trends Move Fast On TikTok
Why are sped-up songs so popular? Well, arguably these accelerated sounds add that sense of momentum and excitement needed to match the quick, fleeting format of the TikTok algorithm. Hearing the best part of a song you like, especially when it has been sped up, is also more likely to hold your attention, and give you that 'rush' feeling.
A great example of this is the TikTok below, which celebrates the recent hit 'Bad Habit' by Steve Lacy. The original version of the song was released in June this year, however after months of being a popular sped-up sound on Tiktok, Lacy, like many other artists, re-released the single as an official sped-up version in September. The song, which already has a fairly upbeat 'vibe,' becomes almost impossible not to dance to once sped up.
Is The Future Faster?
It's easy to get frustrated with the constant trends TikTok throws at us. Especially when it comes to music, which is already a very polarizing topic. But while it may be worrying to witness such drastic changes in our media consumption, as of right now, it's unlikely that sped-up songs have the staying power to play on the actual radio. In fact, the main reason they exist is probably so that the artists who own them can cash in. And if that's what bothers you, maybe indie music is more your thing.