Our beloved satirical cartoon – The Simpsons – known for its eerily accurate predictions that usually come true, has done it again! But this time, about Inauguration Day 2021. I mean are we even surprised at this point?
After Inauguration Day, many people couldn't help but draw similarities between the events of the day and one particular scene in a 'Simpsons' episode back in 2000.
Fans pointed out that In the episode 'Bart to the Future', Lisa Simpson who becomes president, is seen wearing a purple jacket and white pearls; an awfully similar attire to that of Kamala Harris, the first female Vice President, during Inauguration day.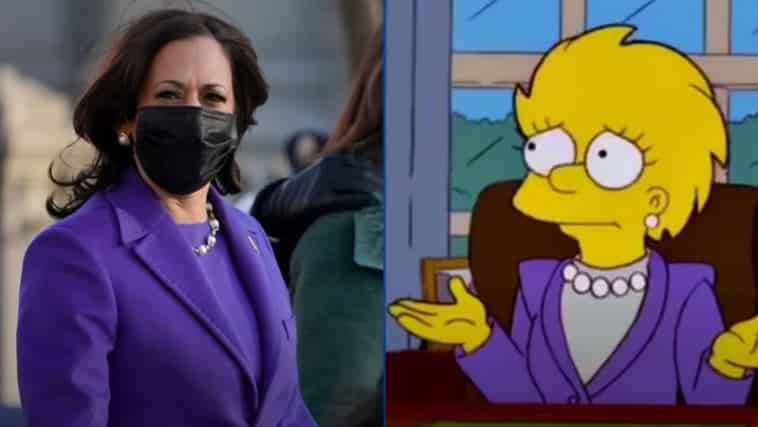 That's not the only prediction on Simpson's part though. Sitting in the Oval Office, President Lisa Simpson claims that her term has "inherited quite a budget crunch from President Trump."
After Donald Trump's election four years ago, many fans have continuously said the show had predicted Trump would become president.
After these recent events, it seems that 'The Simpsons' also accurately predicted that a woman would have a very powerful role in Office after Trump's term.
But the parallels to the day don't stop there!
Fans have also pointed out some similarities between Tom Hanks' involvement in Joe Biden's Inauguration Day virtual concert a scene in the cartoon.
In 'The Simpsons Movie' that aired back in 2007, we can see Tom Hanks making a cameo and addressing the public during a time of 'national chaos'.
"The US government has lost its credibility, so it's borrowing some of mine," he says in the cartoon, trying to calm a raging nation.
How many more predictions can the show make? Check out how this new 'The Simpsons' episode might have warned us of the ending of the world.