Have you noticed that when you read through Instagram and YouTube, your feeds are occasionally flooded with home cooking videos?
We can't help but drool over the beautiful food scenes. Home cooking has long played an important role in human culture and household life.
But when and why did home cooking become a trend among Millennium and Gen Z? Read this article and fall in love with the romance of home cooking.
Homemade meals are on the rise
Home cooking has been a vital element in human society for generations. However, interest in home cooking has been renewed, and domestic cooking videos have been greatly popularized throughout social media in recent years.
Along with the revived popularity of the home cooking trend on the internet, multiple influencers have posted "What I cook/eat in a week" videos on Instagram, TikTok, and YouTube to share their cooking routine and daily recipes. The YouTube series "Living Alone Diaries" by Michelle Choi, occasionally featuring recordings of her meal-preparing routine, has gained immense popularity, with a single video garnering over 4 million views.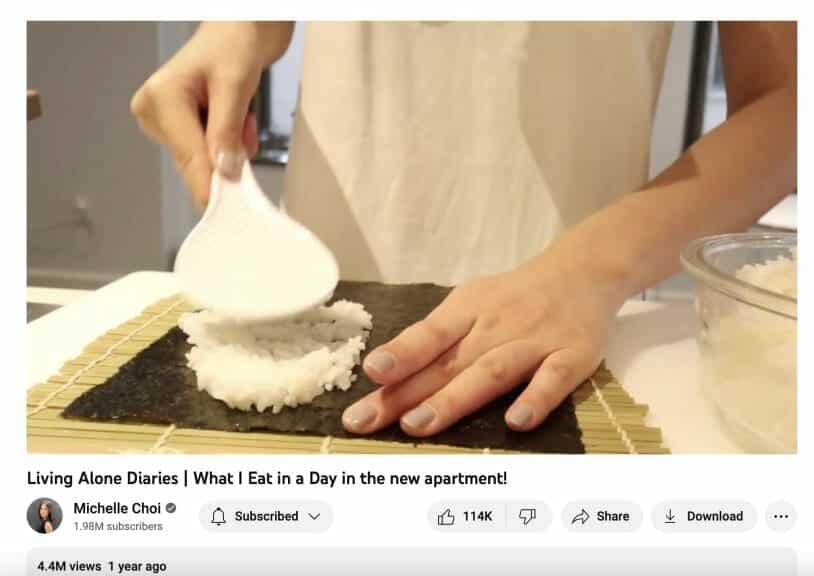 Aside from influencers, even celebrities are starting their own home cooking and kitchen series on YouTube and different streaming platforms. Selena Gomez's Selena + Chef on HBO Max, Paris Hilton's Cooking With Paris on Netflix, and Hailey Bieber's What's in My Kitchen on YouTube are some of the most popular cooking shows created by celebrities.
Many home-cooking videos and television series by influencers and celebrities are launched throughout these three to four years. So, what happened to make cooking at home an increasingly popular choice in recent years?
1. The COVID-19 pandemic
The first and most apparent cause for the rise in the popularity of home cooking is the pandemic breakout. Several countries implemented lockdown measures at the start of the epidemic, implying that everyone spent more time at home than usual. The pandemic in 2020 prompted increased at-home cooking as consumers could no longer dine out at their favorite restaurants, prompting them to prepare meals more frequently. Over 30% of consumers tried new recipes during the pandemic. COVID-19 has been around for a long time, and home cooking has gradually become a habit for many individuals. In May 2021, 92% of families planned to continue to have family dinners at home at least as often or even more often.
For savings on eating out, to relieve stress through cooking, or to spend more time with family at home, consumers are more likely to cook and eat at home even after the pandemic has passed. The 3-year epidemic has shifted people's attitudes towards food and eating, leading to a rise in home cooking as people adjust to new conditions and seek alternate answers to their dietary demands.
2. The spark of the home cooking trend on social media
More digital content and profiles about food making have arisen as individuals cook more and spend more time on social media during the pandemic. "What I Eat in a Week" and "Cook with Me" YouTube videos are also gaining popularity and becoming one of the most prevalent genres of content created during COVID-19. Social media has provided an ideal platform for individuals to share their culinary habits and recipes with a global audience. When scrolling through Instagram, TikTok, or Pinterest, you can always find a lot of precise recipes and beautiful food photographs and videos. Home cooking has become one of the most popular social media fads, with many individuals seeing it as entertainment and following the recipes. We've all seen how things can become viral after receiving recognition on social media, and home cooking is no exception.
Benefits of home cooking
1. Healthier lifestyle
By preparing food at home, you can prioritize fresh, unprocessed ingredients and limit unhealthy components and fats, allowing you to eat nutritious food compared with dining out. Preparing meals at home significantly reduces the chances of consuming preservatives and Monosodium glutamate (MSG). Eating cleaner and healthier can boost immunity, maintains digestive health, and lower the risk of heart disease and diabetes, resulting in long-term health benefits.
2. Cost savings
Dining out can be expensive. Over the last year, the Consumer Price Index rose 8.3% for food away from home. A full-service meal costs 8.2% more than a year ago, and a limited-service meal costs 6.6% more. However, home cooking allows you to compare raw food materials prices and choose the most cost-effective ones. Delivery and service fees can be avoided.
3. Stress relief
Home cooking also serves as a stress reliever. It provides thoughtful concentration, shifting attention away from stresses and allowing one to be present in the cooking process. Home cooking delivers a sense of peace and calm by focusing on the dishes. It's hard to deny that cooking can sometimes be chaotic in the kitchen, but it can temporarily distract you from your worries.
What can be done to enhance the enjoyment of domestic cooking?
I spoke with several Gen Z members who enjoy home cooking and own social media blogs where they share their recipes. I invited them to share why they love home cooking and some tips for making it more relaxing and enjoyable.
Why do you love home cooking?
"It's so quick and convenient! I may prefer a lighter meal one day and a heavier meal the other day. I can always satisfy my cravings at any time and decide what goes on my plate. It's so much healthier! I can control how much sugar or salt I put into my meals and the proportion of protein and carbs. It's so much fun! For me, cooking is definitely a stress reliever. I love combining different types of ingredients and creating fusion dishes. Most importantly, I can always be creative with food presentations and decorations!"
Ashley's advice for enhancing the pleasure of home cooking:
1. Music – singing along with the shuffle songs in her playlist helps lighten up the mood
2. Podcast – listening to other people's sharing while cooking makes the whole process more entertaining and interesting. Cooking allows her to reflect deeply on herself and the things around her.
Ashley's Podcast recommendations:
On Purpose with Jay Shetty / oh fudge! / The Psychology of your 20s / Stuff You Should Know
3. Comforting lighting – adjusting the brightness, color, and saturation of the light helps you relax and enjoy the process.
Why do you love home cooking?
"I love home cooking because it allows me to be creative, be intuitive, and honor my cravings. I love trying new recipes and making my own as it brings excitement to the table and gives me a sense of pride when I serve a yummy and nutritious meal. Through home cooking, I have discovered what meals and snacks work best for my body in different circumstances, for example, how to properly fuel my body when I'm limited on time or meals which will satiate me after a busy day. It gives me the freedom to try new foods (even if I don't end up liking them) and explore and learn about different cultures through their cuisines."
Sophie's advice for enhancing the pleasure of home cooking:
1. Podcast and chit-chat YouTube videos – making the kitchen feels homier and more enjoyable
Why do you love home cooking?
"Cooking is a creative outlet for me. I love experimenting with different cuisines and flavors and seeing something beautiful come together from fresh and seasonal ingredients. I also love cooking straight out of my parent's garden and the challenge of creating a meal from whatever is available, and of course, there's nothing quite like the feeling of cooking for and sharing a meal with my family and friends!"
Miranda's advice for enhancing the pleasure of home cooking:
1. Music – putting on a good playlist makes cooking more amusing
2. Pretty kitchenware – getting cute plates and bowls is a huge motivator to cook nice meals at home