A customer left a critical review about Gordon Ramsay's restaurant, Bread Street Kitchen, after being disappointed with their meal.
The customer, who went for the famous 'Beef Wellington Experience', which is priced at £95 per person, said the food was 'absolutely disgusting, and was not done to any great standard'.
The Famous 'Beef Wellington Experience' Explained
The review comes at particularly shocking, due to Gordon Ramsay's exceptional reputation, especially with his famous beef wellington. Ramsay is known for reinventing the beef wellington, which is now a staple in British fine dining.
"It's time for the main event. Flaky pastry, delicious duxelles, and tender beef accompanied by luxurious truffle mash and rich bone marrow sauce. The beef wellington is Gordon Ramsay's signature dish- and once you taste it you'll see why!" are the words from Ramsay's official Bread Street Kitchen website.
He often showcases his famous wellington on his various programmes, such as Hell's Kitchen and Masterchef. He has also included it in many of his restaurants, such as 'Gordon Ramsay Steak' in Las Vegas and 'Bread Street Kitchen' which has various locations.
The review that was left was about the Bread Street Kitchen location in Liverpool. This chain was first opened in London, 2011. Since then, it has expanded to several locations such as Dubai, Singapore and Hong Kong.
It offers a contemporary British-European menu, focusing on seasonal ingredients. It has food such as grilled meat, seafood, salad and pasta- along with the famous Beef Wellington experience.
What Did the Customer Have to say?
The customer, who left their review on Google Reviews said that their meal for 2 came to £239 (approx $300), which did not include any alcoholic drinks. The list of food they had was as follows:
Starters included: '1 piece of tuna, 4 chicken wings and a slither of beef'
Mains included: '4 slices of beef wellington, 1 portion of mash'
Desserts included: '1 small chocolate fondant, one small cheesecake without a biscuit base and 3 scoops of ice cream'
Drinks: 3 bottles of water
The customer also said 'If it was offered to me again for £40, I still wouldn't return as it wasn't nice'. They left a 1 star review of the 'seriously over priced' food.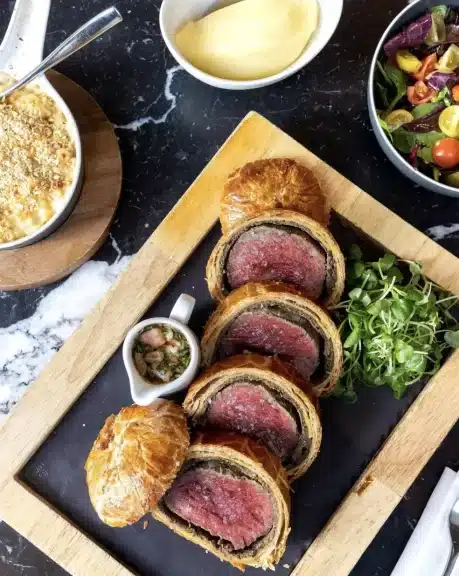 After waiting 'years to try a real beef wellington from Gordon Ramsay', the customer left feeling 'heartbroken' over their disappointing experience.
What Other Customers are Saying
The location has an average rating of 3.9 stars, with the most recent reviews being mixed in response.
Some 5 star reviews include descriptions such as 'Great food, exceptional service, wonderful selection of wines to accompany the meals. A good range of vegetarian options always available' and 'The food was equally as good as the service and the atmosphere. It was all beautifully presented, flavorsome and cooked to perfection'.
However, the lower rated reviews state that the 'Food was seriously overpriced and wasn't of a very good standard' and 'This place is disgusting. The food was raw, and I didn't get to speak to the manager, horrible customer service. Gordon Ramsay should be ashamed'.
Ramsay has had issues in the past with scathing reviews, which have hurt his reputation dramatically. For example, his restaurant 'Gordon Ramsay at The London' in New York City received a bad review from the New York Times in 2008. The reviewer criticized the food, service and atmosphere. The restaurant lost both its Michelin stars and ranking in the New York Times' annual list of top restaurants.
More recently, he was ridiculed for selling an 'overpriced' English breakfast, which lacked toast and beans- which are staples of a full English!
Whilst Ramsay still has his incredible reputation and multiple successful chains- there is still a lot of mixed reviews on his world- renowned beef wellington experience… Maybe it's a hit or miss?