A Chinese Takeaway restaurant went viral over the weekend after the owner ruthlessly responded to several negative reviews online.
Oriental Express in Leeds, UK, has a five-star rating on Just Eat, an online food ordering company. While the majority of reviewers enjoyed service, a minority of negative reviews were targeted by restaurant owner Alice Cheung, 50.
Cheung, proprietor of the family business in Pudsey since 2004, said, "one of the funniest complaints we have had is when someone ordered a vegetarian box and then complained there was no meat.
"That's when we first started leaving replies, when we noticed that some people were leaving bad reviews about things we weren't to blame for or just weren't true.
"Someone called in once asking for a free meal and they left a bad review on Google because we wouldn't give them one.
"It's like they are using the threat of a bad review to blackmail businesses."
Another customer complained about waiting over an hour, and Cheung replied, "Hello, we looked into our crystal ball but it gave no indication as to just how many orders the public were going to place on Saturday night between 5 and 9 PM. Don't you just hate it when that happens."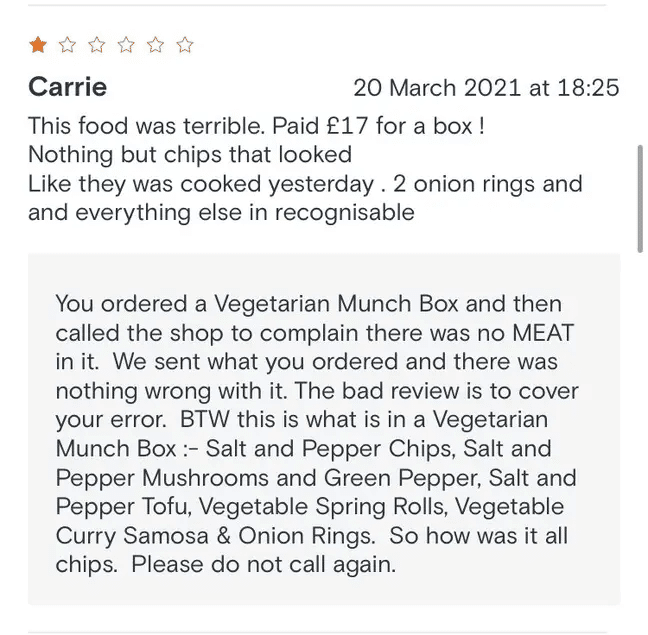 One reviewer said their food had been "totally ruined" by the battered prawns that had been mixed in with their chicken dish.
Cheung responded: "Will you please open your eyes and read the descriptions, you ordered the 'Special sweet and sour' which contains king prawns.
"You got what you ordered so how is this our fault.
"The food was fresh and perfectly cooked. We are good but mind reading the stupid is not one of our skills."
Modern technology made the technology adapt in recent years, and according to Cheung, the "troll" reviews have required her expertise.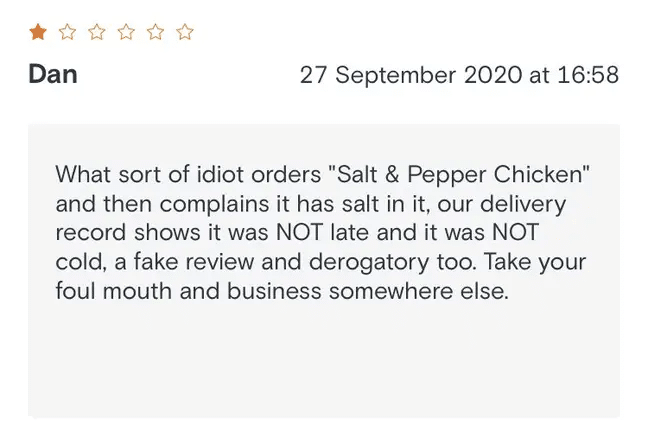 She says: "Just Eat and everything has become a big thing so we have had to adjust from the old days of taking calls and writing everything down on a piece of paper."
Cheung continued: "We just want to be honest with people if we get a bad review. If we are at fault, we will admit to it, but sometimes there are things you can't control like busy delivery times.
"We do make mistakes sometimes, we will always do something to compensate, such as free delivery next time you order.
The restaurant has an overall five-star rating on JustEat, one star away from a perfect score, with a total of 149 reviews.