Most children have grown up with comics of some kind. It could be the weekly Archies strip in the newspaper or Marvel comics. For me, it was reading an Indian magazine called Tinkle which followed eccentric characters and their adventures. As I reached high school, I longed for a maturer version of these illustrated stories, with full-blown plots and fleshed-out personalities. The answer came in graphic novels… especially Maus and then Persepolis. 
Both these books were set against the backdrop of political instability. This was already a contrast from the comics I read, which could be anywhere worldwide. They took on a black-and-white format and surprised me with their possibilities. The characters were moving, compelling, and emotional. I had no complaints except that I found nothing like their subtle brilliance. I read other writers, but they were unbalanced in the text-to-image ratio, had a plot that was too convoluted, or had action-based stories which weren't for me.
Then in college, I came across Skim by Jillian and Mariko Tamaki, and it completed this holy trinity. Here are some things I love about it that, hopefully, you'd enjoy too!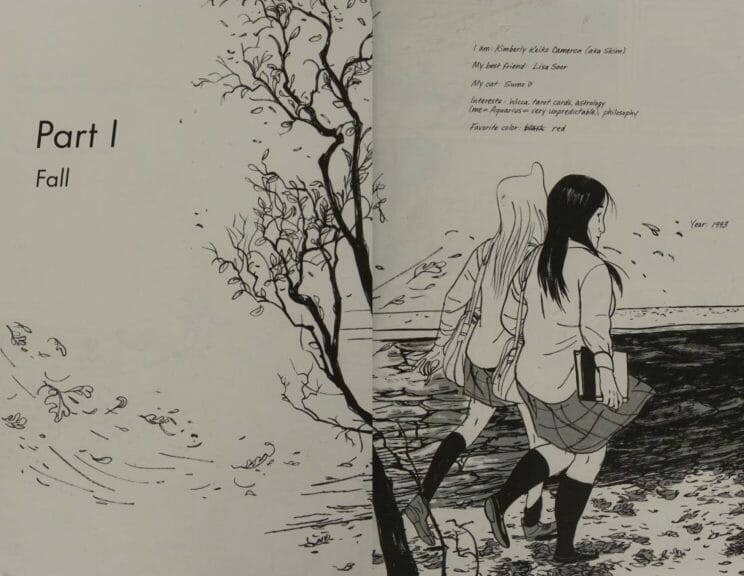 Skim is about Kimberley Keiko Cameron, who is called the same because she is not skim/slim among her slender Caucasian female classmates. Not only this, she is a Japanese-Canadian, queer goth who believes in Wicca. This fits into the widespread adolescent feeling of not fitting in. What sets it apart is the novel's treatment of this feeling:
"Skim" is a convincing chronicle of a teenage outsider who has enough sense to want to stay outside.

Elizabeth Spires, The New York Times
Instead of succumbing to the "I'm not like other girls" trope, the novel reworks it. It presents the possibility of enjoying varied, alternate, or obscure interests without blaming others for not agreeing. Skim's use of tarot is a safe space for her to understand and asset herself. She finds belonging in these mediums when she cannot do so in people. The supernatural is a source of escapism to escape the constraints of real-world politics. Even though much of it is imagined, it has a tangible effect in soothing Skim's scars.
An honest portrayal of adolescence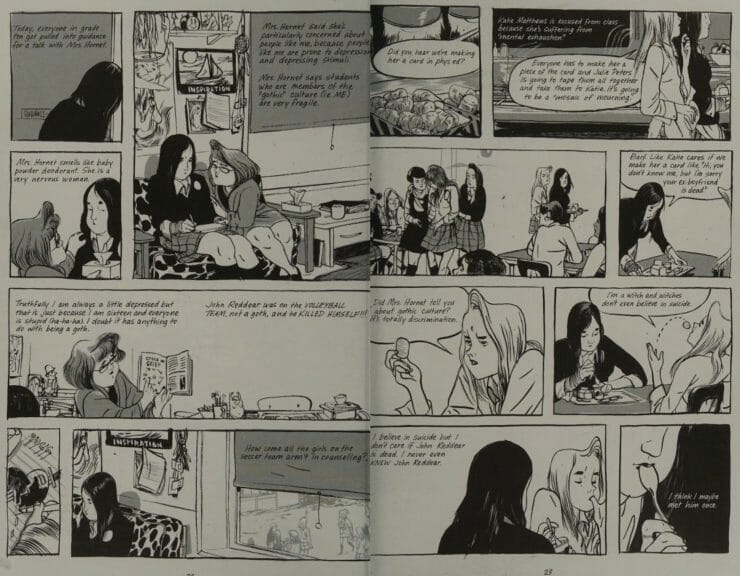 Skim deals with the whole gamut of teen emotions in a realistic way. While it is unfair to compare across mediums, I can't help but be reminded of Euphoria. Skim does away with glossed-up teenagers, romanticized drug abuse, and mental illness. If Euphoria works through its noise, Skim works through silence. The quiet pages convey the repression many of these issues insert onto the characters. In real life, these are rarely given an outlet.
This tactic makes its readers more intuitive. It encourages us to try to understand Skim, her words, actions, and motivations. Skim's issues with being the only person of color in her school are expressed through images more than words. The visual oppression of this is conveyed through her looking at the sea of similar girls. Attitudes towards homosexuality are portrayed through gossip. The sensationalization of suicide is shown but never partake in. Her sexuality is explored without addressing it in explicit terms.
The visuals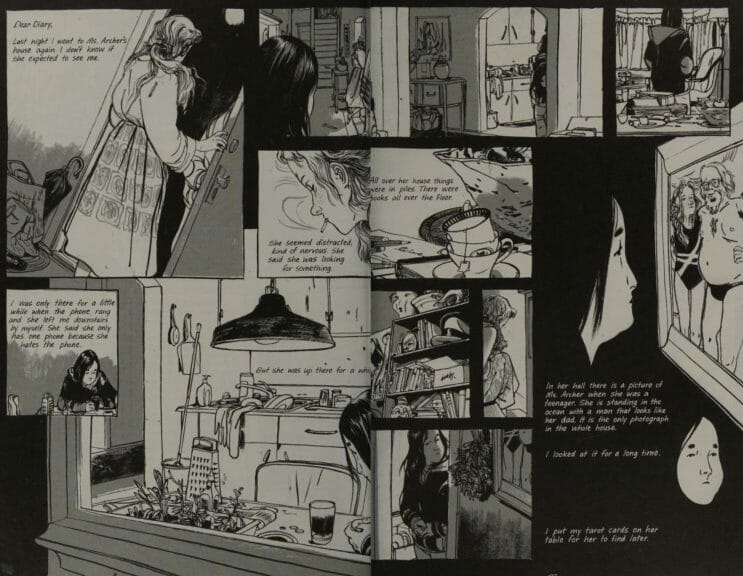 Skim uses a lot of abstract, mood-based imagery to create an atmosphere for the reader. We are transported into her world by including minute household details, street signs, and clothing choices. Much of what we know about the characters comes from their houses rather than speech. While the text is used to communicate facts, pictorial details relay emotion. The black-and-white medium fits in well with the majority black-and-white mindset, the grimness of her situation, and the empowerment in her goth identity.
Skim portrays the main character falling in love with her English teacher Ms. Archer. The forbidden and illicit nature of their student-teacher relationship is shown to weigh on both characters. Ms. Archer's house is messy, chaotic, and lonely. Skim is impersonal and suffocating. Both reflect a state of neglect because other things are on their resident's minds.
Whether this is for you…
Skim is an exercise in nuance. It starts like a slice-of-life novel, but it is one with a clear direction. The underlying themes and plot strands are eventually addressed and resolved. I liked how it all came together in the end, even with its varying strands. There will be something that connects you to Skim, even if you are nothing like its characters.