All of us are familiar with the concept of making a fashion statement. However, whilst we may think of it as a bold outfit choice or an unconventional clothing piece, throughout the years, celebrities have taken this to a whole new level. They have used fashion as a way to speak out on global issues on the red carpet.
But when did this all start? How often do we see it? And could this be another purpose of fashion?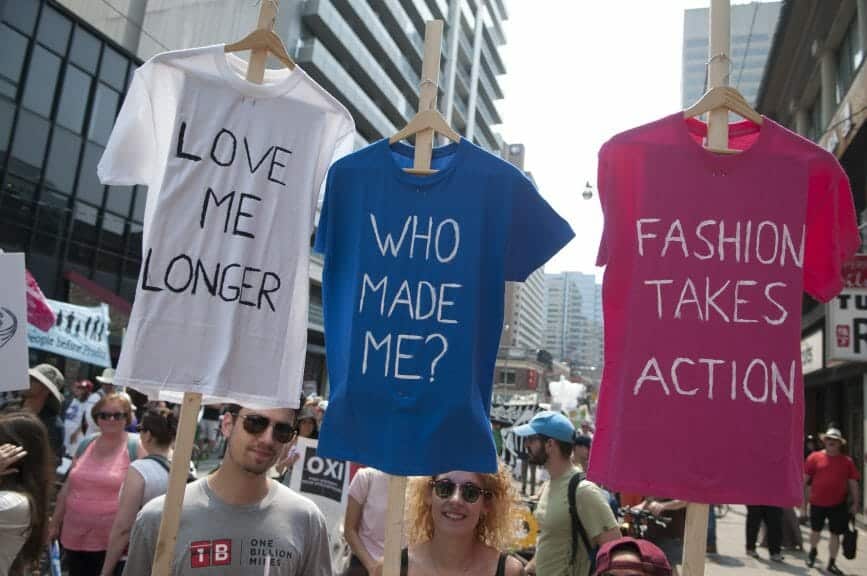 The 2023 Met Gala – A Line of Activism
The 2023 Met Gala is perhaps the most recent example of celebrities using fashion to express their controversial opinions.
Its theme, 'Karl Lagerfeld – A Line of Beauty' honored the work of the controversial designer Karl Lagerfield, whose fat-phobic and sexist comments earned him an ill repute amongst those on the Met Gala guest list. Hence, many celebrities including, the queen of the Met Gala herself, Blake Lively, who has not missed a Met Gala since her debut in 2008, refused to attend the event.
Moreover, even those who did attend showed their discontent towards the theme in more subtle ways. For example, Kim Kardashian's pearl dress was a clear display of ostentatious wealth, which clearly defied Karl's public criticism of her 'Public Flashiness' after the celebrity was robbed in Paris.
Thus, the 2023 Met Gala has become a subtle example of using fashion to rebel against powerful names in the fashion industry, however, fashion activism can also be seen across industries.
Red Carpet Politics
Before social media, celebrities exploited red-carpet events to voice their political opinions due to their heavy media coverage, creating a culture around the political power of these events.
Some clear examples range from Jane Fonda's 1972 Oscars Yves Saint Laurent off-the-rack pantsuit. The actress explained that she did not feel like buying a flashy new gown during a time like this and instead used her speech to raise awareness about the brutality of the Vietnam War.
Similarly, on a smaller scale, in 1992 Elizabeth Taylor wore an AIDS awareness red ribbon pinned onto her dress.
Both the actions of Jane Fonda and Elizabeth Taylor have been taken as inspiration by many celebrities in the 21st century who have continued to exploit red carpet events to send powerful messages to the viewers.
Following Jane Fonda's example, the singer Lizzo wore a black Christian Siriano dress with 'Vote' imprinted in white across it, to the 2020 Billboard Music Awards and used her thank you speech to encourage people to vote prior to the USA elections.
Similar acts of fashion politics include Alexandria Dicasio-Cortez's 2021 'Tax the Rich' Met Gala dress and Lady Gaga's 2010 VMAs Meat Dress.
In turn, celebrities who wish to make more subtle statements opt for Elizabeth Taylor's approach. For instance, George and Amal Clooney wore 'Je suis Charlie' pins to the 2015 Golden Globes to show their support for the victims of the Charlie Head terrorist attack.
Other subtle ways in which celebrities have used fashion include dressing in all black to show support for the 'Time's Up' movement during the 2018 Golden Globes and wearing the same outfit to several events to raise awareness for sustainable fashion as shown by Joaquin Phoenix in 2020.
Nonetheless, as argued by Abortion Access Front's Co-Host, Mojo Alawode-El, not only celebrities are using red carpet events as an opportunity to flag up crucial issues. For instance, NYC's counter-programmed Debt Gala embraces the Met Gala's focus on fashion with the aim of erasing medical debt.
Fashion Activism in 2023- The Era of Sustainability
As mentioned, in 2020 celebrities were already starting to raise awareness on the issue of sustainable fashion, and it is precisely this topic which is most present in today's fashion activism.
Sustainability in fashion has always been somewhat important in discussions surrounding the industry however as stated by Dimitry Loiseau, Founder and Chief Editor of Regard Magazine, brands that will be successful in 2024 are those "that place an importance on sustainability".
This shift in the fashion conversation stems from the pandemic era when Indian fashion activists like Ayesha Barenblat placed an emphasis on the impact of the impact fashion production had on the lives of workers in these production chains.
Due to the lack of in-person protests during the pandemic, activists had to turn to fashion to vocalize the devastating working conditions of these workers, drawing particular emphasis on women working in the production of fabrics in India.
Thus, as fashion became both the issue and the means through which to find a solution, its sustainability became the main focus point.
Today, this is shown by the marriage between renowned fashion houses and environmental organizations. For instance, Stella Macartney has now become one of the main advocates for animal rights and sustainability. Likewise, Vivienne Westwood's collaboration with the Environmental Justice Foundation provides another example of how fashion and environmental politics are becoming increasingly intertwined.
Therefore, in 2023 and moving into 2024, fashion's relationship with global issues is becoming increasingly important and environmentally focused as sustainability becomes one of the main priorities of top designers. Showing how far fashion has come as a means through which to change the political and environmental landscape in which it is living. However, fellow activists like Moji Alawode-El are waiting for fashion activism to start acting against the fact that "the fashion gaze still prioritizes the rich, the thin, the white, and the young looking".