The world's major fashion cities include Paris, Milan, and New York, but now Copenhagen is throwing its hat into the ring with its progressive fashion. Copenhagen is transcending sustainability in the fashion industry with 18 mandatory sustainability regulations for this year's shows.
Some requirements include fur-free collections, zero-waste designs and sets, and no single-use plastic packaging in stores. Fashion Week plays a central role in the fashion ecosystem, and now brands are looking for effective methods to reduce their environmental impact.
Copenhagen is making its way into the fashion industry with a new and refreshing look that comes from the hearts of the Nordic community.
Baum Und Pferdgarten
On August 9th, Baum und Pferdgarten paid homage to their home city through a nautical collection that explores the city through the eyes of a tourist. As tourists descend upon the city every summer, they join the people of Copenhagen and fill the streets. The busy streets pair with the summer sun revealing the beauty of the city and its harbors.
The harbors of Copenhagen come with a long and rich history. Copenhagen functioned as a maritime port for over three centuries, hosting loading and unloading ships. Accordingly, the city's harbors are a must-see for tourists visiting the city. Baum und Pferdgarten took Copenhagen's nautical history and celebrates it throughout this collection.
This collection takes influence from Copenhagen's little mermaid statue, which is shown through the navy fabric, sailor hats, and glimmering sequin pieces. Other influences include the twirling emblems that adorn the uniforms of the Queen's guards. The collection also includes details of the Japanese cherry blossoms that bloom in the King's garden and by the harbor.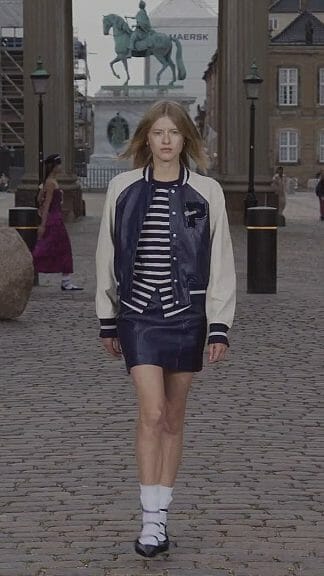 This collection emphasizes the limitless individualism of fashion in Copenhagen and how there are no rules when it comes to fashion. As the collection takes on the point of view of a tourist, the styles are simple but also eye-catching.
Baum und Pferdgarten details individualism and the spirit of creativity in Copenhagen street fashion. Which stresses how individuals dress for themselves, their environment, and their mood. Fully encapsulating the beauty of the city and its people.
Ultimately, this collection creates a refreshing concept that embraces various styles and the artistic integrity of how people style themselves.
Nicklas Skovgaard – Fashion Week – Collection 07
Danish designer Nicklas Skovgaard made his debut at this year's fashion week, showcasing a collection inspired by Amsterdam-based performative artist Britt Liberg. Skovgaard opted against the traditional runway and put on a performative show starring Liberg. Accompanying Liberg on the stage are 16 mannequins wearing Skovgaard's designs.
Skovgaard founded his brand in Copenhagen back in 2020. There he explores the relationship textiles bring when expressing narratives between unusual materials and vintage form.
Skovgaard's collection includes hand-woven short jackets, hand-woven pieces trimmed with ostrich feathers, and lace dresses with belt accents. As well as draped jersey dresses and skirts and off-shoulder jersey dresses with lambskin leather. Throughout this collection, Skovgaard creates a congruous blend of textiles that form unexpecting and striking silhouettes.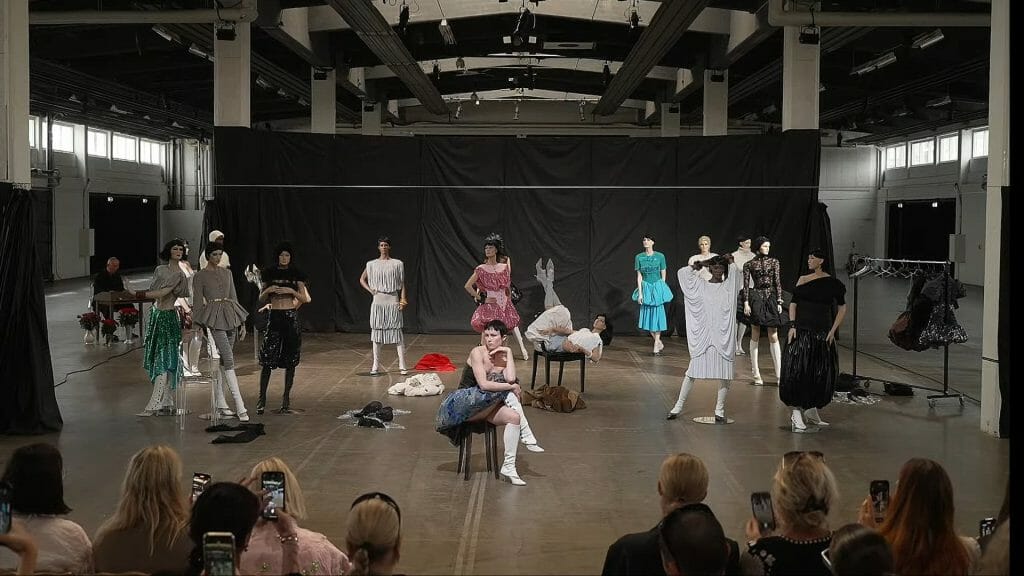 Skovgaard takes on a journey of textiles in his collection that challenge the ideals of modern fashion and create a unique assortment of designs. One can find a plethora of fabrics, including silk taffeta, corduroy, vinyl, lace, velvet, and stretch jersey.
Skovgaard allowed the audience to capture and take in his designs as Liberg moved around the studio. With every step, Liberg brought each design to life with her animated movements and poses. By doing so, Skovgaard's show showcases the live play between his muse and the lifeless mannequins. Liberg breathes life into the inanimate silhouettes, which reflects back onto the muse.
Skovgaard chose a warehouse for his venue where he utilizes fabric to create a black box in the middle of the venue. Skovgaard chose fabric from his past collections to create the black box. He also plans to reuse the fabric for future production of his new styles and future collections. In addition, the mannequins he uses in his show were found in auctions and flea markets around Denmark.
Henrik Vibskov
Danish designer Henrik Vibskov takes his audience into the mind with this creative display of ingenuity. Furthermore, Vibskov took the concept of how people measure, organize, and put things into boxes, and describes the idea through his show.
Instead of a traditional runway, Vibskov put on a performance he calls "The Unboxing Waltz Tutorial". Through this performance, Vibskov demonstrates the mobility of physical and mental packages.
At the venue, there are four stages: two near the back, one in the middle, and one in front of the middle stage. The models travel from one stage to another, starting from the far right and moving clockwise to the middle. There, two models with circle each other until the next model arrives, and then one leaves. This mimics a boxing ring while highlighting the characteristics of the sport with two models circling each other.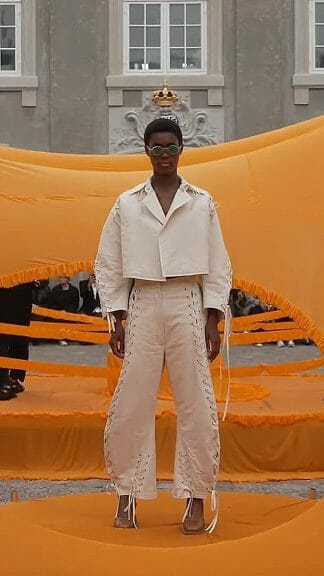 The jewelry in this collection takes a creative route as they teamed up with jewelry designer Vibe Harsløf. Following the package motif, hints of bird-shaped pendants, necklaces, earrings, and nose pieces. There are even headpieces that resemble those of a cartoon where flying birds surround a head after a knockout in the ring.
This collection is made from fabrics that are recyclable or are organic. Throughout the collection, 83% of the designs consist of certified fabrics, and the designs can be worn forward or backward. This demonstrates the unexpecting factors of receiving packages. In addition, some pieces include text that spells "out for delivery", mimicking a package in transit.
In this collection, Vibskov includes materials taken from boxing gloves and upcycles them into hats that resemble rustic hats from early countryside fashion. There were also shoes with padded ankle wraps and lace-up pieces throughout the collection.
The Future of Sustainability in Fashion
Copenhagen's 2024 Spring-Summer fashion week set a higher standard of sustainability than what has been. This year, brands had to show that at least 50% of their collection is made from certified, preferred, upcycled, or recycled materials. With such sustainable practices, the sustainability standards of how high-end fashion operates worldwide have a possibility of increasing.
There have been long-standing debates on whether fashion week should operate due to its high environmental footprint. Implementing stricter sustainability regulations may positively impact those numbers drastically.
To learn more about other brands at Copenhagen's S/S 2024 fashion week and the sustainability practices at this year's fashion week, click here.