From Lady Gaga's meat dress at the VMAs to 2000s red carpet fashion, the fashion industry has seen many horrifying moments. So, what better than a review of the worst fashion trends to date to get into a spooky mood this fall?
1. Y2K
2000s red carpets are the setting for many of the fashion industry's most terrifying outfits.
From Christina Aguilera's 2002 MTV Music Awards scarf top and mini denim skirt to Hilary Duff's heeled Adidas at the 2003 Nickelodeon Kid's Choice Awards, 2000s celebrities really delivered outfits that should never be repeated.
However, Y2K fashion is making a comeback.
Extremely low-waisted jeans are once again haunting the shop windows of stores like Zara and Levi's. Butterfly hair clips are crawling all over the internet and creeping around the accessory sections of mainstream brands like Bershka and niche charity shops. Both bring with them a Deja Vu of fashion horror!
2. Bum Bags
Originally brought to the celebrity fashion world by the one and only Adam Sandler, bum bags are a real bummer for any outfit!
Magazines like Evening Standard are marketing these spooky bags as the 'IT bag of 2023' to the despair of most. However, luckily these little monsters are up against the iconic pochette bag and increasingly fashionable shopper bags designed by large fashion houses like Prada and Dior whose styles have also been made more affordable by Zara.
But which will win the battle?
3. Random Accessorizing
Useless belts, body chains, hats, and an eccentric amount of zippers have all been characterized as part of 00's red carpet fashion horror history.
Nonetheless, these are all haunting us again in the form of thin scarfs, huge belts that are purely decorative, and most terrifying … leg warmers!
Ballet Core has been on the rise lately bringing back ballet flats which are adorable and very practical, as well as slick buns and ponytails which can be styled with much grace. But, all trends have their ugly duckling, and for ballet core, that is the leg warmer.
4. Apocalyptic Fashion
Acid wash, lurex, and nylon outfits all fit under this category.
During the mid-00s, the release of dystopian fiction, like 'The Hunger Games' and 'Divergent' sagas, led to a surge in apocalyptic-inspired clothing that played with the idea of a dystopian world.

During this period, celebrities turned back to the 90s ugliest fashion trends for inspiration, bringing back Matrix-like all-fake leather fits and acid wash jeans from the grave where they belonged.
Thankfully, unlike the previous trends, apocalyptic fashion seems to be a thing of the past, but how can we be sure? Is it just a dormant corpse waiting to rise from the dead in a horrifying Michael Jackson 'Thriller' style?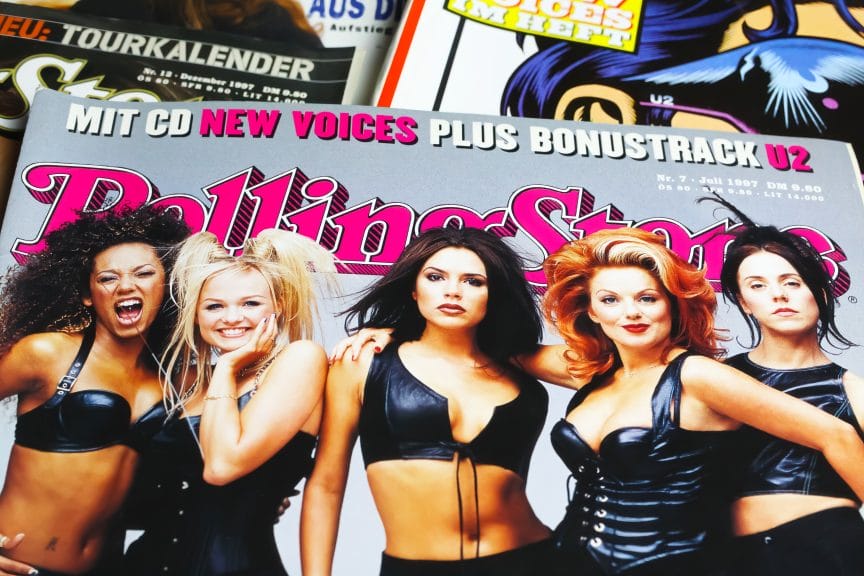 5. All Things Animal
The first 'Cheetah Girls' movie was released in 2003, and ever since, animal patterns have been present in our everyday fashion lives.
This trend, when styled subtly and with care, can be very iconic and even elegant. But when combined with the zombie Y2K 2023 trend, it brings back flashbacks of nightmarish, prehistoric times.
6. Babydoll
Barbie Core is not the first trend to be inspired by dolls.
Babydoll dresses took over the 90s for a scarily long time during which they were combined with doll-inspired makeup for a freakish porcelain look.
Nowadays, we are lucky enough to have shifted this trend into Margot Robbie's all-pink and channel take on Barbie Core, but as shown by female K-pop artists, the 'doll effect' is not completely dead.
7. No Pants vs. Two Pants
Unfortunately, the 2023 take-on pants under dresses is not as glamorous.
The fashion habit of wearing skinny jeans under a flowing summer dress during the mid-2000s has been heavily criticized throughout the years. However, the recent 'no pants' trend brought to us by Kendall Jenner has become its rival.
While the model wears it quite stylishly, it is nonetheless the embodiment of the common nightmare of forgetting to put on bottoms before leaving your house. We have all dreamed of this at least once, right? So, why are we wearing it purposefully?
Why do these trends keep coming back to haunt us?
What do you think? Have all of these trends risen from the dead in honor of the spooky season?