Ever since the start of Greta Gerwig's Barbie live-action movie's press tour, runways and red carpets have been swept in a wave of pink, baby blue, and whipped hair into side-swept Barbarella blowouts.
Everyone seems to have ridden the Barbie Core wave. From top-tier fashion designer brands like Valentino, Chanel, and Versace to some of our favorite celebrities like Kim Kardashian and Nicki Minaj. But why is this?
Hollywood Method Dressing
Margot Robbie (leading actress and producer) has been pulling off stunning pink outfits on several red carpets since the film was announced. For instance, the actress wore a classic Versace-tailored piece at the film's premiere in Seoul. With this outfit, Margot Robbie channeled the 1985 'day to night' Barbie, portraying herself as the true real-life Barbie.
The actress has taken the Hollywood Method Dressing one step further by traveling as her character from press stop to press stop. Pulling off unique Barbie-inspired pieces like the vintage Chanel, baby pink, chequered blazer she wore at the Sydney Airport.
Yet, although Margot Robbie has been described as an "unstoppable fashion force" by Vogue (Christian Allaire, 2023), the actress's commitment to her character's style is not the only reason behind the fashion success of the movie's press tour.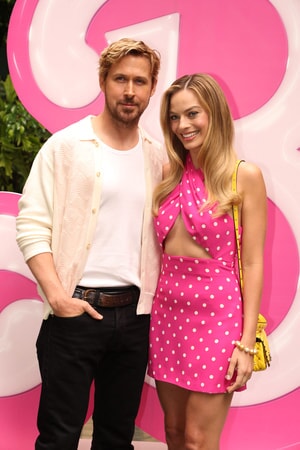 Out With The New And In With The Old
Margot Robbie is not the first celebrity to bind her name to the doll's. Rapper Nicki Minaj began this trend in 2018 with her song "Barbie Dreams." In fact, it is now hard to think of the artist without imagining bright colors, particularly bubblegum pink, a shiny plastic appearance, and playful hairstyles. Thus, what Margot Robbie has brought to the fashion industry this year is a reformed version of a pre-existing concept.
Yet, what makes 2023's Barbie Core so special is that its aesthetic is inspired by vintage Barbie models rather than the 2000s street style-inspired Barbie Core aesthetic Gen Z is so familiar with. 2023 Barbie Core is all about "looking pretty in pink" (Alice Cary, 2023), and pretty is defined by 80s and 90s elegant pieces, as shown by the domination of designers like Chanel, whose brand is founded on classic femininity.
Lately, the fashion industry seems to be taking more and more inspiration from vintage trends, trying to redesign the pieces which have become iconic on the runway since the beginning of fashion. In Barbie Core terms, this translates into collections being presented alongside Priscilla Presley-inspired hairdos, pink suits, pink and blue checkered blazers, and polka dots, all belonging to an era of corporate, elegant femininity we can trace back to the 1950s.
Likewise, this redefinition of 'pretty' has also been paired with a redefinition of 'pink'. During a conversation with her, fashion expert Maggie Adahmi-Boynton drew on another key distinction between 2022 and 2023 Barbie Core; the wider range of pinks. After a monochromatic haze experienced between 2020-2022, 2022 Barbie Core was overwhelmed by a bright fuchsia. However, in 2023 Barbie Core is becoming more and more sophisticated, now including a wider range of pinks which makes this trend more versatile and therefore, more durable.
So What Came First?
Was the press tour the trigger for the development of Versace and Chanel's Barbie-inspired resort collections, or was the fashion industry going to unavoidably develop Barbie Core pieces?
The answer is neither.
The announcement of Greta Gerwig's Barbie came in 2022, and since then, Margot Robbie and other actresses from the movie, like artist Dua Lipa, have made active efforts to use fashion to market the film. Yet, at the same time, the Valentino 2022 PP collection already gave off strong Barbie Core energy, suggesting that the return of Barbie Core does not owe itself to either the fashion industry or the movie's press tour but to the Barbie brand itself.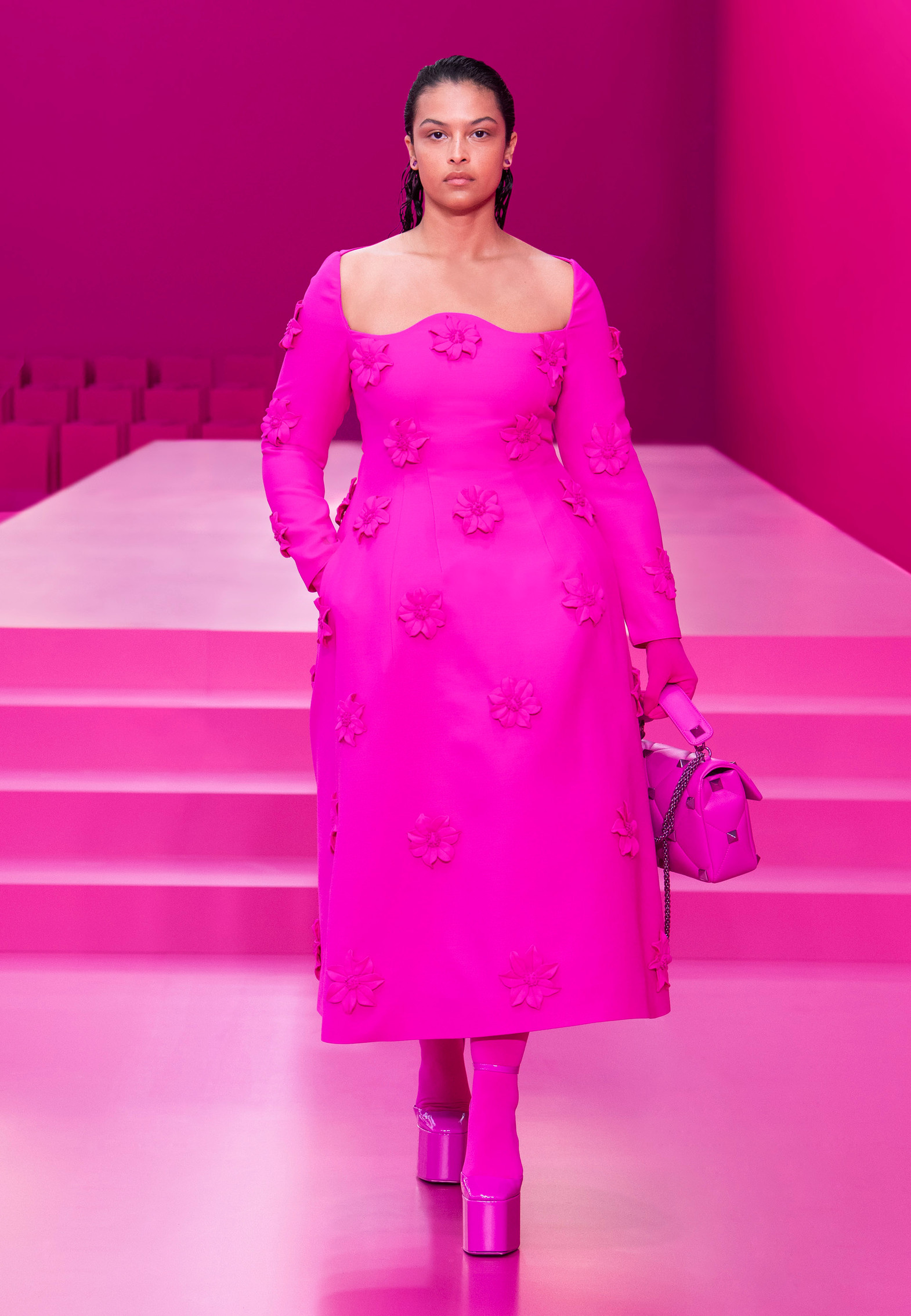 Fashion expert Maggie Adhami-Boynton defines Barbie as "the original fashion icon", due to the fact that the doll has been the first encounter many women have had with fashion. This is also perceived by Jacqueline Durran (the movie's costume designer), who argues that the doll has always been closely linked to fashion as the way in which we play with the doll is by dressing her (Jacqueline Durran for Vogue 2023).
Mattel's Barbie is able to take on different professions, hobbies, and imaginary scenarios by changing her clothing, making her a source of inspiration for many fashion designers who see Barbie as a visual representation of developing perceptions of femininity throughout the years.
Since Mattel started to create Barbie dolls with varying body shapes to fight against unrealistic beauty canons, it has become clear that the term "Barbie" could be used in the 21st century to back female movements. Thus, the word "Barbie" acquired not only fashion connotations but also feminist ones, making the presence of Barbie Core an unavoidable part of the fashion and media industry.
Dua Lipa And Versace's "La Vacanza" Collection
This collaboration between the doll's world and the fashion world is best exemplified by the collaboration between Donatella Versace and Dua Lipa. "La Vacanza," Versace's new resort 2024 collection, perfectly embodies what Barbie Core means in 2023.
Aesthetically, it contains all the elements we would expect to see in Barbie Core: voluminous hairdos, baby pinks and blues combined with bold cuts and lengths that symbolize the resurgence of a powerful, almost rebellious, femininity.
Moreover, from a marketing point of view, Dua Lipa's role in Greta Gerwig's movie makes her a representative of the Barbie world, stepping out of the realms of imagination into the fashion industry with the help of one of the biggest names in the fashion world.
Hence, the phenomenon we should be paying attention to is the "Barbie phenomenon" as a whole and its influence over fashion, entertainment, and perhaps even political spheres.
Trend Or Craze?
Barbie Core is described as both a fleeting moment in fashion and a cultural resurgence. So which of the two is it?
Unlike other trends before it, such as the Y2k and Grunge aesthetics Barbie Core seems to be here to stay. As argued by Maggie Adahmi-Boynton the fact that it came from "the top down" sets Barbie Core apart from other trends we have witnessed in the past decade.
Perhaps voluminous hairstyles are not to be paired with bright pink suits and skinny heels forever, but bright pink touches to brighten more classic pieces like tailored suits or dresses are more than likely to continue. Likewise, there is nothing that suggests that we will stop seeing vintage hairdos on the red carpet or that pink chequered suits will disappear any time soon.
So don't be scared to purchase a few Barbie-inspired pieces and express yourself with her colors, for they will be wearable and even in fashion in the upcoming years. Who knows? Maybe even for the next decade!