People will do some crazy shit to take a good selfie. That's the nature of our tech-crazed culture these days. A women recently reacted to a potential black bear attack by whipping out her phone for a quick snapshot.
Tourists were walking through Chipinque Ecological Park in San Pedro Garza Garcia. A popular attraction. Suddenly a curious bear approaches a group of women. The bear stands up on its hind legs showing its true height, which is impressive. Instead of freaking out, the women sees this as unique opportunity.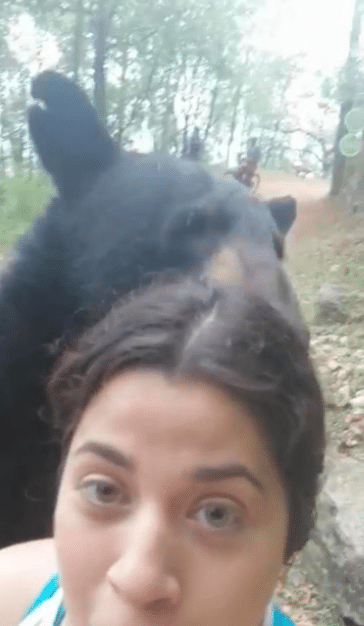 Objectively, black bears don't usually attack people. Gizzly bears on the other hand are much more aggressive towards humans, in which case I certainly wouldn't provoke the bear with a selfie.
The people surrounding the women watched nervously as the bear sniffed around, but that's all it did. Sniff around.
I'd like to note that this calm demeanor isn't always a given with wildlife. Especially big predators. If you find yourself eye to eye with a bear it's recommended to play dead. Don't run away and be crazy.
Our relationship with wildlife is still primal. Predator and prey. Just because we as a species have domesticated doesn't in anyway mean others have. Be careful anytime you're out in the wild in a vulnerable state.
Here's an example of a time when nature wasn't so forgiving as this man bears one of the worst sunburns in history.