Ryan Reynolds attempted the viral TikTok challenge with the hilarious assistance of comedy acting legend Will Ferrell.
If you've been anywhere near TikTok recently, you've probably seen the viral 'Grace Kelly' challenge. This is where TikTokers show off their beautiful harmonizing skills as they sing each part of the chorus.
Recently Deadpool actor Ryan Reynolds took a crack at the challenge himself, with the the help of a special celebrity friend…
Reynolds originally posted the video to his Instagram, with a surprise appearance from his current costar, Will Ferrell.
The two are currently in the midst of filming a Christmas movie musical called Spirited, which is set to release later this year.
The video now has over 2.5 million likes on Instagram, and Reynolds captioned the clip: "Late to the 'Grace Kelly' TikTok trend but WAY early for our Christmas movie musical."
Reynolds can be seen singing the lower notes, before Ferrell joins in to take over the higher parts.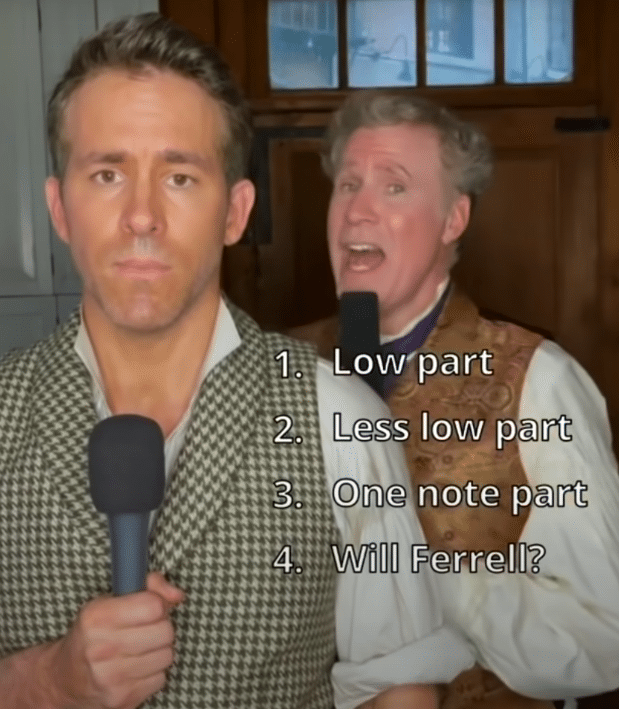 Production on Spirited began in July this year, and is a modern musical reimagining of Charles Dickens' classic 1843 novel A Christmas Carol.
Reynolds was casts as the grumpy Ebenezer Scrooge, and Ferrell will play the Ghost of Christmas Present alongside him.
The film includes fellow talented actors such as Octavia Spencer – playing one of Scrooge's good-natured colleagues, and Sunita Mani – playing the Ghost of Christmas Past.
Spirited is the creation of Sean Anders and John Morris, who are the brains behind Daddy's Home (a film Ferrell has starred in). Although there is no confirmed release date, the film will be available on Apple TV +. 
It would be interesting to see how the film fares against Ferrell's Christmas classic Elf and current film adaptions of the book. 
Stay tuned for more release updates.