Cliché obnoxious in-laws have been the torment of what seems like practically every married sitcom couple. This viral video proves that nightmarish wedding crasher mother-in-laws really do exist beyond the fictional world of TV – and they make for even more uncomfortable situations in real life.
The bride's sister (@srags13) originally uploaded the footage to TikTok with the caption:
My sister's wedding a few years ago. Her mother in law has always hated her. She's just [one] of those MIL's that feels my sister is taking her son away.
It has since been deleted… But that doesn't mean that people didn't take the opportunity to save the video and spread it all across the internet for everyone to offer up their opinions on the awkward incident.
If you didn't catch what she's saying, the bride Anna finishes up her vows with a smile that quickly drops when the groom's mother Judy starts literally yelling up at the podium, protesting, "You're not going to say my son has flaws."
While some of the guests try to awkwardly laugh off the interruption, Anna is clearly no stranger to Judy's particular brand of bullsh*t, because she immediately retorts, "You can leave. You're not going to ruin my wedding."
However, the mother is adamant that she has the right to stay and make a fool of herself, arguing "I'm not leaving. No, that dress you're wearing we paid for," (comments by the bride's sister reveal she actually only paid for $100 alterations).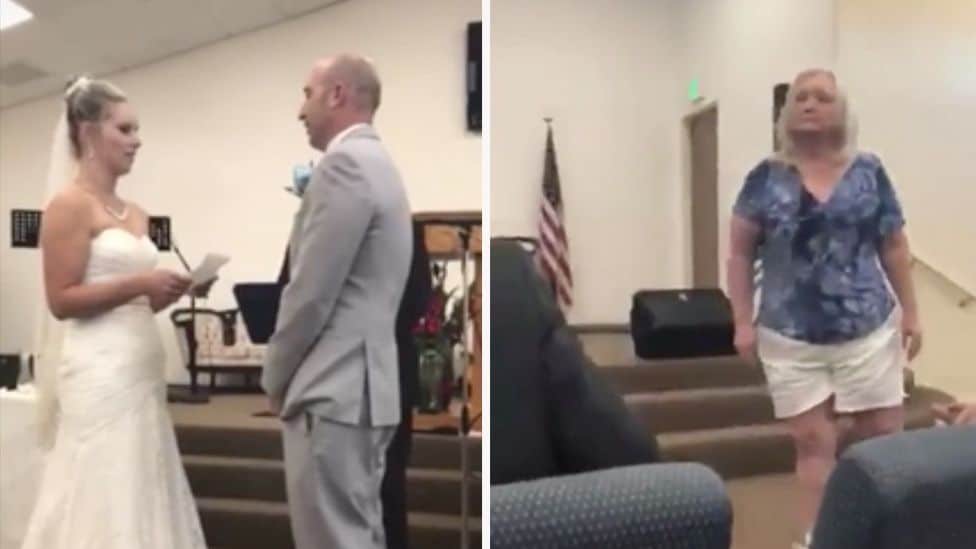 The bride then tries to repeat the sentiment of her vows that "Everybody has flaws and that's why I love him," but this mother does not want to hear that her son could possibly be anything less than perfect.
When more people approach the mother-in-law, she of course threatens to have them arrested if they touch her…. Seriously, what is up with every Karen thinking that they can just "have" whoever they want arrested?
Finally, we get to the most important element of this video: the outfit! This woman must have known exactly the sort of scene she was planning to make the minute she woke up and decided that was what she was wearing to her son's wedding.
If you think about it, those shorts are really the ultimate power move here.
Updates from the bride's sister reveal that the Mother-in-law no longer has anything to do with the couple, of her own volition, and that includes her grandson – but apparently they are perfectly happy together without her!
Here are 7 to-dos couples often forget when planning for their big day.