We all get a bit impatient at times, right? Especially when we're in our cars, waiting at train lines and willing that slow moving locomotive to pass so that we can be on our way. Relatable.
One BMW driver had a very lucky escape when his impatience got the better of him and he found himself facing the front end of the LA metro.
The video shows him risking the crossing and being caught at the wrong moment.
Somehow this driver escapes with their life. Had they been a fraction quicker, this story may not have had a warm and cosy ending.
The Los Angeles Police Department tweeted: "This could've had a tragic outcome.
"Fortunately the driver survived with minor injuries, but this should serve as a good reminder to all of us – pay attention near train tracks, and always obey all traffic signals and devices."
The driver sustained only minor injuries. Not many people can say they've survived a train crash and been discharged from hospital 24 hours later. 
It'll make for quite the tale at those family gatherings.
"You got a promotion? Good for you! Let me tell you about the time I got hit by a train and survived."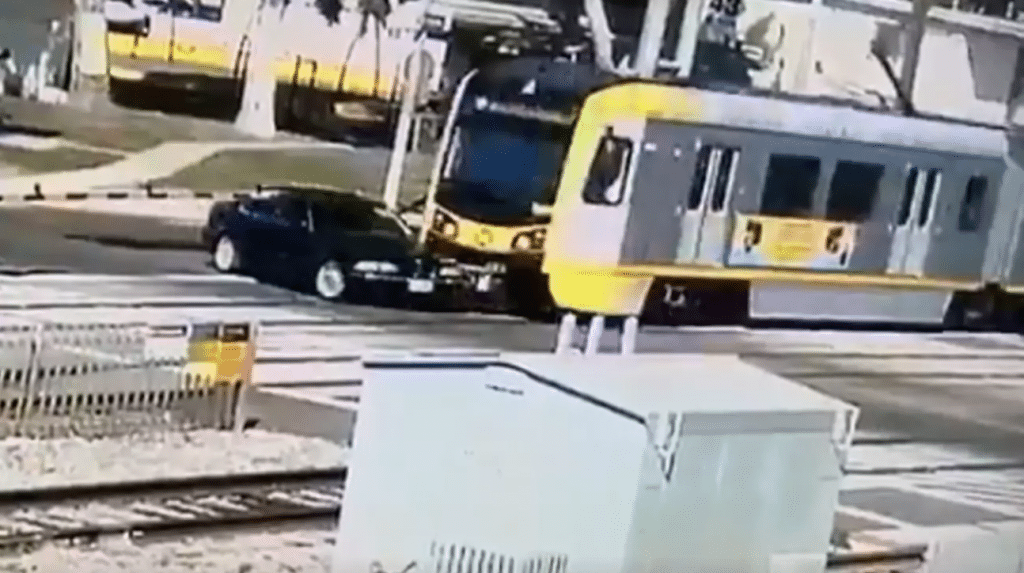 One Twitter user commented: "Minor injuries? Wow I'm glad to hear that but I don't see how. I agree God was definitely present. People need to pay better attention to their surroundings…"
The moral of the story seems to be that paying attention to your surroundings may help you avoid a train to the face.
Remember kids. Stop! Look! Listen! Live!
And I don't know about 'God' but this person has some serious karma built up. Wonder where I can get me some? I'm off to do some good deeds and maybe drive the wrong way down the motorway after.
The universe will take care of me.
Speaking of risky behaviour, how did this lady survive all that LSD?!
Featured Image Credit: LAPD Twitter