Guy Martin, a motorcycle racer, visits Tokyo, Japan in a quest to uncover the secret life of the illegal underground tattoo parlors harboring unique traditional customs of the art. 
As shown by the Channel 4 Documentary series, Guy Martin is on a quest to explore the secret underground Japanese tattoo scene. Known for its traditional, colorful designs, Japanese tattoo aesthetics are adopted all over the world, and this is the truth of where these designs come from.
Martin is able to track down an esteemed tattoo artist, Hariachi, part of a tattoo dynasty dating back generations. From him, Martin requests to be tattooed the symbolic cherry blossoms, traditionally signifying the fleetingness and beauty of life but also once affiliated with kamikazi pilots. Hariachi learnt the design from his master previously, and now works on sharing his unique 'carving by hand' techniques, known as tebori.
This entails using homemade utensils and ink, such as bamboo sticks fixed with 21 steel needles that Hariachi uses to repetitively pierce Martin's skin and a secret recipe for homemade ink which excels in vibrancy and boldness. Throughout the 2 hour process, Martin claims that he felt no pain, surprisingly.
You are saying everything, without saying nothing.

Guy Martin
Whilst he receives his tattoo, he is advised not to show it in public as it is considered a massive taboo due to the affiliation to the Yakuza and organized crime. On Hariachi's studio wall, there are images of the intricate and colorful body suites he has done for the Japanese Mafia, allegedly the biggest fans of tebori. The tattoos represent their endurance of pain and are also a sign of wealth. Martin comments, "You are saying everything, without saying nothing."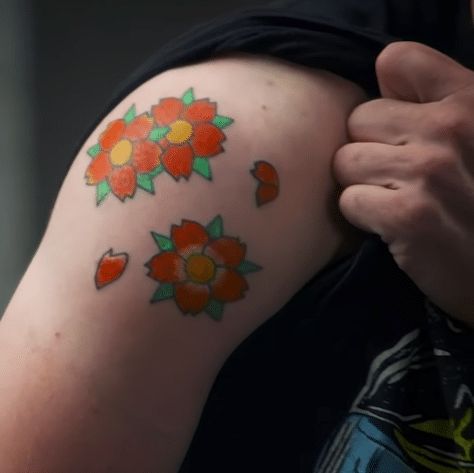 Although it is not technically illegal to be part of the criminal organizations in Japan, there still are strict social conventions against tattoos because of this criminal affiliation and many public places ban tattoos from being displayed. A fellow tattoo artist, Yoshi, comments, "When I got tattooed the first time, I already considered not going to the public baths, and I don't go to swimming pools – I didn't mind."
The world of tattoos lives on across generations, exploring the concept of personal expression all across the globe. The evolution of tattoos is an ancient story, and you can read more about it as told by tattoo artists 27 year old Fidjit and 85 year old Doc Price here.