Cafe Strawberry in Indonesia has attempted to fuel its pandemic recovery by bringing Squid Game to life with a range of games and challenges that you can participate in. This isn't your average cafe!
What's Squid Game?
If you haven't started the show that has completely taken over Netflix, then this is your sign to do so. Stop what you are doing and start watching right now! The show is primarily focused on a desperately indebted group of people in South Korea and at first, they are tricked into a deadly tournament of children's games.
However, once they realize that this might be their only chance to win the money they need to survive, they start to volunteer for the games. Although the prize is tempting, the stakes are deadly and they are putting themselves in the face of danger. Who knew children's games could be so scary?
What are Cafe Strawberry doing?
If you work at Cafe Strawberry, your role is crucial to the visitor's experience. You are responsible for making the game come to life.  The staff are all dressed as masked guards with well-known red boiler suits, and masks with circular symbols. They even hold guns too! When visitors arrive, they are thrown into a game of 'red light, green light'.
In the original show, if you move on a red light or fail to reach the other side then you are in danger. However, you don't need to worry about being shot dead when you are in the cafe! Are you brave enough to come and give the games a go? Who will be the first to lose out on you and your friends?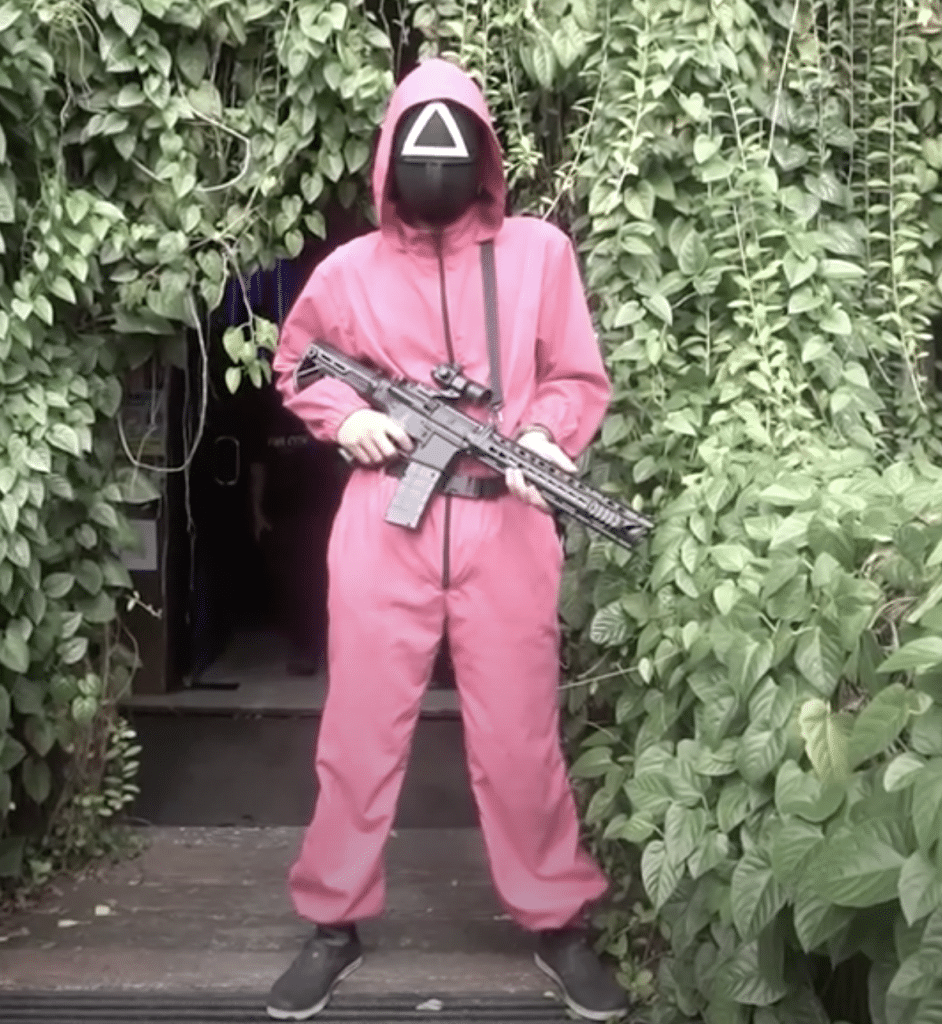 It has been a big hit so far, the cafe has received over 200 eager customers a day, who are desperate to try the games. It is pretty clear that fans love just how creative the theme is. The Cafe provides fun and entertaining ways to imitate the show. Fans have even suggested that it is extremely unique and exciting to relive the show with their friends. 
Why did they come up with this idea?
Just like many other businesses, Cafe Strawberry struggled during the pandemic and their sales had drastically fallen. By introducing this new and innovative idea, they were able to encourage people to come and try out these activities and as a result, their sales have started to recover as they rose significantly as soon as they started this event!
A cafe in Singapore runs a 'Squid Game'-inspired challenge in which customers have to break apart a Dalgona candy without damaging its shape https://t.co/dWQgNL8geP pic.twitter.com/JSjxwN6tTS

— Reuters (@Reuters) October 2, 2021
Many people are impressed by what Cafe Strawberry has created, and customers are undoubtedly enjoying the Squid Game-inspired challenges. I wouldn't be surprised if other businesses caught on and started to get creative with their own themes. Having a Squid Game cafe a bit closer to home would be nice!
What are your thoughts? Could you be convinced to take part in a game? I know I would want to give it a go!