Featuring Karen Laurie

In the heart of Abbey Park in Leicester, United Kingdom, the sun cast its golden hues on the sprawling greens, dappling the landscape with warmth. The air around us was adorned with the harmony of chirping birds and the distant giggling of children. Seated on the coarse grass, I met Karen Laurie.
She exuded a calm yet vibrant vitality, her kind presence seamlessly blending with the tranquil surroundings. Within the embrace of such a serene setting, we discussed life, sports and politics.
Sport: A Space For Self-Expression
Karen Laurie has played football all her life, ever since childhood. It was a huge part of her life growing up: watching and playing 'the beautiful game'. Playing football, in some ways, was an escape from reality for Laurie.
But as Laurie grew older, she began to feel different than others and began to explore her identity. Eventually, Laurie reached the point where she assumed she would have to leave everything behind in life––including football.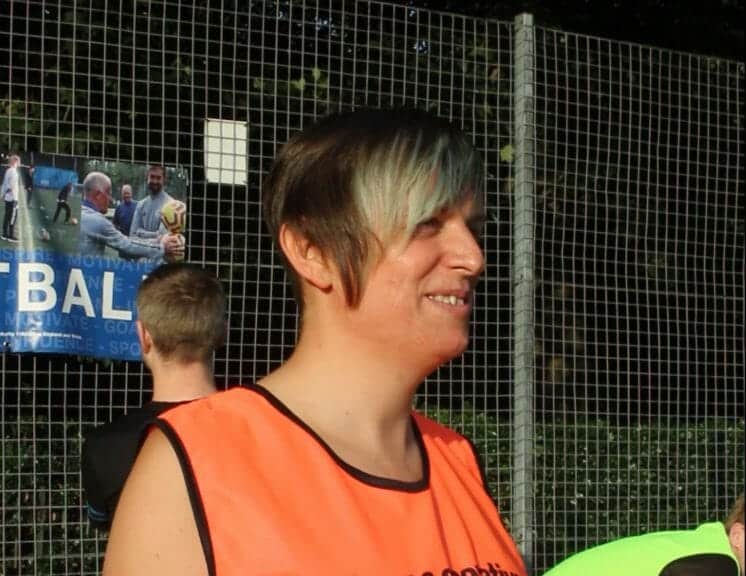 It was then that Laurie cut her teeth into another sport: roller derby. Roller derby was a whole new sport that she had been unaware of before. This sport opened many avenues for Laurie, including community and support at the grassroots level––and eventually her way back to football.
As a trans woman, Karen Laurie made her way into sports with an unwavering spirit, finding solace on the soccer fields and rooting for local sporting clubs that functioned as havens for individuals. For Laurie, sports were cathartic and a safe space for self-expression.
Finding Community at Grassroots
Laurie found a sense of belonging and support in grassroots sporting clubs. A few years ago, Laurie attended an event on LGBTQ+ inclusion in sports at De Montfort University in Leicester.
There, she got the chance to interact with a speaker who was also a member of an all-inclusive football club in the city, the Leicester Wildecats FC. This club has been serving the LGBTQ+ community in Leicester since 1996.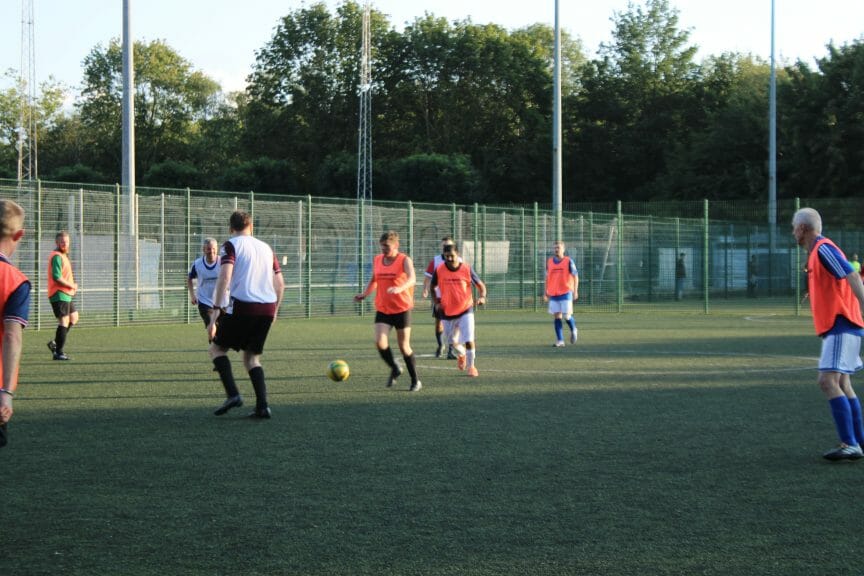 Laurie never felt out of place or unwelcome with the Wildecats. "And that's when I found out that there was a chance for me to play football somewhere where I feel included and at home again," says Karen Laurie.
Later, Laurie shared the memory of when she met her favourite football club, Leicester City FC, through Foxes Pride, an LGBT supporters group of the team. Karen talked with them about what it's like for LGBTQ+ people in football.
"It was very surreal, seeing all these people who are used to seeing either, on the pitch, in the stadium or on television, suddenly sitting in front of us all. It's like the TV coming out at me," said Laurie, a gleam in her eyes.
Roller Derby: A DIY Sport
My conversation with Laurie was the first time I heard of roller derby, the roller skating contact sport originating in the United States. Months ago, a housemate of Laurie began practising roller derby. She was hooked on the sport ever since.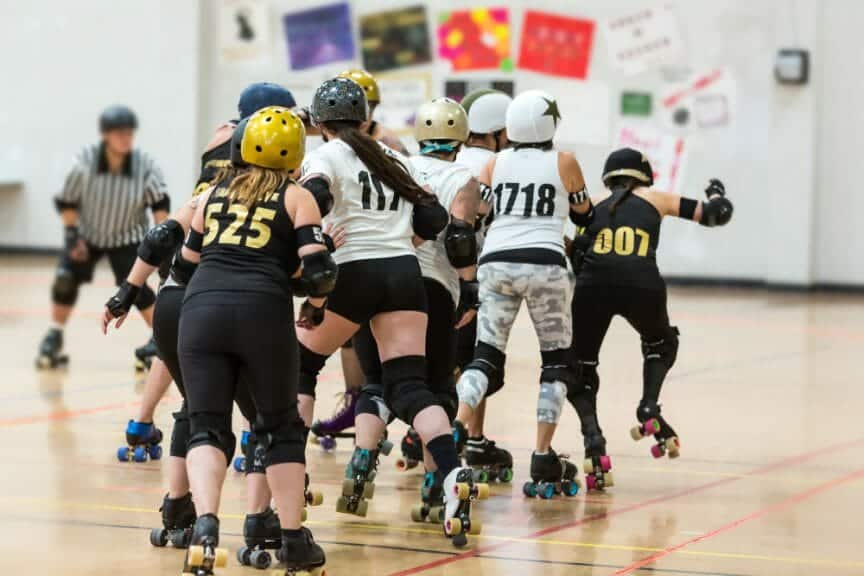 Roller derby's history stretches back to the 1930s. It began as a sport created by women, for women, and led by women in the United States.
Roller derby was the only sport where every player was equal in the game, irrespective of their gender. Inclusivity is a major part of roller derby culture. Laurie describes roller derby as a DIY sport.
It is a safer and more inclusive space for everyone as a sport, says Laurie.
Women's Football: A Safer Space?
From women banned from football to the FIFA Women's World Cup in 2023, women's football has made remarkable strides as a sport.
Laurie argues that the wider football community is becoming more inclusive, but it still has a long way to go to support LGBTQ+ players.
Daisy Taylor, a trans woman footballer from Loughborough thrashes out the intersectional issues in women's football: "I'm worried, as women's game grows, the misogyny, homophobia, transphobia, racism, violence, and the such will start to creep in and push out the existing fan base that makes it so special."
Taylor continues, "But it's not challenged enough in the right ways to really ever make real change. Any progress is always incredibly slow."
I met Daisy Taylor at the St Margaret's Pastures Sports Centre near Abbey Park in Leicester. Unlike Laurie, Daisy did not feel an instant connection to football as many of her peers did. It took until Taylor completed a sports leadership course and coached at a school in South Africa.
Laurie and Taylor are peers at the Leicester Wildecats FC. They meet most Tuesdays to have a chat and revel in the game with their friends.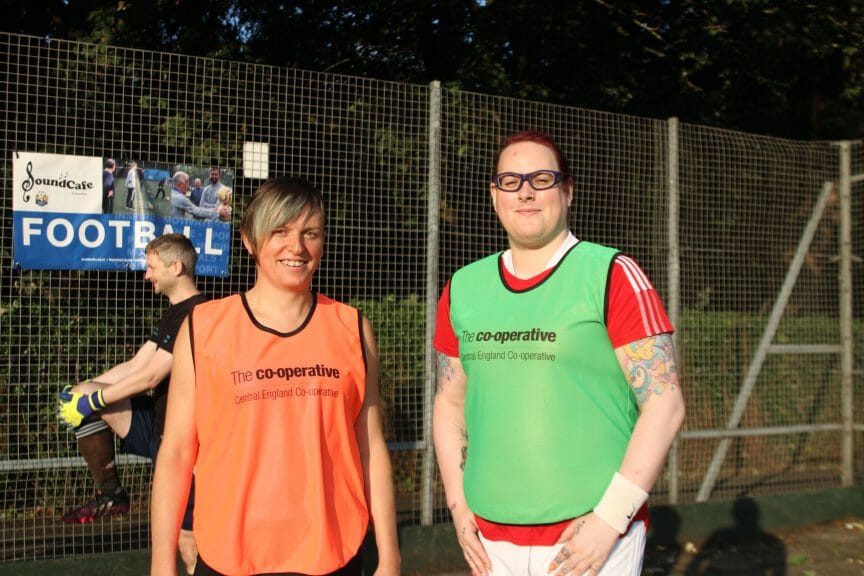 What's Going On Now?
In the UK, various sports-governing bodies are making significant changes to their inclusion and participation policies. Heated debates are ongoing concerning the participation and inclusion of trans women in sports.
The sports-governing bodies in the UK have banned trans women from competing in women-category sports in various elite sports.
Earlier this month, the British Rowing Authority passed a similar ruling against trans women rowers in the UK. Similarly, the International Chess Federation, also known as FIDE, introduced new regulations that effectively ban trans women from partaking in women-category competitions.
Experts argue that the scientific evidence based on trans women's advantages in performance still lacks clarity.
Catherine Phipps commented on the topic, remarking that "I think with any sort of policy we have in place, we have to make sure it is based on evidence. And if we don't have that evidence, then we need to fund more research into that area." Catherine Phipps is a senior lecturer in sport and physical education at Solent University, Southampton. Gender, gender identity and sexuality in sports shape Phipps' research interests.
Different Sport, Different Advantages
Sports are diverse: what might be an advantage in one sport might be a detriment in another.
"In fact, what would be a fair trans inclusion policy in something like football might be very different to shooting darts or swimming," Phipps' continued. "Therefore, different sports are potentially going to need different guidelines, because those sports may have different advantages."
Initially, the International Olympic Committee developed an all-encompassing policy for trans inclusion across almost all sports. The IOC's most recent policy update provides more freedom and authority to national governing bodies to create their own policies.
"This is a good step forward," Phipps' noted, "but I think the risk here is that there isn't enough evidence at the moment to develop fair policies across all those different sports."
For trans women, there are still many hoops to jump through to participate in women's sports. Often, these policies are unattainable for many trans women, points out Dr. Phipps. Therefore, we need more research in a variety of different sports.
The Next Step: A Fair Step?
As part of its new agenda, the sports governing bodies in the UK have formed a working group to set up an "open" category for trans women in various sporting events. This has sparked further debates among experts and members of the trans community.
A lot of policies suggest that if a trans woman is not eligible to compete in the women's category, they can compete in the men's or an open category. Researchers like Dr Phipps explain that this is still a step forward because we are not completely excluding trans athletes: we are giving them an option.
But these options don't necessarily align with people's gender identity. These categories are very strong and align with gender binary categories, categories which aren't always reflective of society.
The trans community has fought and continues to fight for inclusion and participation in women's sports. Various national sporting bodies have placed regulations on physical advantages or disadvantages trans women might have despite a lack of research and scientific evidence.
Like Laurie, there is a vocal minority who continues to make their opinions be heard, and who certainly won't be left on the bench.
"If there is any advantage I have for being transgender compared to being cisgender, I don't feel like it's a physical one. I feel like my cisgender colleagues are held back by the wayside. It has brought them up in terms of not feeling like sport is for them. A lot of them, now that they're adults, are super sporty, but never felt like they were until [they were] given a chance to embrace it and love it. A lot of them, I think, maybe struggle with the way society always makes demands on women."

Karen Laurie