Today, Donald Trump will appear in court for arraignment on around 30 charges following his indictment last week.
On Thursday, a Manhattan grand jury indicted the former president on charges allegedly related to Trump's hush payments before his 2016 election. Trump is the first former or current US president to be criminally indicted.
The Indictment
On Monday afternoon, former president Trump arrived in New York before his arraignment today. Trump's indictment is currently sealed, meaning the exact charges are unknown. However, Trump is expected to face charges relating to hush money payments that Trump made to two women, including Stormy Daniels, who claimed to have had affairs with Trump.
Trump—the only US president to have been impeached twice while in office—is once again making history as the first former president to be arraigned on criminal charges, per last week's indictment from a grand jury convened by District Attorney Alvin Bragg. The Manhattan district attorney's office began its investigation when Trump was still in office. The investigation centered on a $130,000 payment that Trump's then-attorney Michael Cohen made to Stormy Daniels in October 2016, days before the 2016 November election. Cohen purportedly made the payment to silence Daniels from speaking out about her alleged affair with Donald Trump, which Trump denied.
Donald Trump has been accused of sexually assaulting and harassing women since long before his 2016 election, with at least 26 women accusing him of rape or assault since the 1970s. Writer E. Jean Carroll is currently suing Trump for defamation after Trump accused her of lying in her allegations that he raped her in the mid-1990s.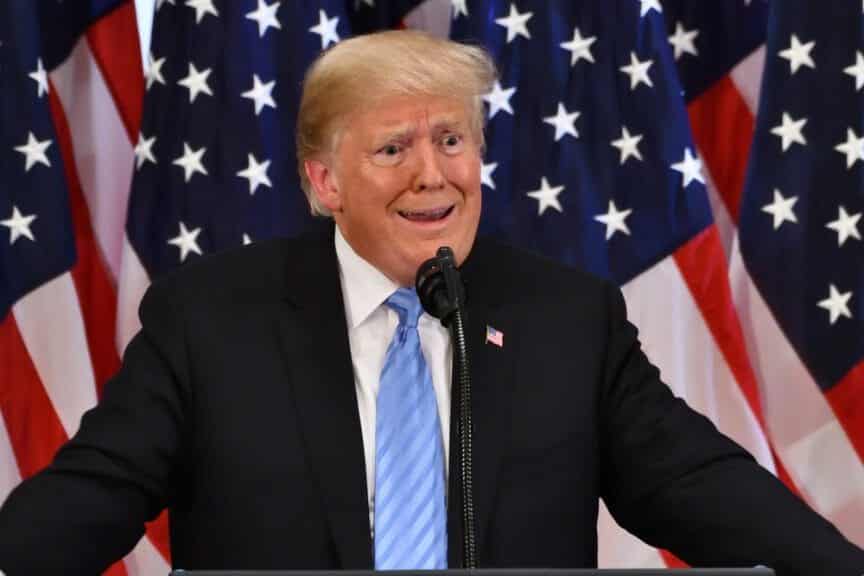 Charges Facing Trump
Hush payments are not illegal in and of themselves. However, Trump will likely be charged with falsifying business records (a misdemeanor in New York) for authorized payments totaling $420,000 that the Trump Organization made to Cohen to cover his original $130,000 payment to Daniels, as well as tax liabilities and reward Cohen with a bonus.
In the first degree, Trump might be charged with falsifying business records for allegedly falsifying a record intending to commit another crime. Falsifying a business record to commit, aid, or conceal another crime is a Class E felony, which carries a prison sentence of (at least) one to (at most) four years. Even though the case could also represent a violation of campaign finance laws, to convict Trump of a felony, prosecutors would need to prove that the Trump Organization falsified business records with the intent of committing an additional crime.
DeSantis's Response
Since Thursday's indictment, many Republicans have come to Trump's defense, including Congress members and Florida Governor Ron DeSantis. DeSantis said that he would not assist in any attempts to extradite Trump from Florida (home to Trump's Mar-a-Lago), stating, "Florida will not assist in an extradition request given the questionable circumstances at issue." It would be difficult for DeSantis to make a case to decline an extradition request. Article IV, Section 2, Clause 2 of the Constitution states that no US state (including Florida) has the right to deny another state an extradition request.
On Thursday, DeSantis took to Twitter to accuse District Attorney Bragg of orchestrating Trump's indictment "to advance a political agenda." They described the indictment as a "weaponization of the legal system."
Before the indictment, DeSantis said that he wouldn't involve himself in the case, stating at a news conference:
Look, I don't know what goes into paying hush money to a porn star to secure silence over some type of alleged affair — I just, I can't speak to that.

Ron DeSantis speaking about Trump's pending indictment at a March news conference.
Democratic Responses
Democrats in Congress, unsurprisingly, are far more supportive of Trump's indictment. However, several House Democrats currently allow their staff to work from home, citing the memory of Trump supporters storming the Capitol on January 6. On Friday, Trump warned on his social media platform, Truth Social, of potential "death and destruction" if he is charged in the case. Trump wrote,
What kind of person can charge another person, in this case a former President of the United States, who got more votes than any sitting President in history, and leading candidate (by far!) for the Republican Party nomination, with a Crime, when it is known by all that NO Crime has been committed, & also known that potential death & destruction in such a false charge could be catastrophic for our Country?

Trump's Truth Social post of Friday, March 31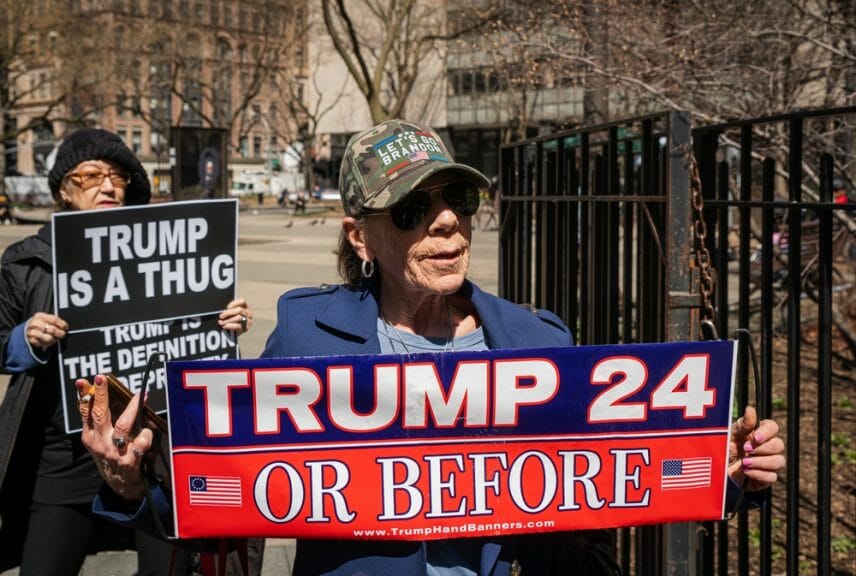 As a precaution, Representative Dean Phillips (D-Minn.) has told his staff to work at home on Tuesday. "Much of the language from the former President and his devotees is similar to what inspired Jan. 6th," he said, "I'm concerned about safety for my colleagues and my staff."