In June 2019, writer E. Jean Carroll wrote in her book that Donald Trump had raped her in the mid-1990s. She is now suing Trump for defamation after he said she lied about the rape, motivated by politics and money.
The Assault
E. Jean Carroll first accused Donald Trump of raping her in 2019, in her book What Do We Need Men For? A Modest Proposal. In it, she alleged that he'd raped her in a Bergdorf Goodman dressing room in late 1995 or early 1996.
After filing her civil suit, Carroll was deposed by Trump's attorney in October 2022. In her deposition, she remembered running into Trump as she was leaving Bergdorf Goodman and he was walking in. Reportedly, he recognized her as "that advice lady" and asked for help picking out a gift for a woman. She mentioned being "delighted" to help Trump, and feeling as though it were her duty as an advice columnist.
While shopping, Trump asked her age, calling her "so old" when Carroll told him she was 52. He then suggested they look at the lingerie section, which happened to be empty at the time. After picking up a lace bodysuit, Trump told her to try it on, to which Carroll responded with a joke, telling him he should instead. She recalls laughing while thinking of him with the bodysuit on over his pants, assuming she'd have a good story for her friends.
Instead, however, Trump gestured for her to step into the dressing room. Carroll alleges he then slammed the door behind her and pushed her up against a wall "so hard that [she] banged [her] head". She claims she was so shocked she could only laugh until the seriousness of the situation dawned on her.
"Now I understood that … this is a battle, and he pulled down my tights. At one point I remember saying, This is Donald Trump, what the heck is going on? And then I felt his penis inside of me."

E. Jean Carroll in her deposition
With some luck, the incident was "very brief", as Carroll was able to push Trump off of her and escape.
The Suit
Trump both denied the accusations and claimed he had "never met that person in [his] life", suggesting that she was simply trying to boost her book sales. He went on to refer to her as "not [his] type", implying that she was not attractive enough for the incident to occur.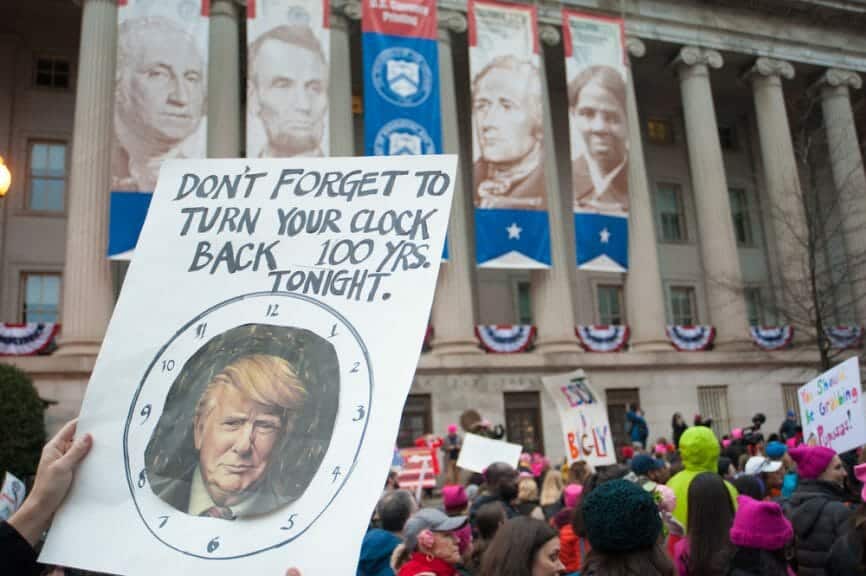 Further, Carroll believes Trump's slander has "totally affected" her life. Shortly after making her allegations, she lost her job at Elle magazine after 26 years working there. Additionally, in her deposition, Carroll said she has not had sex since that day, claiming "the light had gone out" of her.
"In New York, [if] there's a taxi and if the light is on it means it's available, wants to meet people. I didn't have that. My light was gone."

E. Jean Carroll
Aside from Carroll's testimony, however, an "Access Hollywood" tape and testimonies from two other women will be used as evidence. Judge Lewis Kaplan, who is presiding over the case, allowed the inclusion of this evidence as they coincide with Carroll's characterization of Trump. In such a way, the similarities between the women's testimonies and Trump's words on the tape could reveal a pattern in Trump's behavior with women that supports Carroll's claims.
The Evidence
Donald Trump recorded the infamous "Access Hollywood" tape in 2005, though it wasn't released publicly until 2016. In it, he says, "I'm automatically attracted to beautiful women—I just start kissing them, it's like a magnet. Just kiss. I don't even wait. And when you're a star, they let you do it. You can do anything. Grab 'em by the p—-".
Trump since claims that the tape is "locker room talk" and not reflective of his behavior. However, Judge Kaplan, in his ruling, wrote, "In this case, a jury reasonably could find, even from the Access Hollywood tape alone, that Mr. Trump admitted in the Access Hollywood tape that he in fact has had contact with women's genitalia in the past without their consent, or that he had attempted to do so."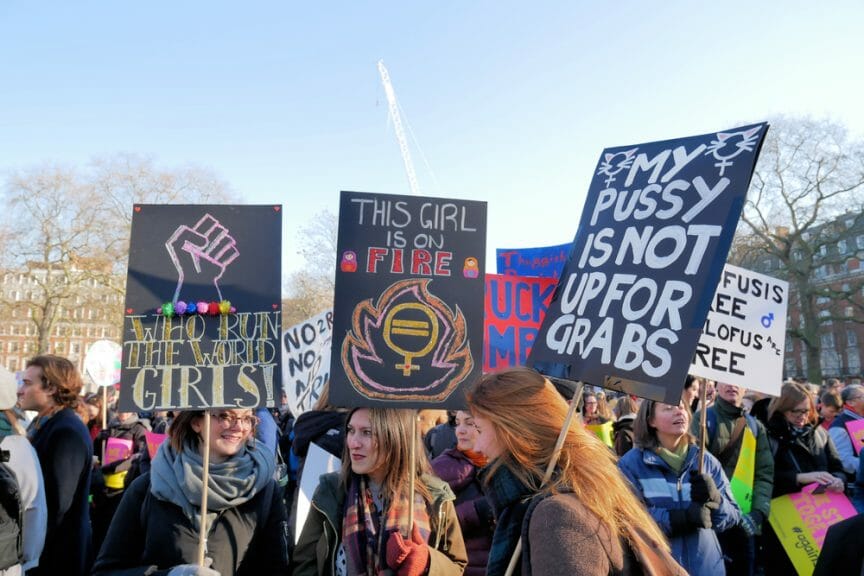 Kaplan also allowed the testimonies of Jessica Leeds and Natasha Stoynoff to be heard by the jury in court. Leeds claimed in her deposition that in 1979 Trump attempted to kiss her, grabbed her breasts, and put his hand up her skirt. The event allegedly occurred on a flight after a stewardess invited her to sit next to him in first class.
Stoynoff claims her assault took place in 2005 while writing a People magazine article about Donald and Melania Trump. Reportedly, he pushed her against a wall and kissed her in a room at his Mar-a-Lago club. Even worse, Stoynoff was writing the article about Trump's and his wife's one-year anniversary while Melania was pregnant.
The Trial
Prior to Kaplan's rulings, Trump denied the rape and claimed that the "Access Hollywood" tape and fellow testimonies are not relevant to the case. He stated that "recounting these alleged encounters will offer no relevant or meaningful insight into the central question". Further, Trump's lawyers argued that the tape is "irrelevant and highly prejudicial".
However, as Judge Kaplan stated in his ruling, "Most of the evidence that Mr. Trump seeks to keep from the trial jury is to the effect that Mr. Trump allegedly has abused or attempted to abuse women other than Ms. Carroll in ways that are comparable to what he allegedly did to Ms. Carroll."
Further, Carroll's lawyers argued, "Here, the testimony establishes a modus operandi: Trump's pattern of suddenly and without warning lunging at a woman, pushing his body against her, grabbing at her, and kissing her, in what constitutes a knowing and intentional sexual assault, and later categorically denying the allegations and declaring that the accuser was too ugly for him to have sexually assaulted her."
The trial is scheduled to start on April 25 and is expected to last between 5 and 7 days.