If you've ever dreamed of choosing when to work, having no boss, and controlling your income, keep reading. These side hustles might be your answer.
We've all seen ads for gigs like Doordash driving, Instacart shopping, delivering Amazon packages, or other 'make-money-fast' contractor apps.
The appeal of these cool freelance platforms is that you can work on your own time, and they require virtually nothing. All you need is your smartphone and a car; some food delivery apps even allow you to work with a bike or scooter. For such easy startup requirements, it's hard to believe that these gigs have the potential to make you anywhere from $15 to $20+ an hour. And another bonus, the work you do is almost like a scavenger hunt, meaning it can actually be fun.
Of course, a job this simple that pays well is a fantastic opportunity for many, and naturally, the thought of this becoming full-time work would be a dream come true. But just like any other job, this work has downsides that many forget to consider. Especially if you want to replace your 9-5 with this, is it worth trying to sustain a full-time income from these side hustles?
Consider This:
r/doordashdrivers: Oil change once a month. New tires every 6 months. New brakes every six months. New car every 5 years. Doing this fulltime is all fun and games until you realize what it actually comes with.

@Silly_Independence71
One of the main things to keep in mind is the cost of job materials. Compared to traditional employment, where you report to your job's location with materials ready for you to use, you supply what you'll use to work. In essence, your car is your work location, and you only need your smartphone to handle operations.
Since you're more than likely to use your own car, be prepared to keep up with maintenance. The combination of the car for work and personal leisure will speed up your mechanic visits, which can get pricey. Let's also not forget that you can fix your car whenever, but you can't reverse the miles driven when running these gigs.
And the hot-button topic of the year: your gas consumption will also skyrocket. Unless you're driving a super gas-friendly car or a Tesla, money spent on fuel is something to watch out for. Especially with the instability we've seen in the past year, many ride-share and food delivery workers took a massive hit in their earnings.
The big takeaway is that gigs do take a toll on your car despite seeming like an expense-free money-making hack. Personal use cars are a big purchase, so some dedicated freelancers invest money into separate, work-only vehicles.
Youtuber Nuggs discusses the technicalities of using your car for a gig site named Turo and concludes the above. On this platform, you can rent your car just like a usual rental car place, which is another popular way of supplementing your income. Nuggs, however, finds it logical and more practical to invest in a second vehicle if you're interested in doing this. This way, you could run a Turo passive income stream and still have your own car available for even more gig-hopping.
Side Hustle Oversaturation
Because these apps are quick to start and easy to do, the risk of worker oversaturation is pretty high. If too many people in your area sign up, you might run into trouble keeping up full-time hours. Also, with only so many orders for groceries, food delivery, rides, or rental cars, not everyone could realistically pursue this as full-time work.
The growing popularity of these services has also increased hiring volumes, causing more competition in the market. Luckily, some apps like GrubHub have a wait list if your area is slow.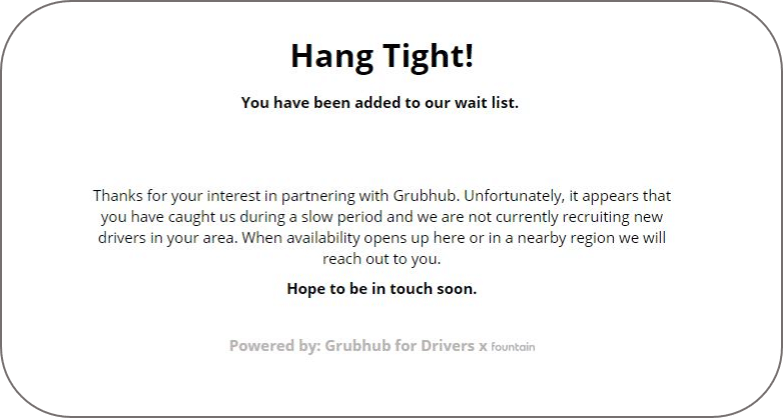 The Only Benefit Is Time Flexibility
The critical detail is in your title as an 'independent contractor.' Essential security when it comes to traditional employment is usually the benefits like insurance or paid time off. Only being an independent contractor gives you little to no benefits or growth opportunities.
As @scottyrides mentions, complete flexibility with no one to give notice to is a major perk, but it's given with no security. Your market could become slower over time, you might need to take advantage of job benefits, or a number of other things. Since the risk is so flexible, the reward remains flexible and fluctuates too.
So, What's Your Area Like?
With all these things considered, the last major factor is your area and consumer type. Maybe you live in a big city with tons of families ordering Instacart weekly or a college town with hungry Doordash lovers. Every market is different, so take this up part-time until you get a better feel of your local gig scene. Full-time work isn't impossible with various resources and a clear idea of your financials.
Honestly when I see people complain about the cost of gas, wear and tear, and they make it out to seem like that is 50% of your earnings, I cringe a little bit.

@Nuggs
Take it from Nuggs, the avid Dasher and freelance app hopper Youtuber, that the journey is possible. Like all other job opportunities or work environments, it takes finding the right fit for what you want to do. But, if gig-hopping is your dream, there is no harm in giving it a full-time try.