Let's face it. 2020 has been the anti-christ to holidaying. For the foreseeable future, travel to America just will not be possible for the majority of us. What we can do is dream, and plan for the holidays in the years ahead to make up for this nightmare of a pandemic.
10. The Point, Saranac Lack, New York
Think you feel Christmassy now? Think again. This cosy mountain club resort is set in the foothills of the Adirondacks "where wilderness meets luxury" and everything is pine tree and gin and tonic scented.
Expect to bundle up in a warm coat for picturesque hikes through the Great North Woods, cuddle up in front of the fireplace toasting marshmallows, and watching movies.
The best bit? The Point is all-inclusive, so drink up!
This hotel is probably the closest you can get to having a Hogwarts Christmas. So it comes as a wrench to know that many of us will not see the Point in 2020.
One of the last wild places in the US, the hotel is situated in a rock outcropping on Denali's Ruth Glacier.
Expect to be spoiled in luxury with trekking across the glacier witnessing the magical landscape, round-trip helicopter sightseeing flights, guided adventures, and sauna treatments. And let's not forget the possibility of seeing the northern lights.
8. SingleThread, Healdsburg, California
Think luxury Japanese Inn set in Sonoma County's enchanting landscape.
Come along with a ravenous stomach and experience the exquisite meals prepared by Chef Kyle Connaughton, who has cooked across Japan, and in Heston Blumenthal's Fat Duck Experimental Kitchen.
Let yourself loose in the North Texas Hill Country with high-end ranchin'.
Come prepared to practice clay shooting and archery, and even expect to learn how to throw a tomahawk. Visit the new rifle and pistol range. If those don't take your fancy, why not take to the horseback riding trails.
6. Sea Island, Sea Island, Georgia
Has 2020 made you dream of a getaway with blue skies, multiple swimming pools to dip into, unlimited golf? Look no further. Sea Island ticks all these boxes, and more with their notably friendly and accomodating staff.
Worried you'll get bored of swimming, golf, and stunning weather? There's always the range of activities including biking, boating, bowling, and even falconry. they have something for everyone.
Envision a sprawling farmstead slipped into a corner of the Great Smokies.
Expect to be well-fed at the resort's award-winning restaurant which sources much of its ingredients locally. To walk off dinner, explore misty fields populated by wooly white sheep, and experience carriage rides.
Stay on national forest land at the back of Aspen Mountain over 11,000 feet up: high in altitude and high in luxury.
The sky is quite literally the limit here. Think of any activity ending in 'skiing' and Smith Cabin will accommodate you: backcountry skiing, cross-country skiing, cat skiing. Don't forget about snowmobiling, or even getting married – who needs Las Vegas?
3. Canoe Bay, Chetek, Wisconsin
Need some 'me time' away from screaming children and the pressures of the world? Unwind at this child-free all-cottage resort.
Feel suitably cosy and wintery under a warm quilt enjoying lakeside views, or if that's not your cup of tea, discover snowshoeing, downhill skiing or even ice fishing.
2. Amangani, Jackson, Wyoming
After this year, we all deserve a bit of Aman's trademark peaceful zen-minimalism in their chic hotel.
Try your hand at snowshoeing across the rugged Wyoming landscape, keeping your eye open for the local company, including bison. If that's not your thing, how about dog-sledding, or even downhill skiing in the nearby Jackson Hole.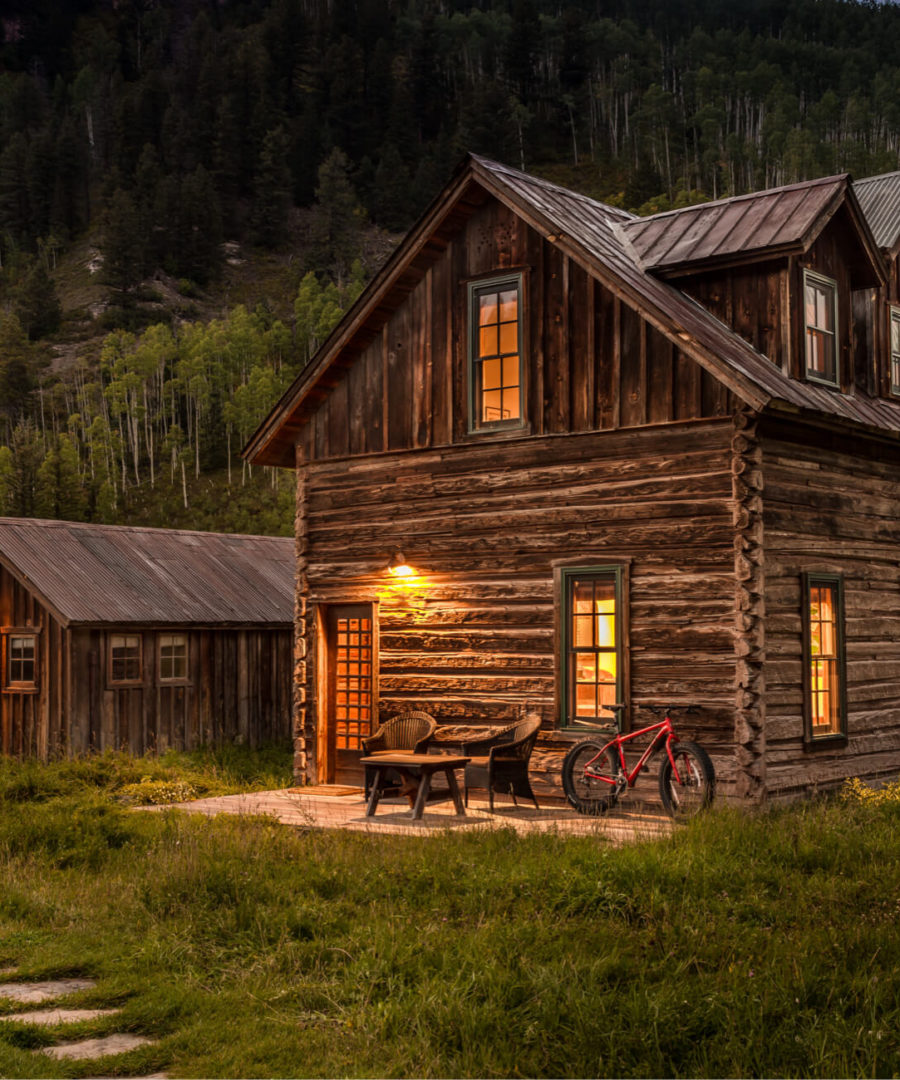 Fancy walking into a little mountain town right out of a fantasy book? Then this is what you have been waiting for. And the intrigue of this five-star resort does not end there: it was built on an 1800s ghost town.
Dunton offers a 'Winter Wonderland' experience including cross country skiing, snowshoeing, ice skating, and horse-drawn sleigh rides.
And that concludes our dream list of American getaways. Captured your imagination? If not, read about the Alaskan Town that won't see daylight for over two months.