Image Credit – Pixabay
Surely everyone harbours a secret desire to fly to the African savannah and take a safari. Well, you may not have to go so far. The Port Lympne Hotel and Reserve, near Kent, is offering the opportunity to stay in luxury accommodation next to their lion pride.
The lodges have floor-to-ceiling windows providing spectacular views across the lion habitat as well as allowing for the thrilling (or terrifying) possibility that a lion could be mere centimetres from you.
The lodges are a worldwide first, set within the lion's habitat. They feature windows in both the living area as well as the master bedroom. There is no doubt that these lodges offer spectacular views which surely can't be found in many other places around the world.
Check out this incredible footage of the lions from one of the windows:
The actual lodges themselves seem pretty cool. They are 'timber clad, Manhattan loft style buildings' and have all sorts of creature comforts. Yes, I think my puns are hilarious. Both of the lodges in the lion habitat include an open fireplace, a wet room and underfloor heating. There's also an amazing outdoor Scandinavian bath on a raised platform which overlooks the lions.
Whilst the Port Lympne website doesn't give information on pricing (asking you to contact them for further details) Lad Bible states that prices start at £1750 a night. While this ain't cheap, it does appear to be a very exclusive experience. There's lots of little extras such as breakfast and welcome drinks included as well as some much larger bonuses. These include a golf buggy to explore the rest of the animal reserves, as well as free entry to the neighbouring Howletts Wild Animal Park. They also offer safari tours.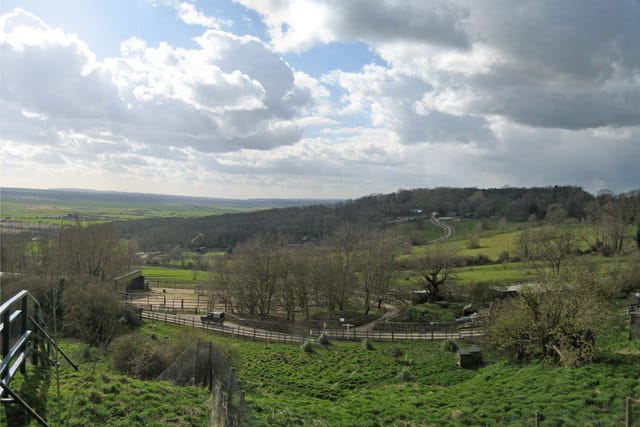 Both Port Lympne and Howletts are run by the charitable Aspinall Foundation and have an exceptionally strong record on conservation. They help to fund and run projects all over the world with their gorilla projects in the Congo finding particular success. The Foundation helped build the first ever gorilla orphanage in Congo-Brazzaville in 1989 and since then have rescued over 100 gorillas. Over 70 of these have been released back to the wild. Both parks are home to hundreds of different endangered wildlife species.
If your looking for a luxurious experience but also something really different which seems to be making a positive impact out there in the big wide world, Port Lympne might be a great choice for a short break. If waking up with a lion right outside your door seems a little scary, why not stay near the giraffes? Or lions not the carnivores for you? Try the tigers or wolves.
If you love animals but don't feel like getting quite that close, why not check out some vintage David Attenborough documentaries?