Japanese love hotels might seem simple in concept, but in execution they get pretty wild. With hotels themed like Jurassic Park to rooms containing working waterslides, it's certain that no two love hotels are the same.
Throughout Japan, you'll encounter hotels advertising themselves as "Love Hotels". These establishments are typically quite discreet and, unlike other hotels, offer options for both overnight stays and "rests". In recent years however, higher-end love hotels have begun to get pretty ridiculous with their marketing, leading to amazingly unique locations to spend the night.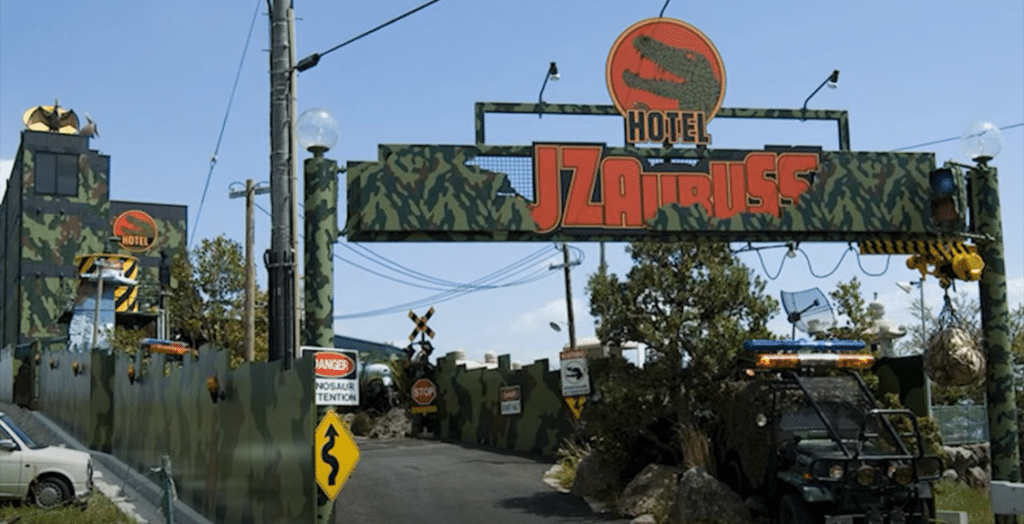 While most love hotels stick to the typically discreet nature of their services, more and more are going all-in on tourism prioritising unique "experiences" over subtlety. This has led to increasingly bizarre hotels opening their doors, from "Hotel Chapel Christmas" (a Christmas themed love hotel) to "Hotel Jzauruss" (a hotel themed like, you guessed it, Jurassic Park), and these are just a few of the most unique love hotels out there.
The popular J-vlogger Tokidoki Traveller recently visited an amazing love hotel called "Hotel Sekitei" which provides guests with a personal water-slide inside their rooms. Check it out for yourself:
So What are Love Hotels?
As the name implies, love hotels are designed just for that, love. While you can rent rooms for overnight stays, most guests stay simply for "rests" and you can probably guess what that implies. Given the often discreet nature of the hotel and their commonality in cities and near train stations, it's pretty obvious who the typical clientele of these hotels are.
Due to this, love hotels go to somewhat extreme lengths to ensure the discretion of their services. Most love hotels do not feature any front desk staff; instead visitors select their rooms from a panel of buttons and pay though automatic cash machines. Room service is just as secretive, with guests ordering anything from alcohol to adult costumes from a similar selection panel in their rooms, and the order being delivered to their doors without staff in sight.
The extremely strange hotels are most often high-end buildings that just want to set themselves apart from competition and make for unique fantastical spots for their guests to enjoy.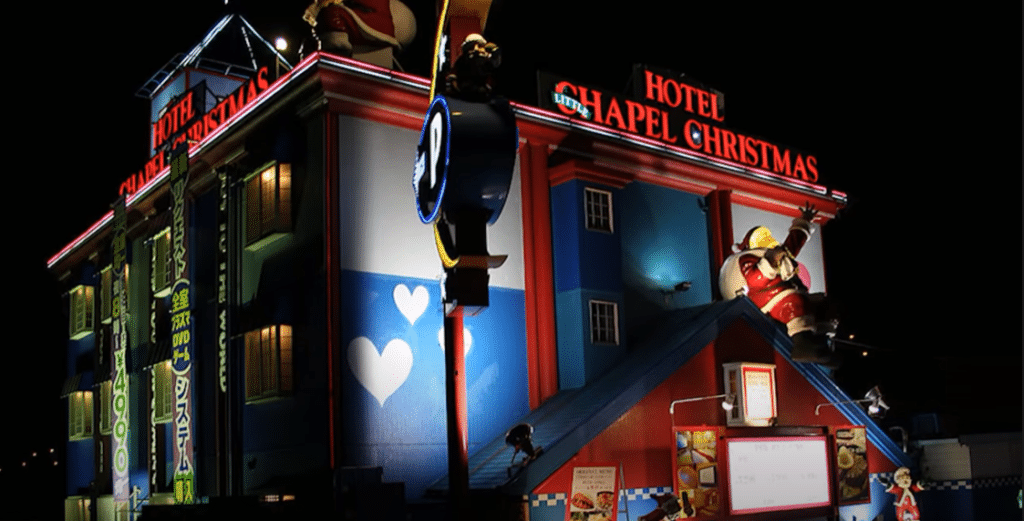 Love hotels have also gotten decently popular as tourist destinations due primarily to their theming, after all who wouldn't want their own water-slide for the night? Even more basic, low-cost love hotels make for decent rest stops in most of Japan's major cities; so if you don't mind the implications of your visit, checking into a love hotel can be an affordable option when traveling.
If you're curious what else Japan has to offer,  check out the TikTok videos showcasing the weird yet wonderful appeal of Japan, or the Japanese island home to hundreds of cats.