New Zealand is the home of Lord of the Rings, so it's only fitting that for 20 years they've employed Ian Brackenbury Channell to be the wizard for Christchurch.
Mr Channell, originally hailing from Britain, is paid $10,000 (£8000) annually to be the cities official wizard. His duties include promoting tourism and greeting dignitaries to the city.
Channell first became a lover of the magical when he was studying in Australia in the 1970s. After he earned his degree in Sociology and Psychology he moved on to teach Sociology at the University of New South Wales. It was there he began behaving like a 'wizard'. The university was against this dress and behaviour, and he consequently lost his job.
Not to be discouraged, Channell hopped across to New Zealand where his role of a wizard was accepted: after all it is the home of the hobbit and Gandalf. Channell was adored so much it led to him the country's Art Gallery Director's Association recognising him as a living work of art in the 1980s.
The Wizard truly is wicked at his job as in 2009 he received the Queen's Service Medal, one of the highest honours in New Zealand. An, if that wasn't enough he also has a glowing 4 out of 5 stars on Trip Advisor.
Whilst Channell hasn't officially changed his name, his New Zealand driver's licence has 'The Wizard' as his only name. If that can't get you a one-way ticket to Hogwarts, nothing can.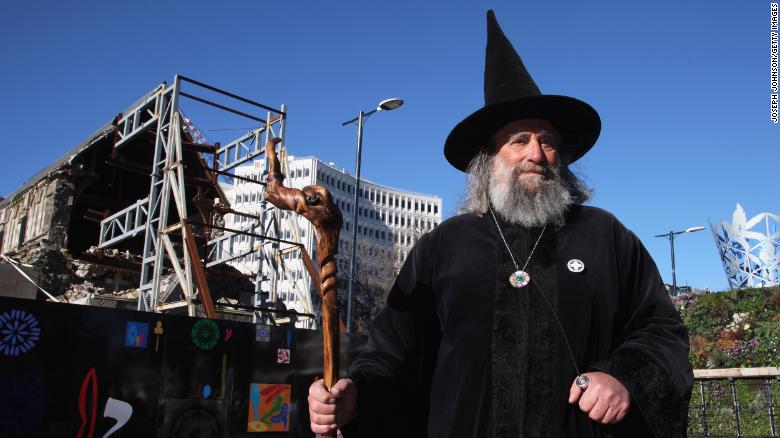 Most days The Wizard can be found in Christchurch's main square, in front of the cathedral, in typical wizard clothing – pointed hat, dark robes and a staff. But, he may not be there for long as at the age of 87 he is thinking of passing on his staff, literally. Channell has hired a 39-year-old apprentice, Ari Freeman. Freeman's a musician who one day, hopefully, will succeed Channel; although there's pretty big robes to fill.