It's spring break. I've got a pile of college essays to work my way through. Naturally, I've been rewatching the entire Hunger Games series.
I can, however, explain. My TikTok FYP has been flooded with everything from tear-jerking edits of The Hunger Games series, to in-depth analysis of the franchise, to Hunger Games-themed looks.
With all this inspiration around me, how could I do anything other than re-enter my YA fiction era all over again?
YA Fiction's Grip on Gen Z
In the early 2000s, dystopian fiction took over. I, like most of us, was obsessed with this craze. The Hunger Games were for Gen Z what Harry Potter was for the Millenials.
The Hunger Games paved the way for books like The Maze Runner, Matched, and of course, Divergent. These types of YA fiction formed a massive part of Gen Z's childhood and teenage years. I doubt that there are many people who haven't at least seen the movies!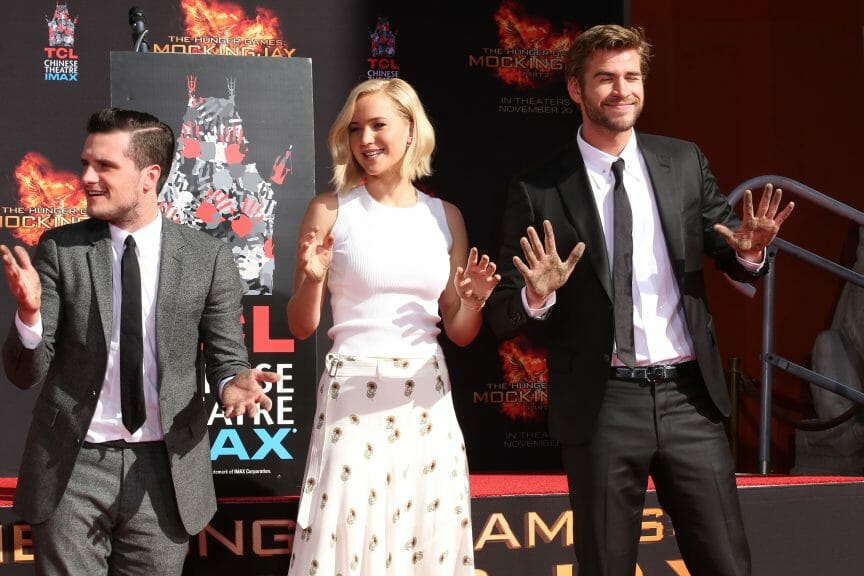 Who's to Blame for My Recent Hunger Games Addiction?
Thanks to Netflix, everyone is suddenly talking about The Hunger Games all over again.
Netflix recently re-added the whole Hunger Games series to its library, and I've been sucked straight back into my Hunger Games era all over again. And it's not just me. The entire TikTok algorithm is re-obsessed. Gen Z has resumed their childhood obsession saturating social media with fan pages, edits, memes and more.
All four films were re-introduced on 1st March, and the effect was immediate.
Another TikTok Trend?
On TikTok, the #HungerGames has over 7.7 billion views as the dystopian series becomes the latest TikTok trend. Images of Jennifer Lawrence and Josh Hutcherson have taken over TikTok and I'm sure no one is complaining!
What are the Most Common Videos?
Edits
The most common type of TikTok –and my personal favorite! Edits are made up of the most dramatic or emotional moments edited (as the name suggests) together.
Edits are also used to take smaller storylines or characters and expand on them. With The Hunger Games, it is common to see edits about Cato and Clove's relationship, the other tributes, and Haymitch's life.
Cosplay
The hashtag, #hungergamescosplay is also trending with 5.5 million views. Many creators are leaning into their creative sides, creating make-up looks and costumes. Influencers are recreating Tigris' iconic look, Effie's fabulous outfits, and some are even making their own versions of the legendary Mockingjay costume. Be prepared for Halloween – we'll definitely be seeing lots of 'Capitol' looks.
Analyzing the books and films
Some creators are taking it a step further analyzing the books and films. Gen Z is providing in depth critical analysis on Collin's choices, the symbolism of each character and everything in between
Head cannoning
Yet another creative take on the series. Creators are inventing and sharing their favorite headcanons. These are often along these lines: what arenas there might have been for previous Hunger Games, what happened to all the previous victors and tributes, and even which characters are LGBTQ+.
A Dose of Nostalgia
For the most part, Gen Z is revisiting the series for a dose of nostalgia. Our lives have changed so much since the movies first came out!
Rewatching the films has brought me a lot of nostalgia. It reminds me of many hours spent perfecting the Katniss Everdeen braid (which I eventually figured out) as well as sleepovers with my friends, and even a Hunger Games-themed party! Most of all I remember being gutted that I was terrible at archery.
For a lot of Gen Z, The Hunger Games 'Renaissance' is giving us the chance to relive our childhoods. TikToks showing photos of users' Hunger Games parties, hairstyles, and clothes from 2012 are gaining massive traction.
'Team Peeta' Versus 'Team Gale'
TikTok is transporting us back to 2012 when Katniss Everdeen was our YA it-girl as countless edits of Jenifer Lawrence's most powerful moments fill my FYP.
TikTok has, of course, reintroduced the 'Team Gale' and 'Team Peeta' discourse. Luckily, I'm on the right side of TikTok. Nearly every video I've seen has been Team Peeta. This time around Gen Z is really leaning into Susanna Collin's symbolism. Rather than just focusing on the love triangle, Gen Z is dissecting the meaning of their roles. Peeta is a metaphor for peace while Gale symbolizes war – but Gen Z isn't stopping here!
Gen Z is examining the nuances of The Hunger Games. There is the understanding that both characters are the products of the rebellion and the violence against them. This tolerance speaks to Gen Z's emotional intelligence.
As Gen Z is getting older, the deeper meaning of Collins' series is gripping us.
Why Has The Hunger Games Become So Popular Again?
Ten years ago, some of the significance of the movies went over my head. Rewatching the films now I can see the social comments Collins was making. I am not alone in this. Most of Gen Z are having this very realization. The popularity of The Hunger Games is soaring as TikTok users discuss these messages.
This rewatch has given me a new perspective on the series. Being older now than any of the contestants was a jarring realization of just how young the characters are.
All of a sudden, The Hunger Games seems much more than movies with action and romance. It became a commentary on the direction our world could be heading in and what it could mean for us. With all the recent events, it is unsurprising that Gen Z is drawing connections between the franchise and our society.
Many fans have drawn parallels between the gross overindulgence of the Capitol despite a poverty-stricken Panem and the ignorance of our leaders.
A Clever Marketing Technique?
Some fans have theorized that this new renaissance is a clever marketing technique. They are speculating that Netflix has added the series to revive interest in the Hunger Games before the prequel The Ballad of Songbirds and Snakes, comes out in November 2023.
The new movie focuses on a young President Snow, before he becomes the leader of Panem. In The Ballad of Songbirds and Snakes, Snow is trying to seek fortune for his family by becoming a mentor in the 10th annual Hunger Games. The book came out three years ago, and like the other books in the Hunger Games series, is now getting its own movie.
I for one will definitely be in the cinema as soon as the film opens. But until then I'll be glued on TikTok watching Everlark edits.