Women are taking to TikTok to show their outfits – and then the shirts they are using to cover them up.
With the warmer weather, the 'Subway Shirt' trend has recently become a topic of conversation on TikTok.
What is the 'Subway Shirt'?
With the warmer weather comes the summer wardrobe. Women are dressing in their favorite summer clothes. It's time to get out your mini dress or your skirt and tank top combo or your linen trousers paired with a bikini top. All are wonderful choices.
But before you can leave the house, a baggy tee or white shirt must be added to the look.
Started by the New York girls, women have taken to wearing a loose fitting item of clothing OVER their actual outfits.
No, this sadly isn't the latest fashion trend.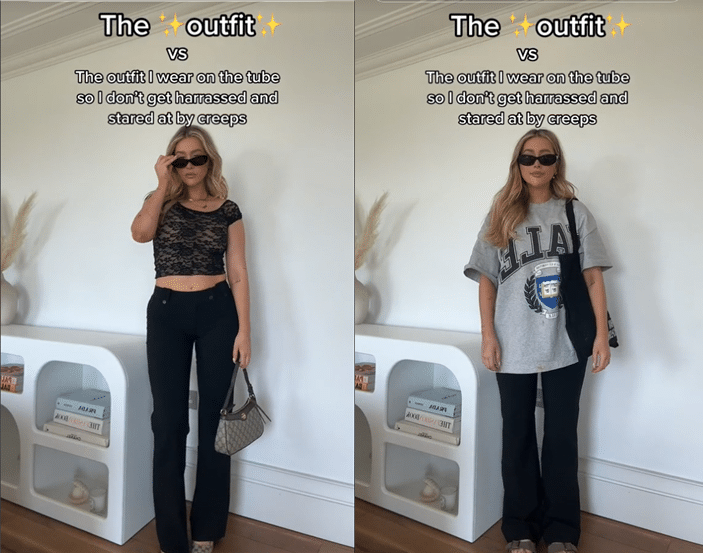 Why are we adding unnecessary layers to an outfit designed to keep us cool? Well the layer, named the 'Subway Shirt' on TikTok, is sadly necessary.
It is called the 'Subway Shirt' because is worn during the commute to the destination. Once you've arrived it can be removed. It is an attempt to reduce the amount of harassment you face during the commute.
If you are female presenting, it seems that you have to ensure that you are covered up to avoid harassment on public transport
TikTok Creators are Promoting the 'Subway Shirt'
Creator Mya, @hanselkai, shared a 'PSA' about Subway Shirts and the fact it is necessary to 'stay safe from creeps'.
Her video reads 'PSA: Ladies, now that it's hot out, don't forget to bring your subway/commute overshirt. Stay hot, stay sexy, stay safe from creeps!'.
The caption of the video reveals her sarcastic tone calling it 'just girly things!'.
Women clearly share her sentiment and anger that women are having to change how they dress because of men.
The comments are filled with women encouraging other women to wear Subway Shirts to protect themselves.
But the resounding feeling in @hanselkai's comments, and all other Subway Shirt TikToks, is outrage.
The comments are filled with exclamations of 'Doesn't it suck that we have to live like this' and 'I hate how unsafe men make this world'. It's a sentiment I'm sure most women share.
I wear sweatpants when I'm dressing for men
In fact, reading these comments makes it very clear that 'dressing for men' is not what it appears. Men like to shame women for wearing revealing clothes saying that 'It's just for male attention'.
The Subway Shirt trend is revealing that as the biggest lie of all. Women dress how they want to for themselves. The short dress, cut-out top, or under boob is not for men. It's for themselves.
When women dress for men they wear a baggy t-shirt, sweatpants and sunglasses. When women dress for men they dress to attract the least possible attention to themselves to avoid harassment.
An Outfit Dampener
The Subway Shirt is not the latest fashion accessory. It is not the newest fashion trend. It is not something that women delight in wearing. TikTok creators like @ideal.grace have dubbed it an 'outfit dampener.'
It is a precaution. And it's one most women don't like taking.
For what feels like the millionth time, women are having to dress in a way that they don't want to because men are being creepy. What's new?
Remember – Clothing Doesn't Equal Consent
The sundress season often brings unwanted attention. Whilst there is little evidence that sexual harassment is motivated by what a victim wears the Subway Shirt allows women to feel a tiny bit safer.
Clothing never equals consent. Yet, this is memo men are time and time again missing. This has to change.
Author of I Am Not a Slut: Slut-Shaming in the Age of the Internet, Leora Tanenbaum, has spoken out.
Tanenbaum has said that "I think it's fantastic these TikToks are raising awareness of the harm caused by sexual harassment and assault in public spaces".
Tanenbaum goes on to share their wish that "Hopefully, more people now will recognize how scary it can be to simply go about your day, including taking the subway, when you present as feminine."
But possibly most importantly, Tanenbaum stresses that whilst covering up may help women to feel more safe, it should never be a requirement. "If someone does not wear a 'subway shirt' over their tank top and is victimized, they did nothing wrong."
This is a message we all need to remember.
The Subway Shirt is Part of a Bigger Problem
Subway shirts from just one part of a much larger problem. Women feel consistently unsafe in their day-to-day lives because of men and their harassment of women.
Public transport, especially, is a source of anxiety for most women. A survey about MTA customers found that 41% of respondents were using subways less frequently. Of those people, 44% said this was because of 'personal safety concerns.'
Women don't feel safe on public transport.
TikTok's Subway Shirt trend highlights the everyday harassment that women face. It has become so universal and normalised that its become a widespread Tiktok trend.
Instead of women having to wear Subway Shirts or other equivalents, men should just stop harassing women. Really, its not hard.