Find your most hole-ridden jumper, slap some magenta eyeshadow on your eyes and join us for the cultural forecast for the new year…
In the 2020s, it seems like there's a new TikTok trend or aesthetic each week (clean girl, blokecore, dark academia, indie sleaze, to name a few). It seems like not so long ago that people were painting cow print designs onto their bedroom walls but trends have evolved so frequently since then it now feels like a distant memory.
And as so much of life seems to occur on the internet nowadays, it makes sense as to why our attention spans have drastically shortened, with something new always on the horizon.
But with these ever-emerging trends, it can be difficult to know what's coming next – seriously, who predicted "frazzled Englishwoman"?
So, to help get you prepped for the upcoming year, I've had a go at predicting what trends may make an appearance…
The New 90s is… The 80s!
We've brought Y2K back already – and thankfully left a lot of it's ghastly parts behind – and the 90s, and we've even done the 70s, so it only makes sense that the next logical move will be the 80s!
We've seen hints of it appear in fashion over the last couple of years, with shoulder pads and lamé making their comebacks, and people have even dabbled in big, bouncy hairstyles.
With the chokehold that Top Gun's reboot – Top Gun: Maverick – had on men this year (particularly the porn stash, which was beautifully modelled by Miles Teller), we're even noticing trends in men's fashion.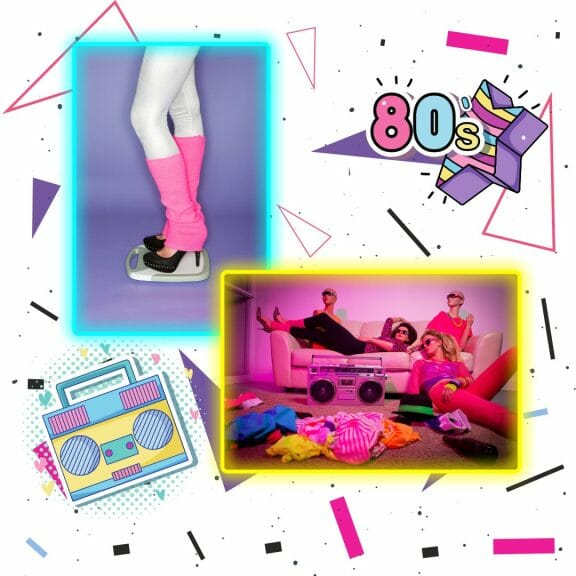 But, there's a whisper that culturally in general, it's coming back in a big way – think erotic thrillers, legwarmers and a cocaine aesthetic – yes Cocaine Bear I'm talking about you.
Cottagecore is Out and Folklore Grandma is in…
TikTok trends are ever-evolving – just look at the development of the e-girl aesthetic – and Jane Macfarlane, Brand Creative Director at The Digital Fairy, believes a brand new iteration of a few we've already seen is on the horizon and it's called "folklore grandma".
"Plenty of trends have honoured wholesome, matriarchal homemakers (cottagecore, coastal grandmother) but in AW23, the folklore grandma will emerge," she says.
"This trend is modest, motherly and cosy with heavy layers, house slippers and knits. Silhouettes will become snuggly, pastimes will become analogue and accessories will be knitted and crocheted. In beauty, we can expect ruddy blusher, wispy corner lashes, undone hair and outgrown greys."
The New Indie Sleaze is Everything Sleaze
The original aesthetic was birthed from a style that developed in the mid party scene 2000s that grew in popularity on sites like Tumblr and MySpace.
But now get ready to have the word "sleaze" attached to everything.
"Sleaze will become the new 'core' suffix in fashion – from mermaidcore transforming into mermaid sleaze to balletcore and cabincore becoming ballet sleaze and cabin sleaze respectively," explains Biz Sherbert, Culture Editor at The Digital Fairy.
"Sleazes subvert their source material, making it grungier and edgier, rather than attempting to capture the purest essence of an aesthetic, the way '-cores' do."
"Slobwear" is The New Athleisure
Described by Macfarlane as "the quiet quitter of aesthetics", slobwear feels like it has emerged from the work from home-dressing that has become popularised in a post-Covid society.
"In fashion we will see 'slept-in' baggy fits, big brother tees, underwear as outerwear and grungy 'give us nothing' styling. It's mostly oversized, possibly torn and absolutely all hanging out. In beauty we can expect lived-in lippy, nap-flushed 'lazy blush' and sleepily scraped back hair," Macfarlane says.
If you need inspo, I also highly recommend Adam Sandler's streetwear fashion – the man is the epitome of "slobwear".
90s Minimalism Will Replace the "Clean Girl" Aesthetic
If we're honest, there have been some iterations of the 90s from grunge and rave culture to hip-hop and goth, it seems like the 90s will never really go away and 2023 will be no different.
Although other decades may get a look-in, the 90s are here to stay says Sherbert. This time, however, it'll be about 90s minimalism "à la 90s Gwyneth Paltrow".
It'll also act "as an antidote to trend overload, mirroring the popularity of minimalism via Phoebe Philo in the 2010s and the contemporary 'clean girl' look, but placing emphasis on the clean lines of 90s designers like Helmut Lang and Jil Sander," says Sherbert.
This trend is also set to reflect the current economic situation. As recession blooms the trend will encourage us to shop smarter with pieces and looks that are resistant to the every changing trend cycle.
The New Y2K is 2000s Normcore
If it hasn't already began, then trend fatigue will definitely hit in 2023. And according to Rukiat Ashawe, culture specialist at The Digital Fairy, 2000s normcore or "true-thousands" fashion will emerge.
"2000s Normcore consists of dressing like 'normies' or 'NPC's' of the decade, sourcing images, videos and any other type of media where 'ordinary people' are present – old Flickr accounts, abandoned online blogs, Facebook – in order to get a real sense of how people were truly dressing in the 2000s," says Ashawe.
Dark Academia Will be Replaced by High School 2K
In addition to the normcore trend, Macfarlane expects that we'll see this trend collide with the "academia" style and pay homage to the bog standard school uniform.
"Most academia aesthetics dream of prep schools, Prefect badges and privilege beyond belief, but next year, posh pleats and embroidered details will be replaced. High School 2k puts the 'mid' in mid 2000s, channelling the muted colours, classic cuts and intentionally unexciting British school uniform," she explains.
"This trend is an ode to the Bri-ish students of the noughties, who scruffed up their standard uniforms to express their differences (prepare for undone ties, scribbled white shirts, skinny gold chains, hemmed mini skirts and clunky Kickers). Miu Miu SS23 gives us a glimpse of this, with a monotonous palette, awkward fitting blazers and sporty zip-ups over shirts and skirts."
Time to dig out the old PE kit I think…
Curvy Lines and Round Edges May be Replaced by Simple, Smooth Lines
This next trend tip is aimed more towards interior design than fashion, but nonetheless, we're set to see a big change.
We've had a lot of fun with curvy designs and sanded down edges, neon colours and chrome finishes, but it seems we may be reaching a saturation point. Next year we might see a return of a cleaner, sharper look.
The New Dopamine Dressing is Anti-Dopamine Dressing
Since lockdown, "dopamine dressing" – which is wearing bright, statement pieces which make you feel good – has been a huge hit. However, the future forecast predicts that we can expect to see an end to this.
As shopper begin to embrace darker looks and seek out items that will generally last longer, the trend is facing backlash.
In 2023, expect to see a swerve to anti-dopamine dressing and a more dystopian direction as our post-pandemic trauma forces us to adopt a more resilient fashion system.