Hidden away in the backstreets of Harajuku, Japan is Cafe Reissue, a coffee shop specializing in the creation of remarkable latte art. Here talented latte artists will make your drinks into amazing works of art that you'll definitely feel guilty for drinking.
Nestled within the sprawling city streets of Harajuku you'll find a network of backstreets known as 'Ura-Hara'; a colorful shopping district brimming with everything from independent boutiques to stylish bars. However the hidden gem of Ura-Hara is Cafe Reissue. Located just up some unassuming stairs, you'll find a special spot to take a break from shopping as you admire the artistic talents of the cafe's baristas.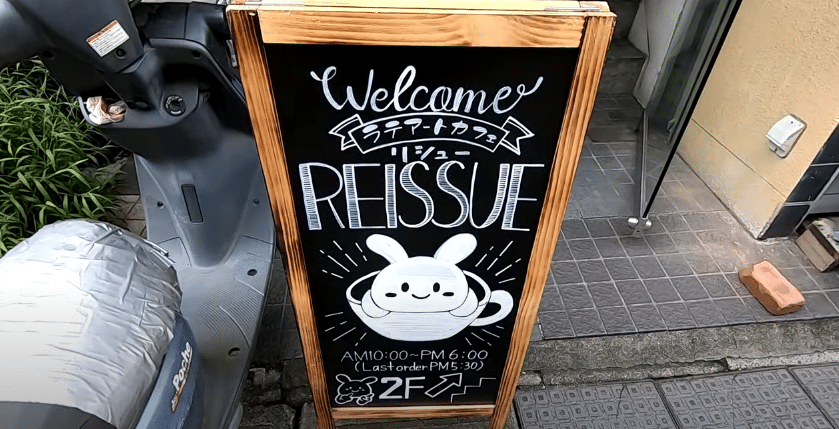 Cafe Reissue is not only known for it's rich coffee blends, but also the amazing art featured on each cup. As the cafe's staff consists of talented latte artists specializing in both 3D and 2D designs, customers can request practically any image they desire to be painstakingly recreated in their drink's foam, all you have to do is show the staff a photo you want recreated and they'll get to work. Check out the artists in action:
The Cafe's Story
George, the coffee master and lead artist of Cafe Reissue, took to brewing coffee after wanting to following the footsteps of his father who previously owned a coffee shop in Okayama. However George decided to spice up his lattes with 3D foam art, and shortly after some of his posts featuring his works went viral online, he moved to Tokyo. He soon received an offer to start a Harajuku-based cafe alongside a friend and in late 2017 Cafe Reissue opened its doors to the public, quickly becoming a sensation with customers.
Since opening, the cafe has created all kinds of latte art as per customer request; from anime characters to even pets and the faces of celebrities, many of these works of art have blown up on social media. Tweets and Instagram posts featuring orders have went viral over the past few years, with viewers throughout the world marveling at the skilled artists of Cafe Reissue. Thanks to all the good word, the cafe's become incredibly popular with tourists, with customers coming from far and wide to experience what they have to offer.
There's a wide selection of drinks that can feature art on offer for customers, with most costing between ¥600 to ¥650 each (that's about $5). If you want 3D art though, it will cost an extra ¥400 on top of that, a small price to pay for a drink as special as these! It takes around 45 minutes on average to create each artwork and trust me, the wait's worth it.
This blink-and-you'll-miss-it coffee shop is the perfect getaway from the bustling streets of Harajuku and makes for a memorable addition to any Tokyo trip. With it's relaxing vibe and delicious coffee it's a welcome break from the often hectic city environment. So if you happen to be in the area, why not pay Cafe Reissue a visit? If you do one thing's for sure, your drink will definitely be unlike any other!
If you're travelling to Japan, or just interested in the country overall, you should check out Japan's 'Rabbit Island'; a small island home to hundreds of cotton-tailed cuties.