If you spot a purple dessert sitting on a shelf in an Asian supermarket, chances are it's probably made with ube.
Purple isn't the most common color in food, let alone desserts. We typically associate the color with grape-flavored popsicles and açai bowls, which are more common than the alternatives.
However, as you might have seen in boba shops and Filipino bakeries, ube is a popular ingredient in beautiful and tasty desserts.
What is Ube?
Surprisingly, ube is actually a type of yam, and its name comes from the Tagalog word for 'tuber.' Ube is used in a variety of dishes to provide natural coloring and flavor, thanks to its vivid purple color.
Its origins lie in Southeast Asia, where it is mostly prominent in the Philippines. It has a subtle vanilla flavor that compliments many recipes, which is why it's common in desserts.
Taro vs. Ube vs. Purple Sweet Potato
Ube is often confused with purple sweet potatoes and taro, which come from two separate plants. Ube is a tuber, while its doppelgangers classify as roots.
Both ube and the purple sweet potato look similar on the outside, but sweet potatoes have more of a solid purple flesh. Taro contains rings around its brown skin and has white flesh with tiny purple speckles.
While raw taro is less likely to be confused with ube or the sweet potato, its desserts usually come out a lighter shade of purple, hence the confusion.
In terms of sweetness, taro is the least sweet, and sweet potatoes are the most. While all of them are used in cuisine all around the world, fresh ube is more difficult to find in Western supermarkets.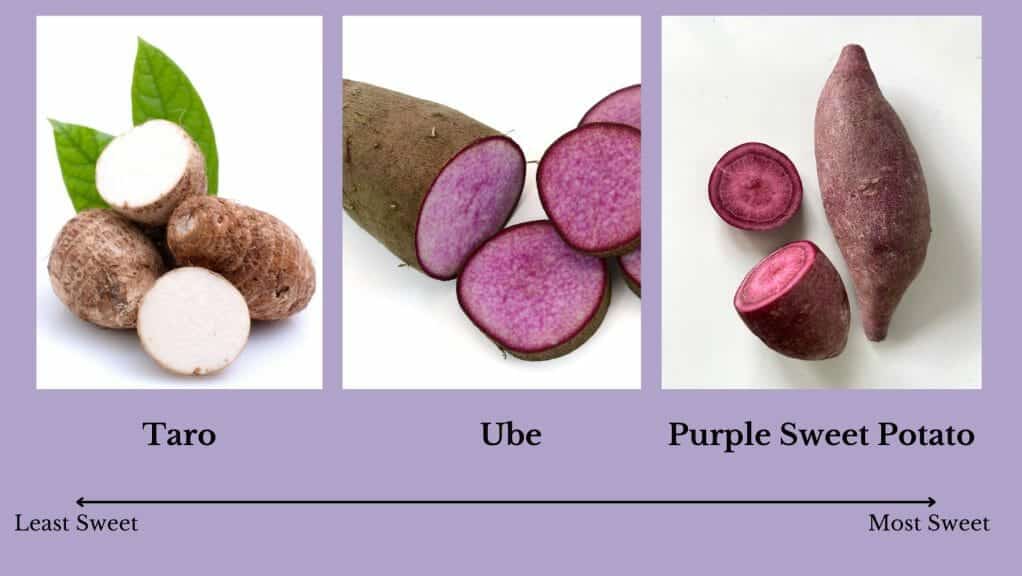 But don't be discouraged! Some Asian markets have ube in an extract, powder, or frozen bag for convenience. Ube doesn't just look good—it's packed with nutrients. The tuber itself is loaded with cancer-fighting antioxidants called anthocyanins, which give it that purple color. It's low in fat and high in fiber and vitamin C, which makes it a good snack when cooked.
Ube can be made in a variety of ways, including being baked or fried, but it is typically boiled and mashed into halaya, the base of many ube desserts.
Filipino TikToker, @jeanelleats, utilizes ube in many different ways, displaying the versatility of the yam. You can find the start of her ube series here.
With so many variations of ube desserts, there's only one way to find out which is your favorite. Here are seven shops to get into ube.
1. Teofilo Coffee Company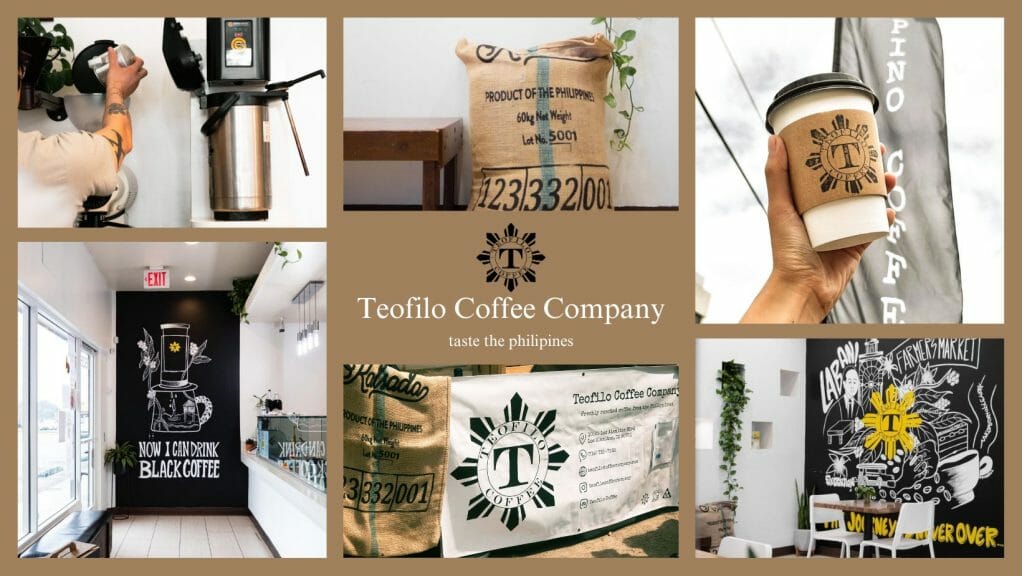 If you're craving something with a Filipino touch, this is the place to go.
Teofilo is a small, family-owned coffee shop dedicated to giving back to the Philippines by showing Orange County the wonders of Filipino food. With their eye-catching ube products, visiting Teofilo is definitely an Instagram-worthy moment—one you can capture with their tastefully decorated walls.
Ron Dizon, the founder of Teofilo, states their most popular ube menu item is their ube latte. With a subtle hint of that vanilla ube flavor and the purple hue, it's certain to draw your interest.
Teofilo's menu is built on Filipino nostalgia. Dizon incorporates ube, Milo, and Nido into his products to bring the taste of his country to California. In a recent interview, Dizon commented, "Mt. Milo reminds them [customers] of childhood memories." Whether you're looking to branch out or to recover fond memories, Teofilo's got you covered.
If you're looking for something stronger than a latte, order an ube affogato, which is a scoop of ube ice-cream and a shot of espresso. If you're looking to recreate their coffee at home, you can purchase their in-house roasted coffee beans.
Not a coffee fan? No worries, they have white chocolate chip cookies, strudels, halaya, and gelato, all in ube flavor. If you're feeling fun, look into their Ube Slam, a single ube ice-cream scoop sandwiched between their cookies.
All made by Dizon's wife, it's got a homemade touch that'll bring you back for more. No matter where you're from, Teofilo's sure to feel like a second home.
2. Hao Sweet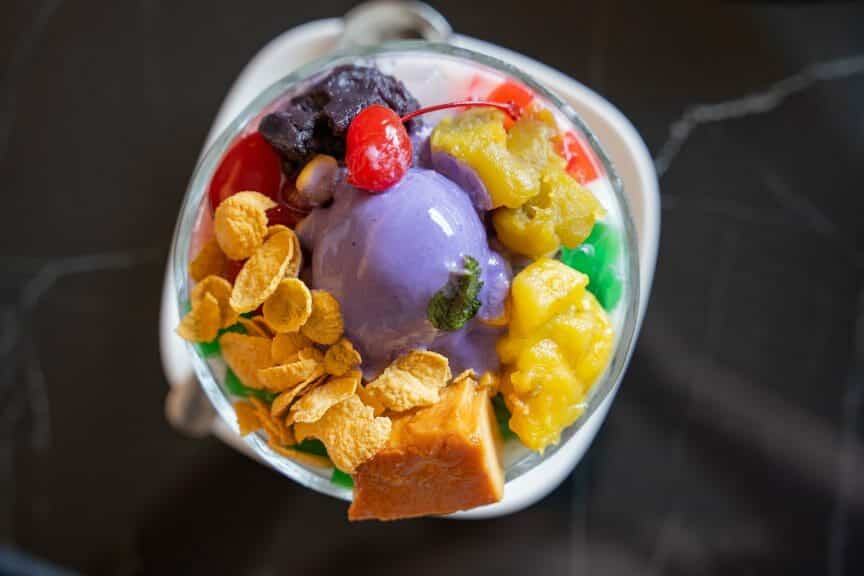 Let's talk about a popular Filipino dessert: halo-halo.
Translated to mix-mix, that's exactly what you should do after ordering one. Every place does it differently, but the one thing that's constant is the hefty amount of ingredients. Filled with a wide variety of flavors and textures, each bite contains something different.
One of Hao Sweet's specialties happens to be the halo-halo. Their menu describes the ingredients to include: flavored shaved ice, sweet beans, banana, red mung beans, kaong (sugar palm fruit), corn kernels, leche flan, ube, ube-cream, and rice crispies.
If you're looking for other options, Hao Sweet also includes other ube desserts to try. They have ube taho, a soy pudding with ube jam, ube syrup, and sago pearls, and hao ube keso, which is their ube Bibingka waffle with ube ice-cream, sweetened coconut, and grated cheese.
Although it may sound like a lot, don't worry. Take a smaller step and order a simple ube ice-cream cone. Sometimes simple is better.
3. Mochinut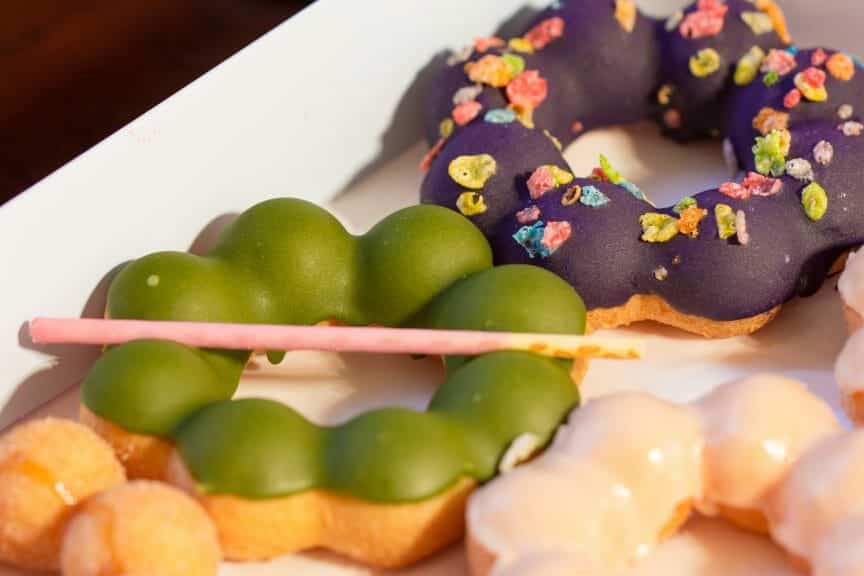 You know what's even better than a donut? A mochinut.
While normal donuts are typically made with flour, mochinuts are made with rice or tapioca flour. As a result, the dough is made similar to mochi, which means it's soft and chewy on the inside but still crispy on the outside.
And with a variety of fun flavors like a strawberry funnel and churro, there are many flavors to choose from to pair with your ube mochinut.
Buy a custom box set to share with your friends and family—or maybe just for yourself. They're just too good to share.
They have special flavors that alternate every so often, so be sure to check their Instagram.
4. Tsun Scoops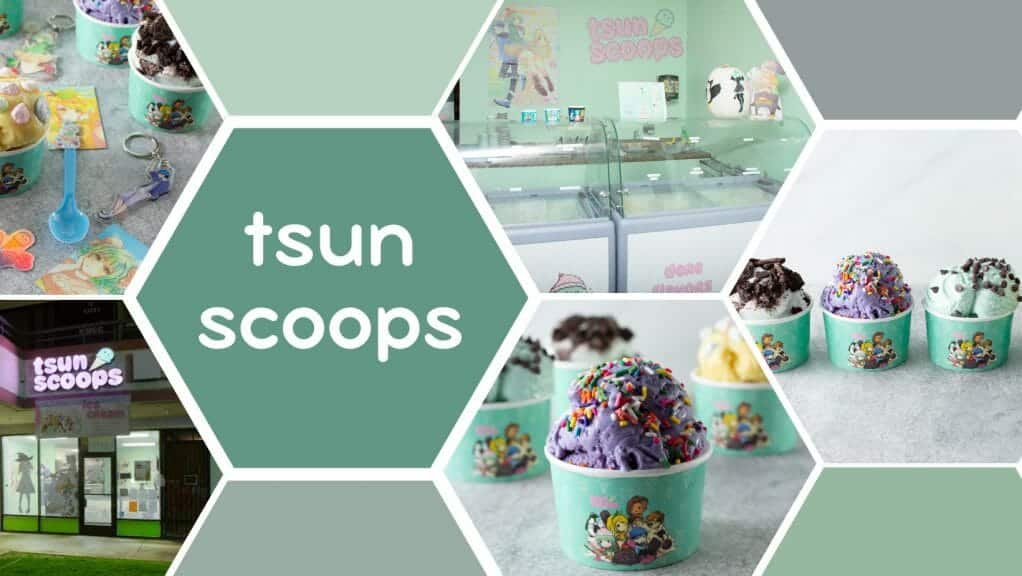 This is not your average ice-cream shop!
Inspired by anime and manga, Tsun Scoops features bright colors and unique flavors.
You may have heard of fashion designer Anya Hindmarch, who has created ice cream flavors like Heinz Beanz and Quaker Rolled Oats. Rest assured, Tsun Scoops' tastes are more oriented towards the classic vanilla to apple pie.
They have flavors like 'Chotto latte' if you're in the mood for coffee-flavored ice-cream. Or even 'I-it's not like I like you or anything, baklava' if you're feeling for honey, roasted walnuts, and filo dough.
Don't forget about 'uwube' for that beautiful ice-cream—it's the perfect treat on a hot day.
After you've ordered, take some time to read their own manga featuring the shop's mascot, Cream-chan. There's even merchandise for their brand characters and many photo opportunities with their characters illustrated on the wall.
Whether it's ice-cream or a photo, you'll be walking out with a good memory in hand.
5. Starbread Bakery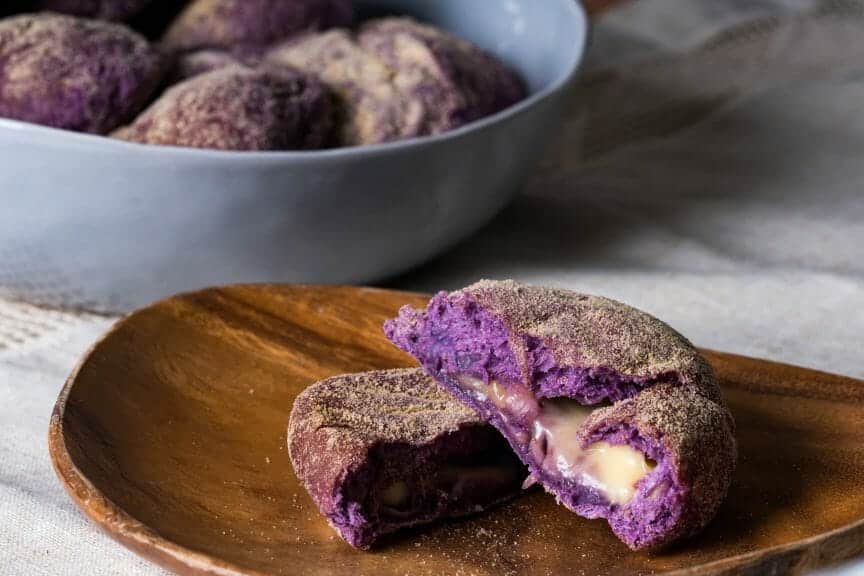 If you're looking for traditional Filipino pastries, this is definitely the place to go. Featuring right-out-of-the-oven treats, Starbread Bakery houses many Filipino desserts, including ube pastries.
For a great price, you can snag yourself an ube cream cheese pandesal or an ube buttercream malasada. Maybe an ube donut, or a simple ube square, might be enough to take care of your ube fix.
Don't be shy; try them all.
6. Ubenabon
You've heard about cinnabons, but how about ubenabons?
Talk about cinnabons with a twist. Their bestselling flavor happens to be their Ube Classic Cinnamon Rolls, a violet cinnamon roll topped with their house-made glaze and frosting.
Feeling crazy about ube? Order their Ube Overload Cinnamon Rolls. They're filled with ube cinnamon, ube frosting, and ube topping. It's purple, soft, and warm–what's not to like about it?
Unfortunately, they don't do walk-ins, so make sure to order them in advance! It's a crowd-pleaser, for sure! You can order them here.
7. Trader Joe's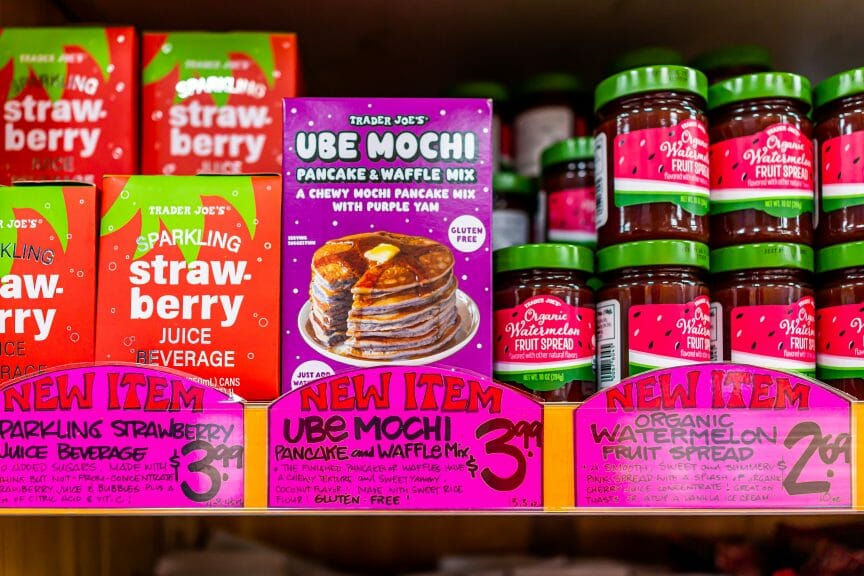 If you like pancakes (or waffles) and mochi, this is the product for you!
I had heard so much about Trader Joes' Ube Mochi & Waffle Mix that I had to get a box myself.
This pancake and waffle mix is different from the general batter, not just because of the addition of ube. Made with rice flour, its texture is similar to mochi, and it's gluten-free!
And because it's a powder mix, your options include more than just a pancake or a waffle. One creative TikToker makes use of its ambiguous form to make mochinuts. You can find her page here.
The ube flavor is subtle, just enough to provide a nice look and taste. It's light and chewy and not too sweet, leaving room for your choice of condiments.
They're a spring seasonal item, so you'll have to be sure to mark your calendar because they sell out fast.
Conclusion
Overall, there are so many different ways to try ube, and many other places to try them. If you've never had ube before this article, what are you waiting for?
Go out and try some! Bring your friends and family. Food is always better with company.