A remote Pacific island has stirred up debate after showing a crashed UFO on a TikTok video.
A period via TikTok was using Google Maps when they located the wreckage. After zooming in a few times, the sight was discovered to be on Starbucks Island in Kiribati.
The video was uploaded by the user @googleMapfun, who has gotten over 1.6 million likes on the post which followers believe to be a UFO.
With only 1,620 acres of land, the Island of Starbucks was thought to be totally uninhabited based on what can be seen on the surface on Google Maps. 
The island is smack dead in the middle of the Pacific Ocean without any signs of freshwater anywhere which not only makes it hard to reach but impossible to stay alive on.
The video shows damage to a dark metallic structure that may have occurred at some time in the past. 
While the video resolution does come off a bit grainy, users find is extremely difficult To pinpoint specific features that could tell what happened to this item and how to came to be in the island.
@googleMapsfun entered this comment under their video saying:
'Could this be an UFO crash?" but many in the comments weren't quite so convinced.'
Other TikTok users were convinced that the structure was some sort of ship wreckage that has been missing and untouched for decades based on the island's geographical location.
Someone wrote in the comment section:
'It's part of a wrecked ship from the 1800s. The tide has dragged it across the sand bank through the decades.'
Another wrote:
'Loads of ships were wrecked on that island in the 19th century.'
A third person wrote:
'It's a leftover building from Guano collection in the 19th Century. It's named Starbuck after the captain who discovered it.'
@googlemaps fun had since gained numerous followers from the popular video among other posts made on the social media page.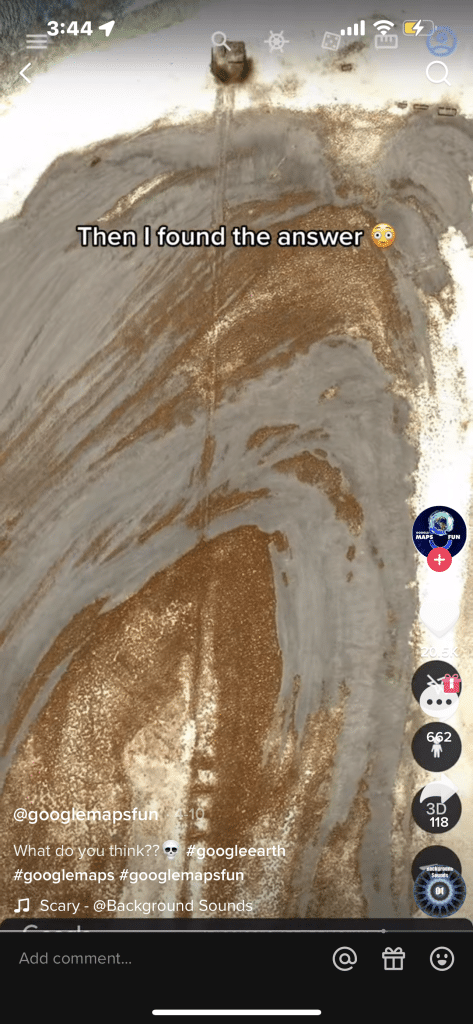 Since the original video has gotten so much attention, the TikTok page posts video that is more comedic in nature showing everything like street views of aliens has been photoshopped into a photo around where the UFO sighting was found.
While the discovery was made before the TikTok video gained so much popularity, the mystery still remains on the what exactly is this UFO-like item seems on the map.
For now, the mystery remains just that, unknown for now.
Check out how mystery lights spark rumors on UFO in Shezhen.