**Trigger warning for mentions of suicide.**
Picture this: you're invited to travel to an isolated coastal island in the Pacific Northwest. On the serene boat ride there, you're accompanied by an extended group of people you've never met before (plus, a dude named Bryce, of all things. Perhaps the first, if not the biggest, red flag.). When you arrive at this so-called haven of nature, which is, for what's worth, oddly craggy and desolate, you're led away from the boats by the promise of food. At the Hawthorne. And who else heads the Hawthorne but the infamous (reclusive), dazzling (slightly narcissistic) Chef Julian Slowik? Can it possibly get better than this? I mean, definitely, yes. But it can certainly get worse.
The newest satire on the block: 'The Menu' (2022), traces the classic carnivore-to-prey journey of a mixed ensemble cast. All of whom venture, at first excitedly, to eat at the exclusive island restaurant, the Hawthorne. They settle in for an evening hosted by the seemingly immaculate "Yes, Chef" underlings of Julian Slowik (Ralph Fiennes). One which slowly unfolds into chaos. It becomes increasingly apparent that Slowik's rather elaborate menu (to say the least) is motivated by a keen desire to shock. And to kill.
Penned by Will Tracy and Seith Reiss (of satirical newspaper 'The Onion' fame), 'The Menu' offers a blistering critique of haute culture and elitism. Indeed, as a film that's (hopefully) quite self-evidently food-centric, Tracy and Reiss ingeniously play on and with the act of consumption. I mean, for all intents and purposes, it's not the quote-unquote 'special' guests on-screen that are fed by Slowik but us. Structurally, the sequential acts of the film are presented as dishes; as part of a wider menu. The consequence of this is that we (the audience) are served up the film's events, so to speak.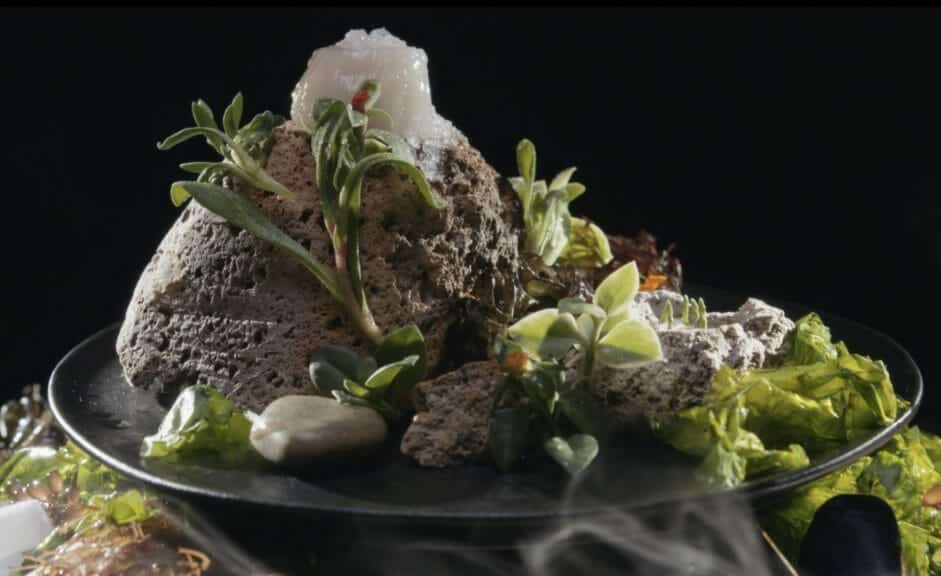 With various titles that nod to the satirical core of the film, like the simple but apt 'The Island' (see above), each plate dished by Slowik's frenzied sous chefs seems to be proffered for our consumption. Each course is (as such) accompanied by helpful adages – large titling, zoomed-in, steaming shots, and concise ingredient descriptions. All of which project the message that these dishes are for us.
I'm no food connoisseur. (And let's be clear, after seeing this, any hazy fantasies about being one have been forcefully dashed.) But, the film started to act like I was one. I mean (for one) I have never eaten a dish consisting of foraged plants, manilla clams, and (of all things) seawater. But did it serve the dish up on-screen like I'd be gobbling that thing up? Yes, it did.
It is by these means that the duo probes the audience. The film's irrepressible question seems to be: how do we digest the horror, the brutal vengeance, depicted on-screen? With each act that passes, relentlessly dishing up new (and even more surreal) plates, Tracy and Reiss make it increasingly hard to detach from the unfolding events. They come close to indicting us. Can we enjoy these dishes? Should we be? Take perhaps the most explicitly comedic moment of the film as an example.
Tyler (Nicholas Holt), the group's Slowik devotee and self-proclaimed foodie, is proclaimed a sous chef by Slowik. Tasked with an initiation challenge: to cook a dish for the group, Tyler sets to (frantically) create some suitable food. And, in one of the film's most, albeit momentary, lighthearted moments, Tyler plates a completely horrendous dish. Tracy and Reiss invite us to laugh here. Even going as far as to contrive some idiotic name for Tyler's raw dish. And the pair do so knowingly. Before long, this moment declines into horror. Spurned by his idol, Tyler spirals into despair and chooses to commit suicide. It's awful. But Tyler and Reiss want you to know that. And that you were laughing only moments before.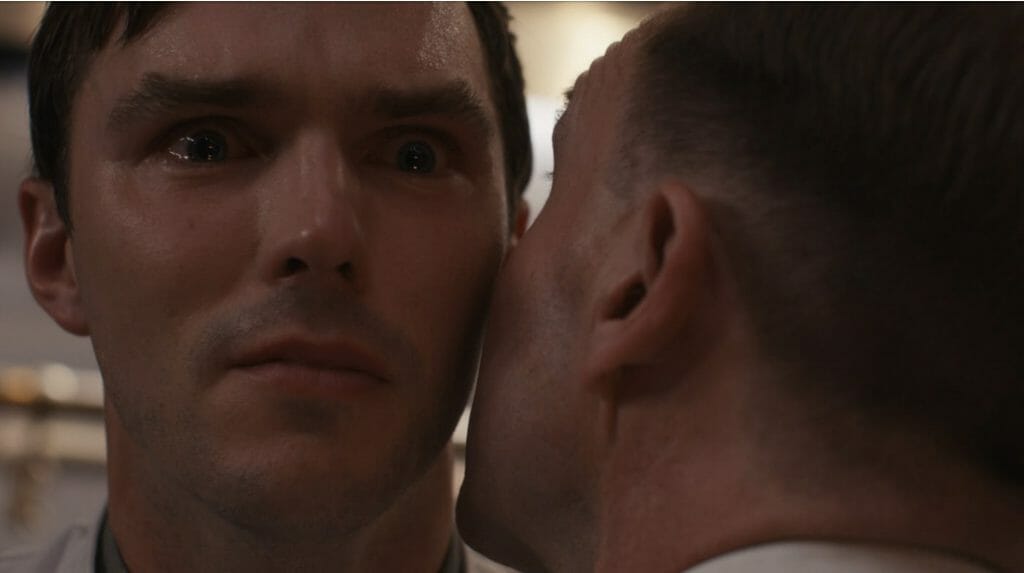 Amidst the horror, Tracy and Reiss play with us. They force us to confront our laughter. To consider just how much we find this veritable slaughterhouse to be a space of comedy. With the emphasis firmly placed on our culpability, we're pushed to mediate on our morals. To find in the horror – in this rather incisive critique of haute culture and elitism – the grounds for joy, light-heartedness, or even, perhaps, recognition. 'The Menu' takes everything to the edge. In doing so, it effectively collapses all boundaries. Satire blends into horror. Horror into justice. Tracy and Reiss's film is (in this way) a mark of horrifying genius – and a soaring satire. It is (definitively) a must-see film.