Walt Disney Studios have announced a fifth installment of the Indiana Jones franchise, scheduled for release in June 2023. But a lot has changed since the first film was released 41 years ago. For one, its lead actor, Harrison Ford, is now 80 years old. So, will Indiana Jones 5 be able to live up to the hype, or is it doomed to fail?
A brand new Indiana Jones movie is probably the last release anyone would have expected for 2023. However, since the franchise was acquired by Disney in 2012, fans have been anticipating the possibility. But it's been a long wait. Fourteen years have passed since the release of the last Indiana Jones movie, The Kingdom of the Crystal Skull, and Harrison Ford is now on the verge of retirement.
Born from a dream collaboration between Steven Speilberg and George Lucas, the Indiana Jones franchise was and is still a huge cultural and commercial success. Through just 4 films, the action-adventure series made nearly 2 billion dollars worldwide. It is no wonder, then, that the Disney corporation decided to revive the beloved franchise for a fifth project.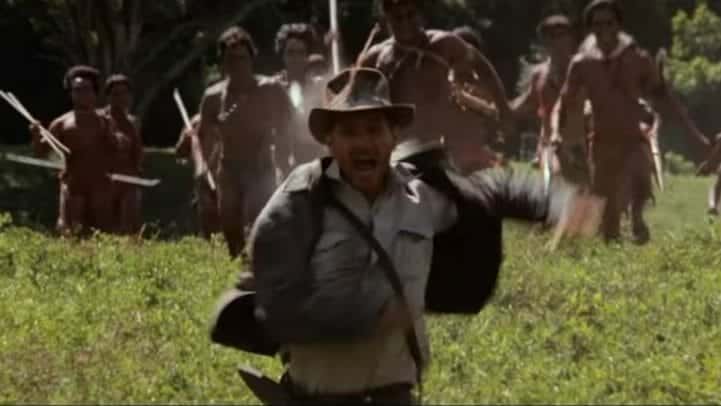 Indy And His Issues
Despite its longstanding cultural impact, the Indiana Jones series has a lot to answer for today. For instance, in recent years, critics have pointed out the franchise's reliance on racist stereotypes. Particularly in the first two films, people of color seem to either be represented as threats to Indiana or victims in need of his 'help'. And while the franchise's narrative is tied to the archaeologist's experiences of different cultures, the films' depictions of them are often widely inaccurate.
Sexist tropes are also all-too-prevalent within the series. Indiana's female companions are often treated as objects to barter with and are dragged into dangerous situations with seemingly little choice in the matter. Also, when they are outspoken, such as the character Willie Scott in The Temple of Doom, they are generally presented as whiny, ungrateful, or cowardly.
Keeping Up With The Jones
So, what would a 2023 Indiana Jones film look like? Well, for a start it won't be made by Spielberg and Lucas, like all of the previous installments. Instead, it will be directed by James Mangold, the mind behind Logan (2017). Screenwriting credits also go to Jez and John-Henry Butterworth, known for their work on Ford V Ferrari (2019). However, the now 90-year-old John Williams will be returning to compose the film's score, reportedly for the last time in his career.
While many fans may have mixed feelings about the upcoming movie, there are some aspects of Indiana Jones 5 that could give the series a much-needed revamp. For a start, having an 80-year-old lead in an action movie is almost unheard of, and if done well, it could make for a compelling and satisfying end to the franchise.
Additionally, some big names in the cast such as Fleabag's Phoebe Waller-Bridge and Casino Royale's Mads Mikkelsen, may also give it a sense of edge and modernity, or even introduce it to an entirely different audience. Perhaps the new filmmakers will also take the opportunity to correct the franchise's previous wrongs.
The Last Crusade?
Although he hasn't officially announced his retirement, many suspect Indiana Jones 5 to be Harrison Ford's last major acting project, due to his emotional speech at the D23 announcement event. However, the actor has stated that this will be his last time playing the fedora-wearing action hero. And when asked if he could see anyone else adopting the role, Ford reportedly said:
'Nobody is gonna be Indiana Jones […] Don't you get it? I'm Indiana Jones. When I'm gone, he's gone. It's easy.'

Harrison Ford