Writers in Hollywood are striking for the first time in 15 years. 11,500 members of the Writer's Guild of America (WGA) are pausing all work on film and television. The strike comes after a refusal to renew their contract with the Alliance of Motion Picture and Television Producers (AMPTP), citing insufficient financial compensation for their labour.
With writers' incomes significantly lower than this time 10 years ago, dissatisfaction with working conditions has culminated in ongoing strikes. The rise of streaming platforms, AI, and the devaluation of creative industries are some of the many reasons for the strikes.
Who are the WGA?
The Writer's Guild of America (WGA) is the broader union to which most writers in Hollywood belong. The WGA has its roots in the early 20th century, with the birth of cinema. It consists of two separate labour unions: Writer's Guild of America, East (headquartered in New York) and Writer's Guild of America, West (based in Los Angeles). The two separate unions unite in circumstances like strikes and contract negotiations.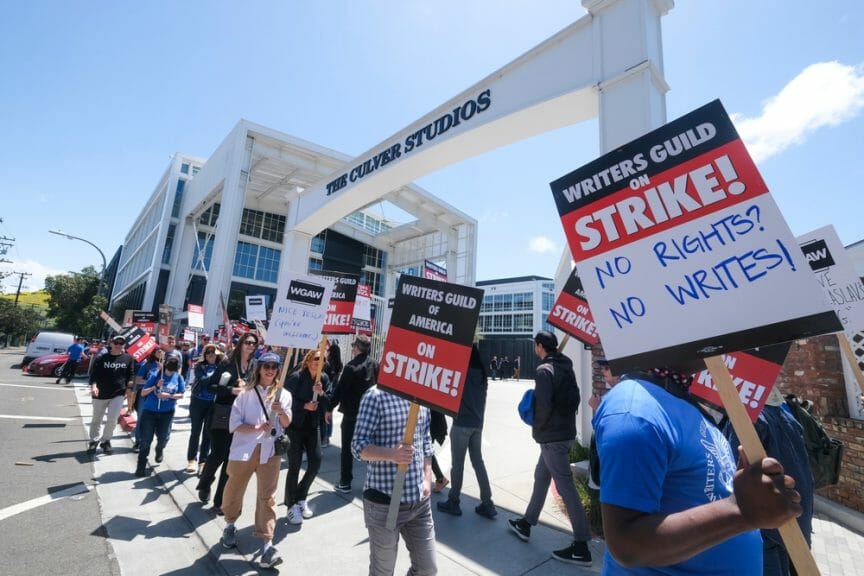 They are no strangers to striking, having done so five times previously. The last strike (2007-2008) lasted 100 days and had a cost of over $2 billion to the film and television industry. Its profound effects heavily affected many television shows such as Breaking Bad, Gossip Girl, and Grey's Anatomy. Some shows had shortened seasons, while others paused production or had to outsource non-union-affiliated writers. This disruption meant that a new, fairer agreement was reached.
What are the reasons for the WGA strikes?
The focal point of current debates is residuals from streaming platforms. Residuals are paid to writers and cast for re-runs, DVD releases, or streaming releases. The WGA asserts that the AMPTP's shares of residuals have resulted in lower pay for writers. There is also disagreement about the Minimum Basic Agreement (MBA), which sets out the minimum wage for writers. The AMPTP's terms would constitute an annual increase of $86 million, whereas the WGA's would be $429 million more. The AMPTP's lowball estimate had a far from positive reception.
"Writers are facing the most comprehensive assault on compensation and working conditions that they have seen in a generation."

WGA West, May 2023
Fears about the use of AI are also prominent. The WGA accepts that it can be useful to aid the creative process, but it should not replace human writers. Currently, tools like ChatGPT do not display the same standard of creativity and quality as human writers. However, anxieties about AI replacing human workers are soaring as it becomes more advanced.
The societal devaluation of the arts is another contributing reason. Writers are demeaned and degraded whilst their work is consumed. Those in creative industries are expected to tolerate poor financial compensation since they do something they are passionate about as their job. Long hours and unpaid overtime are considered necessary sacrifices to continue working in an industry many dream of breaking into. Passion does not pay bills, and creative work is still work.
The Future of Hollywood's Writers
There is no real way of telling how long the strikes will continue. The aim is that strikes will cause such losses and disruptions that the AMPTP reconsider their terms and come to an acceptable, fair agreement with the WGA.
In the meantime, the current strikes will have palpable economic consequences. Not only will the cost of hiring non-union writers be high, but there will also be implications for other professions within the film industry. For example, makeup artists, costume designers, and actors may find themselves without work. This domino effect means that the industry is essentially at a standstill. Big titles such as Yellowjackets and Stranger Things have postponed production until an agreement is reached, and many famous names have expressed support.
The societal view that the arts and humanities are less valuable than the sciences has had damaging consequences on the entertainment industry, almost becoming a self-fulfilling prophecy. This attitude has led to a lack of funding for the arts, and subsequently fewer jobs or opportunities for those wanting to break into creative industries. One can only hope that these writers are fairly compensated for their labour. A world without film, television, and art would be rather dull indeed.