Suriname Minister of Foreign Affairs, International Business, and International Cooperation Albert Ramdin reportedly said during a press briefing on Sept. 12 that he would take legal actions against the new Netflix hit series Narco-Saints for portraying Surname as a corrupted cocaine haven.
The series is creeping up Netflix's top 10 charts in different countries after its release on Sept. 9. Based on a true story, it tells the adventure of an ordinary entrepreneur who involuntarily joins in a secret government mission to capture a Korean drug lord operating in Suriname.
The Korean…
In the meantime, the Korean embassy in Venezuela, which also oversees its relationship with Suriname, has issued a safety notice to all Koreans in Suriname, following the minister's claim.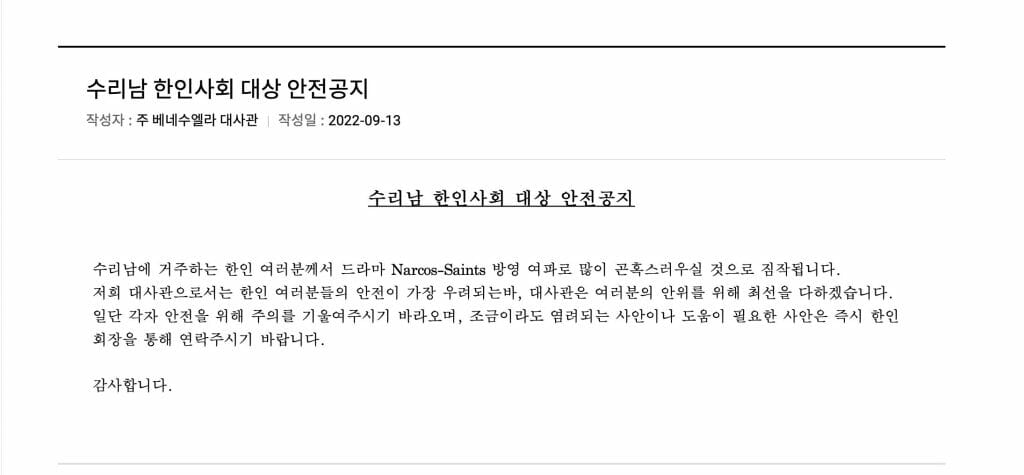 The safety notice reads as follows in English:
"Koreans living in Suriname are expected to be troubled by the aftermath of the airing of the drama Narcos Saints. As our embassy, ​​the safety of Koreans is our most significant concern, and the embassy will do its best for your protection. First of all, please pay attention to your own safety. Please contact the Korean President of the local community immediately if you have any concerns or need help."
The drama…
Originally titled "수리남 (Suriname in Korean)", Narco-saints has topped Netflix's global chart in Non-English TV category. It has also been the series' second week in the Top 10 since its release on Sept. 9.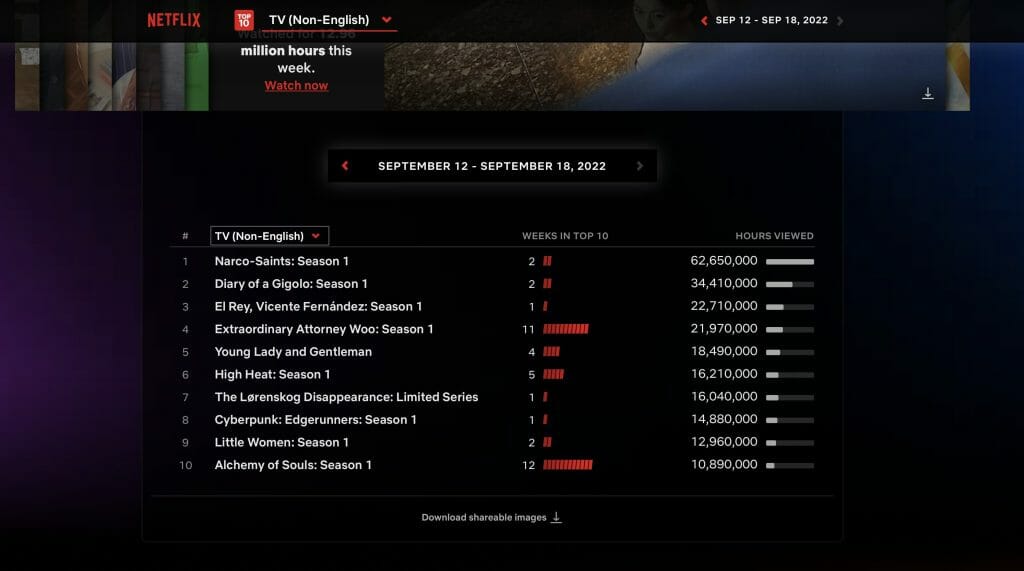 Netflix have doubled down on Korean drama series, since the success of the Squid Game – the most watched show ever on Netflix. More than 25 Korean shows has said to be launched by the streamer giant this year.
Narco-saints boasts an all-star casting including Park Hae-soo from Squid Game, Chen Chang from Crouching Tiger, Hidden Dragon. Both Ha Jung-woo, who plays the accidental Narco, and Hwang Jung-min, who plays the drug lord, are among the highest grossing actors in South Korea.