The biopic has become a powerful weapon in the arsenal of artists in recent years. We accept the film as truth and yet often the events presented are either heavily altered or completely fabricated. No one receives the brunt of this worse than managers. For that reason, I took a look at five artists and their relationships with their managers, showing the reality and then the film portrayal.
Ted White
The Facts: In 1961 Aretha Franklin met Ted White in the "20 grand", previously one of Detroit's most famous nightclubs. Just six months after this initial encounter the two were married and not long after White began managing Franklin's music career. The marriage lasted a bitter seven years and seemed to have been doomed from the start. Immediately Franklin's father, Reverend C.L. Franklin, disapproved of both the marriage and of White himself. Franklin's brother Cecil said that their father knew that White was;
"something of a shady character- and he thought the association would hurt Aretha",
He was correct in both aspects. White would wreak havoc on the career and personal life of Franklin for several years. White was known to be irate, aggressive, and prone to violence. Once such argument between White and producer Ted hall ended with a full-blown brawl. Producer Harvey Fuqua did not mince his words when discussing White, saying that;
"Anyone that didnt see Ted White as a staright up pimp had to be deaf dumb and blind".
Aretha stayed silent about their relationship never alluding to any of the abuse, both physical and mental, that the media reported on. A 1968 story in the Times said that White had physically attacked Franklin in the lobby of the Regency Hyatt House Hotel in Atlanta. Although there were no specific details in regards to Whites actions it did state that;
"It was not the first such incident".
The marriage ended in 1969 not long after an incident where White allegedly shot an associate in the groin within Franklins residence. The couple parted ways with Franklins Brother CJ becoming her new manager and eventually remarrying to actor Glynn Turman.
The Fiction: Liesly Tommy pretty much hits the nail on the head with her depiction of the relationship in "Respect". White is depicted as being controlling of Franklin's career and equally as abusive. The only slight difference is that Franklin met White at the start of her recording career, not after a number of failed albums, as the film depicts. White's abuse and violent tendencies are supported by numerous accounts, profiles, and stories within autobiographies. So if the question is fact or fiction, then this movie's depiction is most certainly fact.
Jerry Heller
Jerry Heller was the manager of West coast rap group N.W.A. He managed the group till they disbanded in 1991 and is often blamed as the root of the band's disagreements. Heller was a prominent agent long before he represented N.W.A, representing artists such as Marvin Gaye, Van Morrison, and Otis Redding. In the 1980s he began representing hip-hop groups out of Los Angeles but it wasn't until 1987 that he met Eazy-E and they co-founded "Ruthless Records". After the break up of N.W.A. in 1991, both Dr. Dre and Ice cube directed criticism at both Heller and Eazy-E in the form of diss tracks and public statements. The disagreements stemmed mainly from financial disagreements regarding the contracts Heller created for the artists within N.W.A. They were of the belief that the money they were receiving was not representative of the amount of money their music was producing. Cube's lawyer told spin in 1991:
"Ice Cube wanted to continue with N.W.A, but he just was'nt getting paid".
Eazy-E was also under fire by his former group members as he was seen as being in cahoots with Heller. In his autobiography, Dre writes:
The split came when Jerry Heller got involved. He played the divide and conquer game. Instead of taking care of everybody, he picked Eazy to handle it. And Eazy was like, 'I'm taken care of, so fuck it'.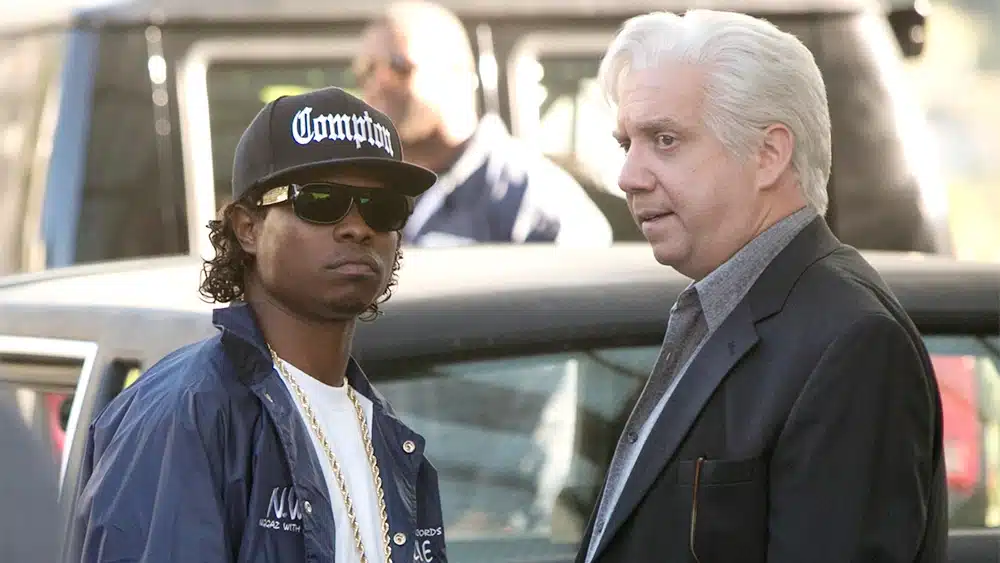 Before his death from HIV in 1995 Eazy-E had severed all ties with Heller. Prior to his death and Heller's exit from Ruthless, the company was generating $10 million in revenue a month
Heller passed away in September of 2016 in the Los Robles Regional Hospital in California.
The Fiction: In the 2015 biopic "Straight Outta Compton" Heller, portrayed by Paul Giamatti, is heavily implied to have either hidden, embezzled or outright stolen profit from the N.W.A. Heller claims:
"It is the most ridiculous allegation I've ever heard"
N.W.A's debut "Straight Outta Compton" sold close to 2.5 million copies but by the middle of 1989 Cube had only received $32,700 in royalties. Heller's defense was that there is often a delay between album sales and artist payouts, he makes the fair point that Cube has received millions in profit from the album since its release. David Kronemyer a Ruthless record company executive states that:
"Ice Cube did, in fact, recoup in this situation, it just took a long time,"
One scene of the movie shows Eazy-e's widow, Tomica Woods-Wright looking through company records attempting to locate some proof of Heller's alleged financial treachery. However, the records of Ruthless were audited by Cubes legal teams and found no such evidence. It is also worth mentioning that Woods is credited as a producer for the film so it wouldn't be surprising if she played a hand in Heller's skewed portrayal. Prior to his death, Heller was suing the filmmakers for defamation of character.
Heller can be held partially accountable for the disbanding of the group due to conflict of interests and poor management, however, he cannot be blamed for any financial sabotage. The contracts presented to Dre and Cube may have not been as profitable as they'd hoped but Heller broke no laws. This biopic seems more interested in demonizing Heller than it does portraying the truth.
Colonel Tom Parker
The Facts: Colonel Tom Parker is back in the sphere of conversation thanks to Baz Luhrmann's biopic on the king of rock and roll. Parker was a Dutch man who illegally emigrated to the US in 1929 at the age of 20. A carnival worker by trade before transitioning into music promotion in 1938. He met Elvis in 1955 and by 1956 was his sole representative. The Colonel played a massive part in Presley's meteoric rise, being one of the first managers to successfully convert his talent into every type of merchandise possible. He was also the driving force behind Elvis's time in the army, his movie career, and even his marriage to Priscilla Beaulieu. Parker received more than half of the profit produced by Elvis and all associated enterprises and was his manager until Presley's death in 1977.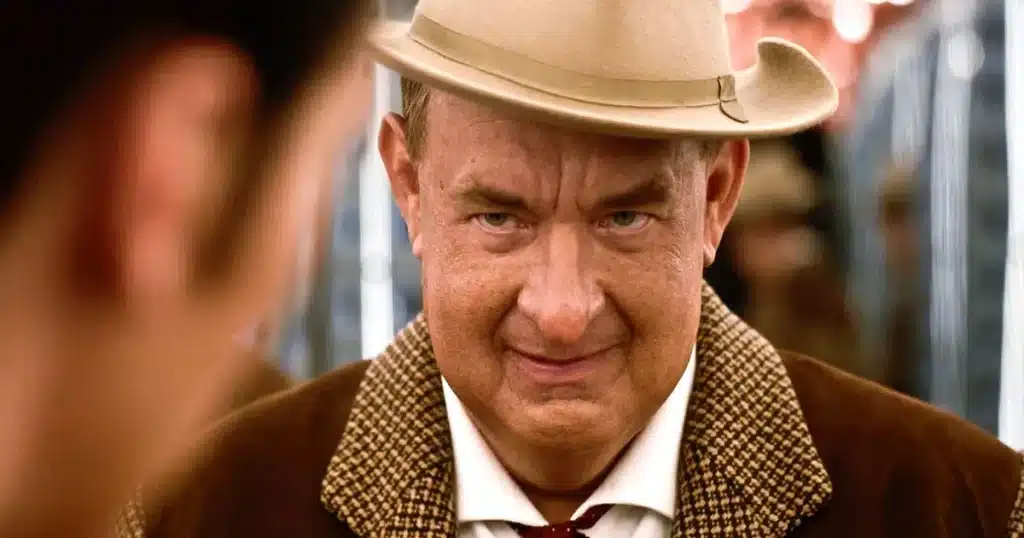 Parker continued to manage the Presley estate but due to selling Presley's early recordings to RCA records, he was unable to maintain a steady income. On top of this Parker was an avid gambler and was crippled by debt. He spent his final years in Las Vegas in poor health. An investigation into Parker's management practices proved that his methods were extremely unethical but he was never convicted.
The Fiction: Parker was undoubtedly a manipulative, greedy manager who cared more for the profit his talent produced than their dreams or aspirations, and that is exactly how Luhrmann portrays him. The problem is that although his actions are correctly portrayed, his character is not. The Parker we see in the film is a grossly exaggerated caricature of the real man. Firstly, Parker's accent wasn't even remotely as strong as Tom Hanks plays it. In fact, it was so subtle that most people believed the deception that he hailed from Huntington, West Virginia. Alanna Nash of vanity fair writes that his accent
"Sounded more like a slight speech impediment mixed with the insulation of a rural upbringing".
Secondly, during the film, Parker seems to be against the accusatory headlines that eventually lead to Elvis attempting to rebrand. Parker insists that Elvis no longer performs his famous gyrations in the hopes of quelling the hormonal masses and taking political pressure off of Presley. In reality, Parker saw these headlines as a means of drumming up business, just another play in the "snowmans" repertoire.
On October 30, 1957, Presley played two shows at the Pan-Pacific Auditorium in Los Angeles. The first show sold out but the second was struggling to move tickets. The next day Variety ran the headline, "L.A. Police Order Presley 'Clean Up' His Pan-Pac Show", the second show quickly sold out. The source of this story, our very own Colonel Tom Parker. Realizing the power of the press Parker contacted the police and said that he thought Presley;
"Was getting too risque for the kids"
Parker then relayed the response of the police to the press and successfully drummed up business. The reality is that Parker was a cutthroat opportunist and anything that did not aid his profits was swiftly thrown to the wayside.
No one's despicable nature is represented as accurately as Luhrmann's Parker, he was a vile man that played a guiding hand in Presley's early death. However, he was also the driving force behind Presley's career, without his "snowman" methods who knows if Presley would have even made it out of Tupelo, Mississippi. If it takes a slight exaggeration to show the full extent of Parker's heinous crimes then so be it.
John Reid
John Reid is an exception to this list as he represented not one but two world-famous talents, Elton John and Queen. As both films represented him in vastly different ways, it was necessary to separate them into two different discussions.
Queen
The facts: Reid became Queen's manager in 1975 when the band was still struggling to gain a footing on the music scene. He managed them during their production and release of "A Night At The Opera". It became the band's first platinum-certified album in the US and topped the Uk Album Charts for 4 consecutive weeks. As of 2018, the album has been inducted into the Grammy Hall of Fame.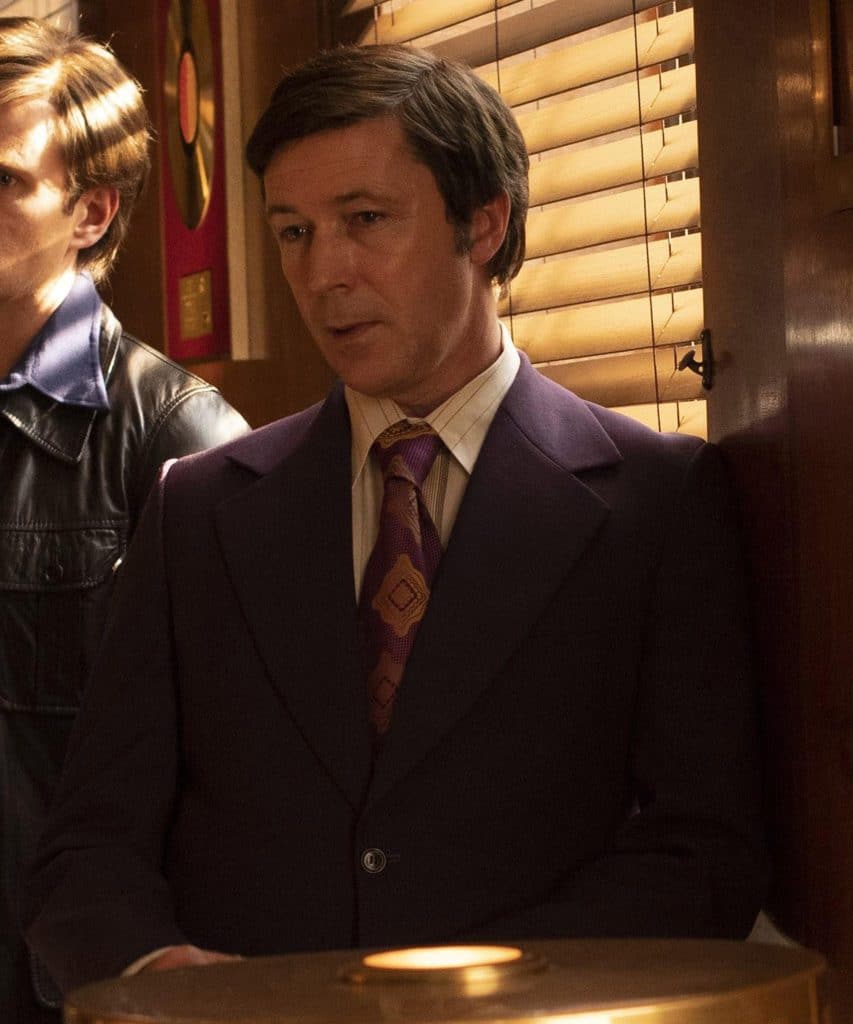 Reid also guided the group through a number of extremely successful hits, such as "Somebody To Love", "We Are The Champions", "Don't Stop Me Now", and "We Will Rock You". In 1978 Reid and the group went their separate ways but both Reid and drummer Roger Taylor speak highly of their time together. In the 2011 Queen documentary "Days Of Our Lives" Roger said;
"We had a good working relationship with John. He was very fiery and very feisty, but so were we".
The Fiction: Reid is depicted as being a type of yes-man for the band, defending their creative decisions against the fictional EMI record executive played by Mike Myers. Reid's time with the bands ends in a climactic argument between himself and Freddy Mercury. Reid suggests that Mercury secures a very lucrative solo career and Mercury promptly fires him. In a fit of rage, Reid throws his shoe at Mercury's car. An entertaining scene but completely fabricated, although that's nothing compared to the artistic liberties taken by our next film.
Elton John
Reid and John first met at a party in 1970. By this point, John had released the album "Empty Sky" to middling reviews. Reid was relatively unimpressed by John, dubbing him a
" A dumpy little guy in a funny jumpsuit"
Although Reid didn't manage John till 1973, they were engaged romantically from 1970 to 1975. They lived together through a number of John's most successful singles, such as "Crocodile Rock", "Tiny Dancer", and "Bennie And The Jets". The split was a mutual decision and Reid claims that John
"needed to go off and play the field, which he did with gusto…the split just happened. There were no dramas".
Although their personal relationship ended their professional one remained for nearly three decades. Their relationship finally came to a close in 1998 due to a battle over finances. Reid eventually paid John £3.4 million in and out of court settlements but our star was stuck with legal fees costing £8 Million.
Even after all that Reid remembers John warmly. He stated that;
I'm fond of Elton and proud of the work I did with him.
It's a shame John didn't feel the same way.
The fiction: Reid is depicted as being violent, abusive, and completely apathetic towards John's wellbeing. Before I delve into the body of this film it is worth mentioning that John is credited as an executive producer and his husband, David Furnish, is a producer. So there is a strong possibility that John took the opportunity to taint the name of his former love in an attempt to enact revenge for his financial troubles.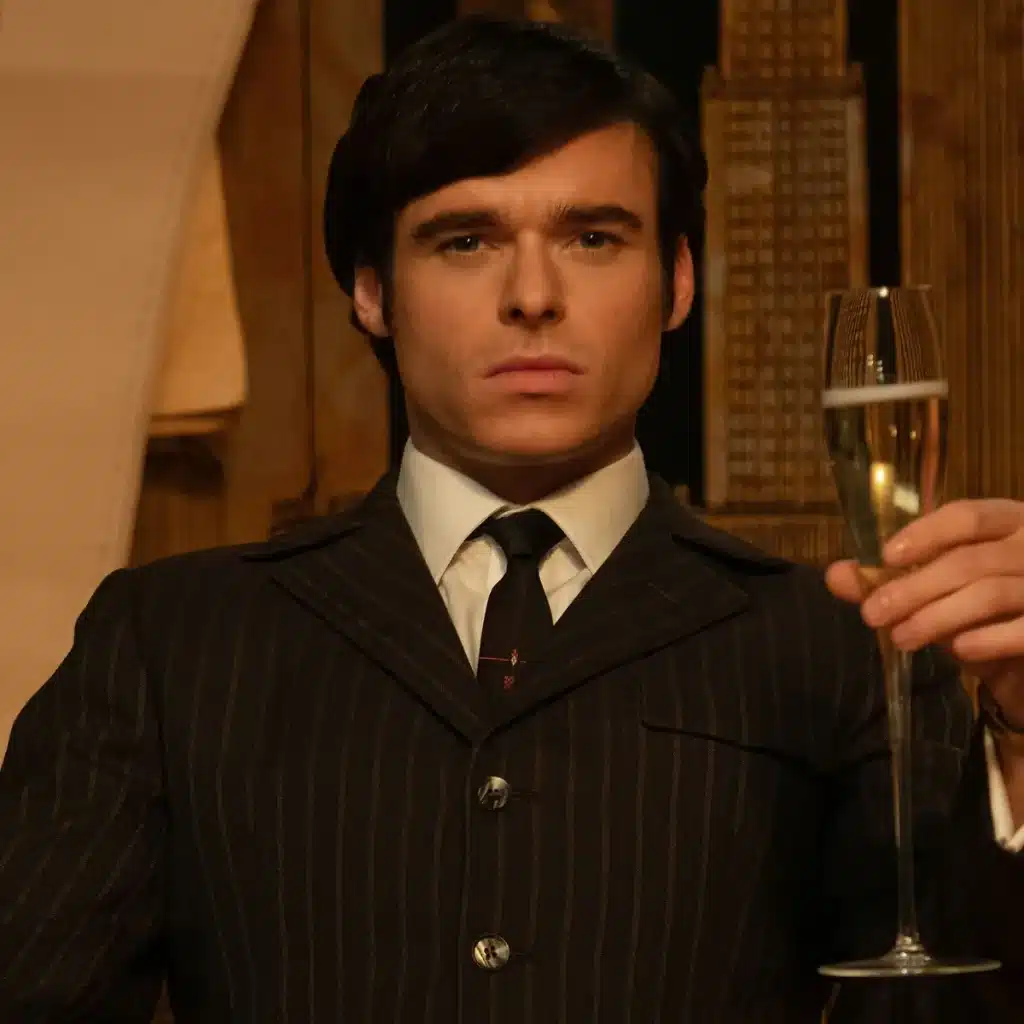 A scene in the film shows Reid striking John. Although there is no evidence to support this event, it has been well documented that the two regularly fought. The depiction of Reid living lavishly off John's money is also somewhat true as in reality the pair were engaged in a type of "gifting war". John purchased Reid a yacht for his 25th birthday so in return he bought him a french emerald costing about £100,000. This type of frivolous spending put a strain on the relationship but never to an extent as represented in the film.
Reid has stayed silent about his depictions in both films but not all artists have stayed silent. British singer-songwriter Mike Bratt has come out saying;
"The whole film is a lie. Disgusting dishonesty that should be called out. His portrayal as an uncaring sex-god manipulator is weapons-grade character assassination."
Final Thoughts
In the past, the belief was always that "History is written by the victors". In modern days I feel as if it would be more apt to say that "History is written by those that produce their own biopics". A biopic is a powerful tool in the hands of someone that wishes to sully someone's name. However, it can also be used as a powerful tool to portray the truth of an otherwise unknown story. So go out and enjoy as many biopics as your heart desires, but make sure to check the cast for any possible influential producers.