Featured Image Via
The last time we checked in on one of Hollywood's most clinically insane actors, Mr. Cage was starring in a film about parents hunting & murdering their own children.
Cage was recently interviewed by JoBlo and went into detail on playing a comic book role:
Are there any comic book roles out there now that you're itching to play or any characters that you're super into that you'd be interested in?
I mean, I think my comic book days are kind of…I'm on to other things, but I always thought I'd make a great Joker and I always thought that I would've been a good villain in one of the Marvel [movies] like Doctor Doom. But, Doctor Doom you have to wear that mask, but I thought the story leading up to Doctor Doom could've been interesting. At this point if I was to go back into the format it would probably have to be as a villain.
Man, now that you've said "Nicolas Cage Joker" I'm not gonna be able to get that out of my head. That needs to happen somehow…
It would be the perfect one for me to go even more off the rails than I've ever done before and, y'know, it'd be fun.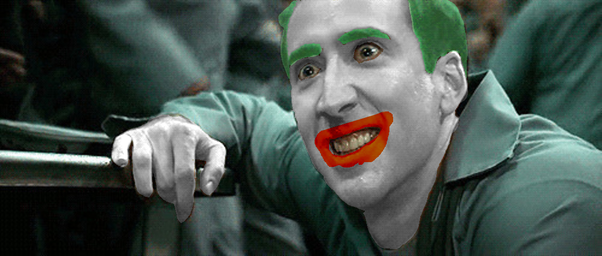 Image Via
I believe everyone can agree that Cage is more than able to inject extra doses of psychopathy into the Joker.
The world may never forget the late & great Heath Ledger and his historical method act portrayal of Batman's arch-enemy, however I think the world also wouldn't mind to see Cage take a shot at the role.
If you haven't seen the trailer for Cage's newest film 'Mom & Dad, click here.