Beef, Netflix's new dark comedy series, has won critics and the audience's approval immediately after its April 6 debut. Many have dubbed it the most exciting show (so far) this year. And Netflix has confirmed the submission of the comedy for the Emmy Award in the limited or anthology series category.
The series title Beef is "named after the slang for having a problem with another person, not the meat – is about the lengths people will go to when angry", as USA Today has pointed out earlier.
All the beef starts with Danny Cho (Steven Yeun), a southern California handyman's accidental encounter with Amy Lau (Ali Wong), a self-made house plant entrepreneur, escalating into unhinged rage, ending up consuming their lives and those around them.
Created by Lee Sung Jin (Silicon Valley, Emmy nom 2015) and A24 (Everything Everywhere All at Once, Oscars 2022), the series is an engrossing mash of drama, suspension, comedy, and thriller.
In this short series, many suspects inspired by her own divorce, Ali Wong emerges as the woman warrior who breaks through the shackles chaining her life and feelings and asserts her position as a major actress with a stellar performance.
Indeed, everybody has been talking bout everything in the series, from Amy's artist husband George's vaguely penis-shaped vase to Steven Yeun's Korean church scene that has gone viral. Below is a few things that might be interesting to notice.
Title cards
No one would fail to notice the show's striking title cards even if they only watched one episode. These gruesome artworks marked with the show's title, BEEF, in block letters, subtly hint at the ominous turn of the character's life corresponding to the plot of each episode.
Little did viewers know that these artworks were original works by David Cho, who played the critical role of Danny's cousin Isaac in the series. Creator Lee Sung Jin reportedly said that he wanted "a very bombastic title card to catch everyone's attention" when preparing to pitch PowerPoint for the show.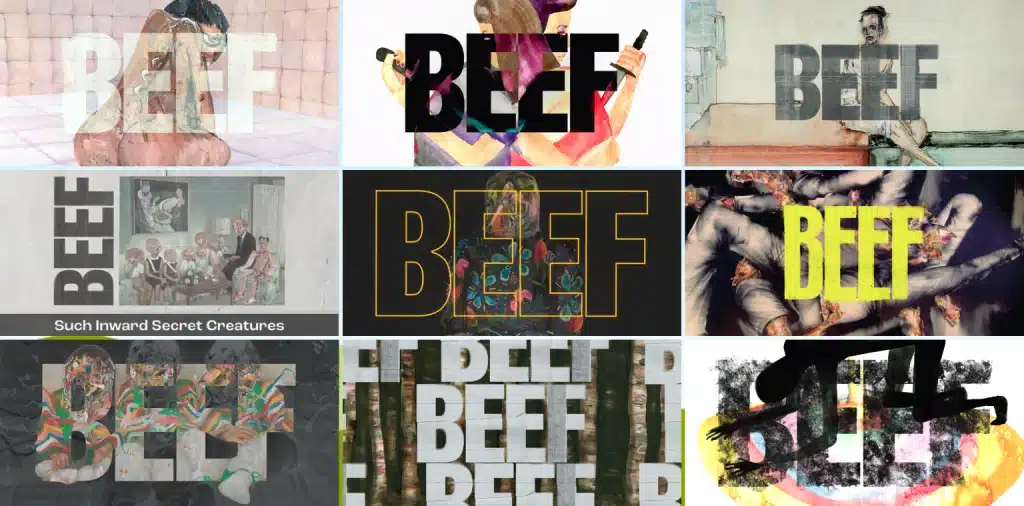 Then David Choe suggested Lee use his paintings. Choe stopped showing his artwork for a few years and had hundreds of unseen images. Lee could choose some of the paintings that fit the show's theme the best. The chaotic, messy, and traumatic nature of the paintings was so reflective of the characters' struggle that they stood out artistically themselves.
Danny's Church Scene
After a series of frustrations and downfall, Steven Yeun's character finds shelter in an orange county Korean Christian Church. Though not entirely out of innocence, as Isaac tries to coerce Danny into using the church for some evil purpose, Danny finds a temporary shelter and healing by singing the praises.
Viewers have strongly approved the scene for accurately reproducing a specifically Korean American experience. For some historical reasons, the evangelical or protestant church is at the center of Korean immigrant communities.
"For Asian American Christians and Evangelicals, Beef is so culturally accurate that it was triggering/cringy to watch," author and sociologist Nancy Wang Yuen wrote on Twitter.
Creator Lee Sung Jin admits that both his and Yeun's church experiences were woven through the scenes.
(We) tried to do a very Korean church, happy version of 'Amazing Grace.' That felt very nostalgic as well, because that's something that my praise band growing up would have done

Lee Sung Jin
Amy's Minimalist Home
Amy's concrete Southern California mansion with an organic modern design could be any minimalist's dream. In the meantime, the pressing and dominating structure sits on its inhabitant's hearts and suffocates.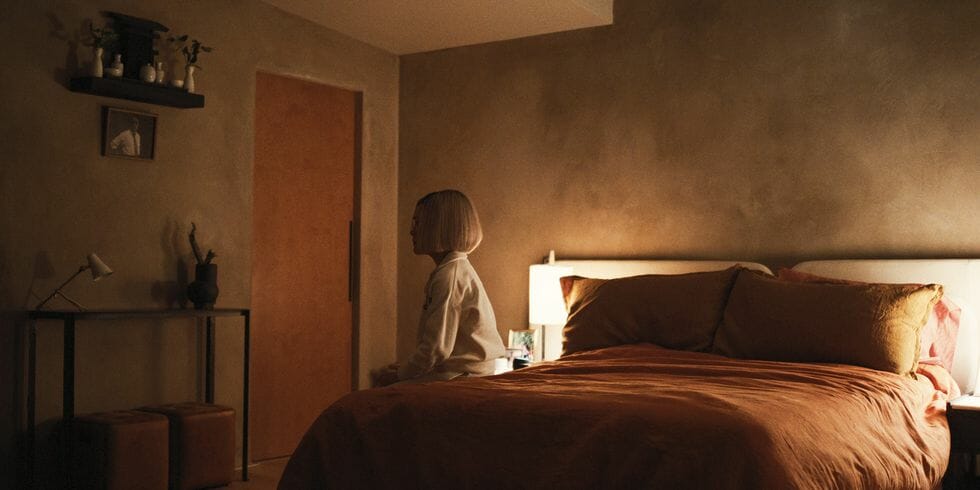 It is the center stage of many crucial scenes from the show. Lee was actually so specific about how the house looked that he showed the production team a picture. And the production team actually found the house in LA's west valley. But the owner was not open to filming, so they ended up using the exterior filming of a neighboring house and built the entire interior on a sound stage.
In fact, Amy's house is so expressive of how she feels that it reminds of Rem Koolhaas' famous comment.
Architecture is a way of thinking about the world very similar in structure to writing a book, since both disciplines represent the same field and domain"

Rem Koolhaas
Or in this case, a TV series.