With ticket resale sites on the rise, outrageous resale prices and fake tickets could be harming the music and entertainment industry.
When the world shut down back in 2020, we had no idea how long lockdowns would last. How long events would be postponed. How long we would be bound to lateral flow tests…
But as the world began to recover, clubs, pubs and bars began to reopen, and soon after large-scale events began to take place once more.
And with this new dawn, we saw the return of music concerts, festivals, comedy shows, musicals, and more.
As the world reopened, artist's eagerly dusted off their gear and resumed touring once more. Postponed gigs were rescheduled, and with a wave of new music released over lockdown, the music scene was overwhelmed with the number of live shows on offer.
I, for one, was looking forward to once more seeing my favorite artists live, having my calendar chockablock with events to look forward to. I would keep an eye out for any updates, seeing who would be on tour and regularly googling some of my favorite singers or bands in the off-chance that they had announced any live shows.
One day I was doing just that and couldn't believe my luck… Khruangbin would be performing in the UK! The Texan trio had announced a one-off performance at London's legendary Alexandra Palace and I was determined to get my hands on some tickets.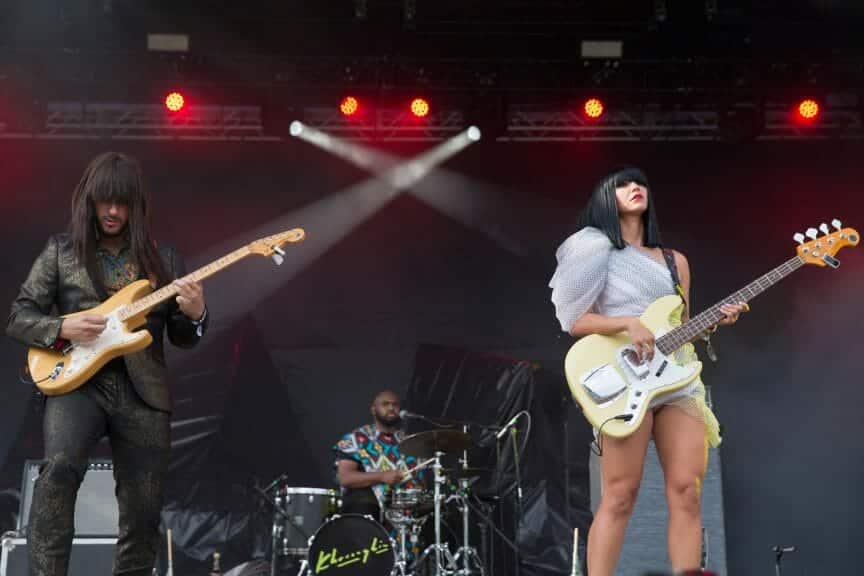 But with a 10,000 person capacity and not much hype for the group in the UK, securing tickets wasn't some bloody battle where you had to set up the ticket site across multiple devices, waiting for the clock to strike the right time as you're chucked into a queue of tens-of-thousands of people wanting to get their hands on the tickets too…
No, Khruangbin was quite a simple ticket purchase in comparison to others. In fact, weeks after the tickets went on sale they were still available on Ticketmaster. The only issue I encountered was trying to find a friend who, number one: knew who they were, and number two: wanted to go with me.
The few friends that did know Khruangbin weren't keen to agree go when they weren't sure of where they'd be in almost a years time. But by the time I finally found someone who wanted to go as much as I did, the tickets had sold out and the £37.50 tickets were now only available on Viagogo for £160+.
However, I didn't let this little hiccup stop me from keeping an eye out for tickets and I kept an eye on social media to see if anybody was looking to sell – but, boy was that the wrong decision…
One fateful afternoon, I checked the event's Facebook page for the umpteenth time and in amongst the comments from people begging for tickets, I found a girl selling hers.
After a quick scan of her profile I felt like she was legit and hastily slid into her DMs and asked if the tickets were still available. With lightening speed she replied instantly, saying she had three for sale and would be selling them for £30 each.
And what a bargain that was compared to the ridiculous resale prices I had seen elsewhere online and I was very easily convinced to buy these tickets. But I wasn't a complete fool, oh no, and I asked the girl if she would send me proof of the tickets before I sent any money. This is where I should have been on high alert, checking every detail carefully and making sure that they were legitimate tickets.
However, in my excitement, I seemed to completely neglect the fact that the venue on the tickets read "Alexander Palace", when I knew fully well the venue was actually called Alexandra Palace.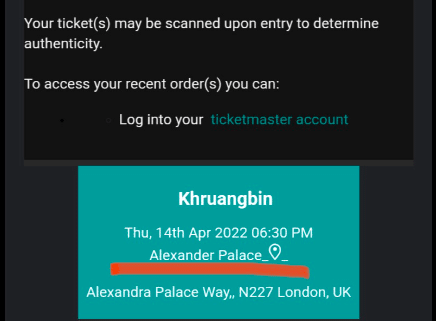 If this key fact wasn't ringing alarm bells, when I asked if I could transfer the money using PayPal, she told me she couldn't "seem to get into [her] account right now", and if asked if I could send to her friend instead.
Naively, as if I had learnt nothing about internet safety and online scams, I obliged, and before I knew it I was £60 out of pocket and made to look a fool.
I found solace in the fact that I did manage to see Khruangbin live and in my home city nonetheless. And although I may be embarrassed by my own stupidity, I wanted to use my own personal experience to demonstrate how easy it is to get scammed online by fake ticket sellers, and how this is having a severe affect on the live music industry…
How Ticket Touting Affects Genuine Fans
Though fake or non-existent tickets are a growing issue in the music industry, ticket touters are also causing chaos.
If you're not sure of what a ticket touter is, it's someone who purchases several tickets for an event – which are difficult to get – for the purpose of selling them at a much higher price.
For example, have you ever sat online for hours, waiting behind tens of thousands of other people in a virtual queue for concert tickets, only to find that they've sold out when you finally make it through?
Well, the ticket touters are the ones who are instantly posting on Twitter that they have tickets available for purchase, which are conveniently 3x the original price of the tickets. Also, sites like Viagogo are inundated with tickets that cost an extortionate price, fleecing fans of their hard earned money.
The problem with these resale sites is that they're not sold by genuine fans who can no longer attend the event, they're put up by individuals purely driven by the desire to profit from their tickets.
"Touting is a real blight on the music scene. Above all else, we want to see tickets in the hands of genuine fans."

Bradley Thompson, Managing Director of Printworks Operator Broadwick Live
While campaigners are pressing for more action from the government and regulators to crack down on tout activity, experts say that simple actions taken by artists and promoters can help to protect fans from being exploited.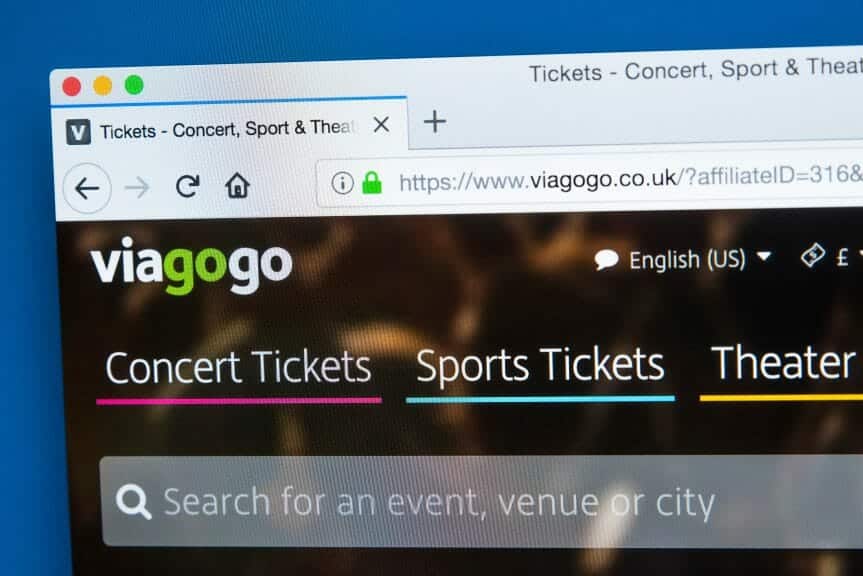 Ticket touting has become such an issue that many artists and venues have announced that any tickets purchased through Viagogo will be voided, meaning that they can no longer be used to gain access to the event.
But many in the music industry believe that artists and venues can take further steps to prevent their fans from being scammed.
Simple changes to terms and conditions such as needing to present photographic ID alongside your ticket can help stop touters from profiting off of tickets.
The Crazy Statistics Surrounding Ticket Fraud
As 2022 drew to a close, researchers found that ticket fraud reports had doubled in the space of a year.
Experts at VPNOverview research company, found with a 110% surge in demand for concert tickets, increasing numbers of music/art lovers have fallen victim to a number of scams including fake tickets, e-ticket errors, dummy seats and duplicate tickets in the last year.
Views on TikTok for 'ticket scams' have reached over 2.2 million as angry customers document their experiences of falling victim to concert ticket scams. In addition, in the UK, Action Fraud has reported that between September 2021 – September 2022, £6.2 million has been lost to ticket fraud, with the 20-29 year old age bracket being the most affected.
Cybersecurity Expert, Mirza at VPNOverview said:
"When it comes to buying concert tickets, we strongly advise buying tickets specifically from official ticket sales partners of the event."
With regards to resale tickets, the prices are often astronomical or often too-good-to-be-true, and there is often no clear way to legitimize the tickets before purchase.
To help protect you and your money, here are some top tips to look out for when browsing concert tickets online.
How To Spot a Ticket Scam
Social Media Platforms are Prime Locations for Scammers
Places like Twitter and Facebook are hotbeds for ticket scammers. It's always important to check when they joined the platform, how many posts they have and if they have shared a lot of content previously.
With Twitter, if their profile appears to be recently made and their only tweets are in regard to the alleged tickets being sold, avoid the seller at all costs.
With Facebook it can be a little trickier, especially due to privacy settings. So, if you are able to view their profile picture or cover photo and see that they have been changed in the last few days, then they've most likely created a fake profile.
Be Weary of Phishing Emails
Phishing emails pretending to sell cheap tickets to a concert or event you want to attend could lead to a cyber attacker stealing your user details including credit card details and login credentials.
Pay close attention to email formatting, text font etc. Be sure to NOT reply to an email if you suspect that the seller may be a scammer.
Do NOT Be Fooled by Screenshots/Confirmation Emails
Scammers can easily create this to lure you into a false sense of security. Check the details of the ticket thoroughly. For instance, have they misspelt the artist's name or written the wrong address for the venue?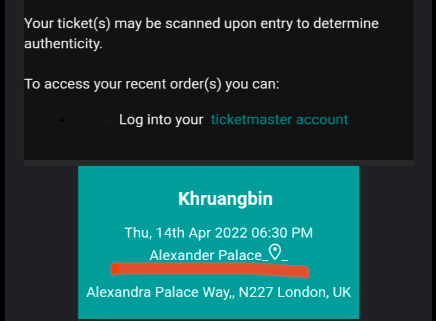 In addition, it's also key to check the timestamp for a screenshot. As an example, I messaged a seller promoting The 1975 tickets for Manchester on Facebook. Their profile said they were based in Bristol, so, they should have been on the same timezone as me.
When I requested they send me "proof" of the tickets, the time on their phone was one hour ahead of UK time. Here's an example: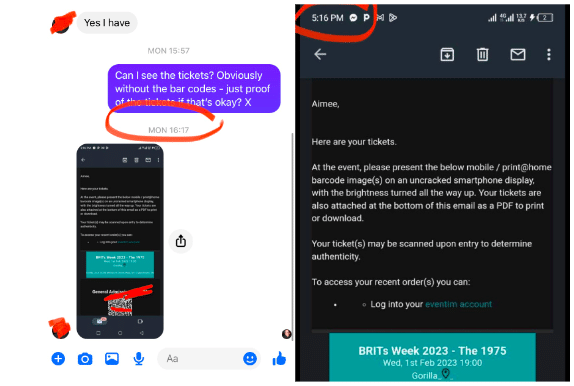 So, no matter how convincing a fake ticket may look, try to look out for these other little details too.
They may also ask for your email address to send the tickets to, but avoid this at all costs. You don't want to be giving out your personal information – including your bank details – to potential scammers.
Only Consider Purchasing from a Site with Encrypted Payments
Look out for the closed padlock symbol in the website address bar. Ensure the URL begins with 'https' as the 's' signifies a secure site. We also suggest checking whether a website's SSL certificate is actually legitimate or not – you can do so through something like Godaddy SSL checker.
Use Official Resale Sites – Steer Clear of Viagogo!
Many artists and venues have announced that they will not accept any tickets purchased through the Viagogo site, due to the extortionate prices that resellers put the tickets up for and how many people are scammed.
When looking to purchase sold-out concert tickets, Twickets is your best friend. The site is an official fan resale site, and is approved by most major artists and venues.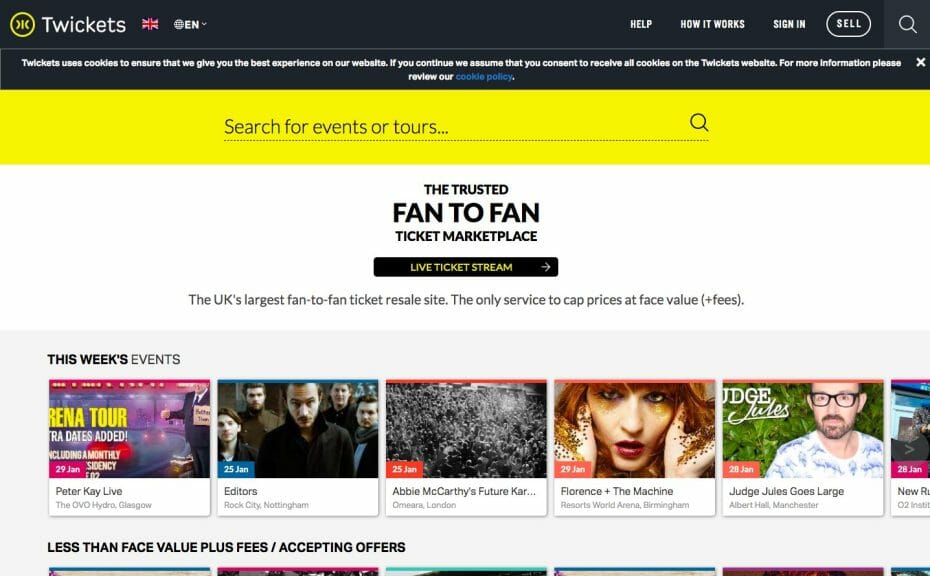 With Twickets, a seller cannot sell a ticket for more than the original price they paid, meaning you can't be ripped off.
People who chose to refund or resell their tickets can also do so on Ticketmaster and SeeTickets, so it's also worth keeping an eye out on their sites too.