Featured Image Via
Sir Mo Farah, British distance runner and Olympic gold medalist, recently made a mistake. On July 8, he bumped into Noel Gallagher after watching him in concert and asked for a picture. Then, he put that pic on Instagram and tweeted it … with a caption reading "chilling with my boy @liamgallagher." Sir Farah unwittingly embroiled himself in perhaps the music world's greatest feud. Frankly, it's amazing that he came out unscathed.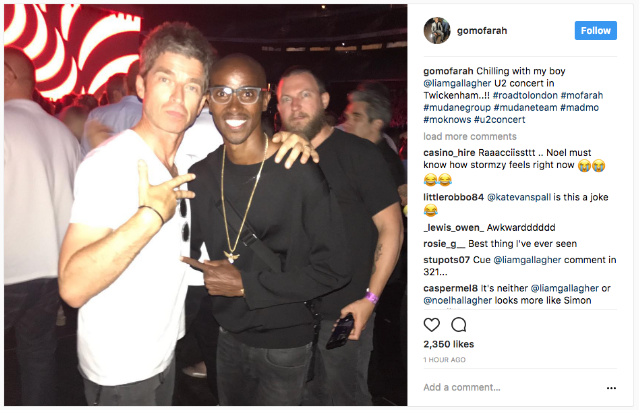 Background on the Gallagher Feud
The Gallagher brothers are famed as the faces of Oasis, but by now they're almost as famous for their sibling rivalry. They've been cursing each other out and clashing in public for decades now. Recently, the conflict flared up when U2 announced that Noel Gallagher's High Flying Birds will be their opening act for their tour's European leg. In response to the news, Liam tweeted, "I'd rather eat my own shit than than listen to them bunch of beige fucks." He then launched a brief and hilarious tirade calling them "fakes" and "bullshitters."
In truth, Liam was lashing out at Noel (though his distaste for U2 is real). He accused his brother of brown-nosing the band for a chance to promote his band's new album. Not coincidentally, it's coming out a month after Liam's new solo album. This imminent competition combined with Noel's new gig reignited a historically nasty rivalry.
The Cosequences
Then, on July 8, Sir Mo Farah caught the U2 concert in London's Twickenham Stadium. He may have seen Noel's band open the show, and if not, he must have seen Bono invite Noel onstage to sing the Oasis classic "Don't Look Back in Anger." They dedicated this performance to the victims of recent tragedies in the UK, and the audience loved it. So naturally, Sir Farah freaked out when he bumped into Noel after the show. He just had to snap a picture together and share it online. However, whether it was haste, unfamiliarity (despite the "my boy" epithet), or flat-out failure to pay any attention, he wrote the wrong brother's name. He gave a shout-out to Liam mere days after the guy exploded online. This could easily have spelled doom, or at least a nasty and expletive-filled Twitter rant, for Sir Farah.
So how does Liam take the news?
A sarcastic jest, a shoehorned pun, and his signature tweet closer: "as you were LG x."
Crisis averted.
For safety's sake, and because he's a good guy, Sir Farah edited the Instagram caption to credit the proper Gallagher brother. He also tweeted an apology to Liam. The Gallagher feud makes for some juicy stories, but seeing this innocent come out without a scratch is nice, too. Well, unless you count all the commenters shitting on him for his slip-up.